Add one or more of these adorable unicorn books for kids to your reading basket for some magically good reading. Engage and inspire young readers with this book list.
If you have a child that loves unicorns, gather up one or more of these sparkly, magical books for kids! You'll love them as much as the kids do!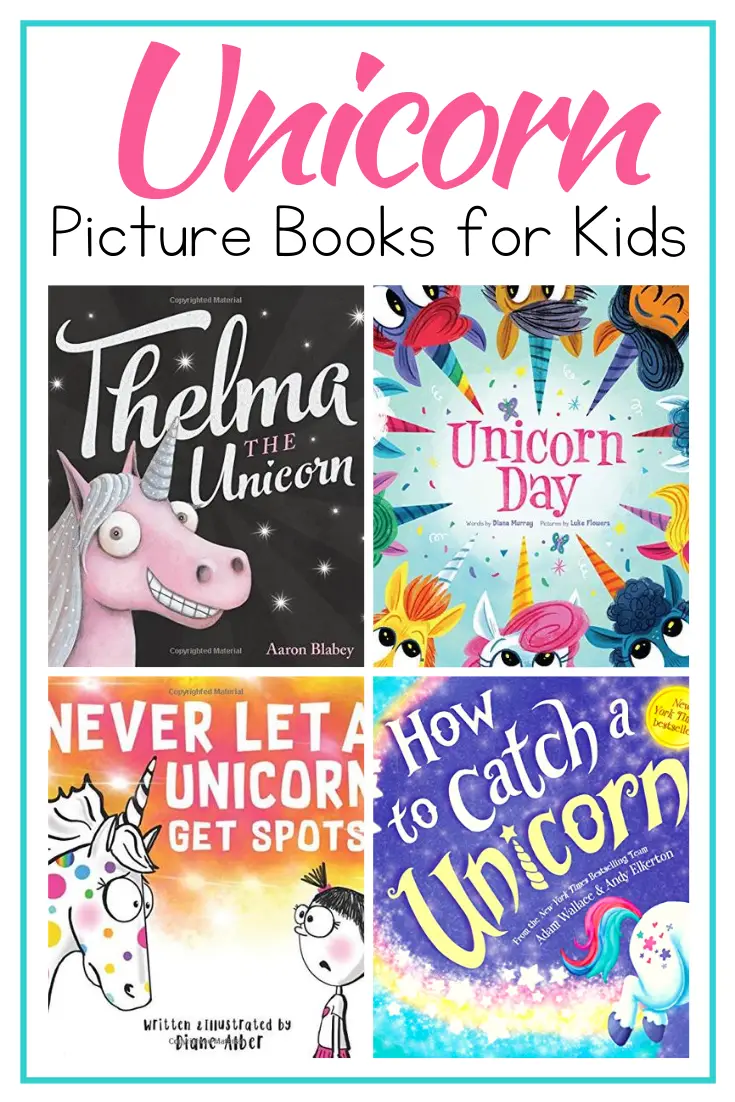 Unicorn Books for Kids
Below, I've featured just a handful of picture books that will help your kids dive into the magical world of unicorns!
You should be able to find them at your local library or bookstore. If you can't find them locally, you can click each image cover to purchase them on Amazon.
Never Let A Unicorn Get Spots! – Never Let A Unicorn Get Spots is about a little girl who wakes up one day to her Unicorn covered in SPOTS! At first they seem harmless but then they turn into Silly SNEEZING SPOTS!
I'm a Unicorn – Sure to delight little ones who love the magic of fairy tales and beautiful creatures!
Thelma the Unicorn – Thelma dreams of being a glamorous unicorn. Then in a rare pink and glitter-filled moment of fate, Thelma's wish comes true.
Never Let a Unicorn Scribble! – This story is about a little girl who keeps hearing, "Never let a unicorn scribble!" But in her heart believes that people just don't understand how beautiful scribbling can be. She keeps trying to teach her unicorn to scribble but soon realizes this is more difficult than she anticipated.
Fancy Nancy and the Quest for the Unicorn – Nancy and Bree are unicorn experts. (That's a fancy way of saying they know almost everything about them.) When they decide to go on an epic quest to find a unicorn, Freddy and JoJo want to play too.
Uni the Unicorn – Uni the unicorn is told there's no such thing as little girls! But no matter what the grown-up unicorns say, Uni believes that little girls are REAL.
A Unicorn Named Sparkle – When Lucy sees an ad in the newspaper for a unicorn, she sends in her twenty-five cents and waits four to six long weeks for her very own unicorn to arrive…
How to Catch a Unicorn – Try to catch one of the world's most elusive mythical creatures―the unicorn! Filled with zany traps and lots of rainbow unicorn fun, this is the unicorn book of the year!
Unicorn Day – The unicorns are celebrating their favorite day of the year, complete with rainbows, cupcakes, butterflies, and all sorts of joyful things. But when it's revealed there's an impostor in their midst, the party comes to a screeching halt…
Never Let A Unicorn Meet A Reindeer! – A story about a little girl that wants a reindeer for her birthday!
Find The Unicorn: A Magical Search And Find Book For 2-5 Year Olds – Dash loves to hide, and she wants you to find her. In this fun action packed book, you will join Dash and her unicorn friends as she visits many exciting places including the jungle, forest, funfairs, carnivals and much much more.
Unicorn Thinks He's Pretty Great – Ever since Unicorn moved into the neighborhood, Goat has been feeling out of sorts. When Goat and Unicorn share a piece of pizza, Goat learns that being a unicorn might not be all it's cracked up to be. And when Unicorn shows his admiration for Goat, it looks like the beginning of a beautiful friendship.
I Turned My Mom Into a Unicorn – At first, Ted thinks his mom is always grumpy. He hopes she would turn into a super fun unicorn (and she did)! But watch how Ted eventually learns to appreciate her love. From mommy's pancakes to mommy's bedtime stories, Ted finally learns to count his blessings.
Today I'll Be a Unicorn – Phoebe lists all the wonderful things she'll get to do and can hardly contain her excitement about having a tail and magic horn. That is, until she learns that unicorns like to eat hay instead of pizza. Maybe she'll be a unicorn tomorrow instead!
Twelve Dancing Unicorns – Once upon a time, a king owned twelve enchanting unicorns that he locked up with golden chains. But every morning, he'd find the beautiful creatures peacefully asleep in their corral—with their chains shattered…
Which of these books about unicorns will you read first?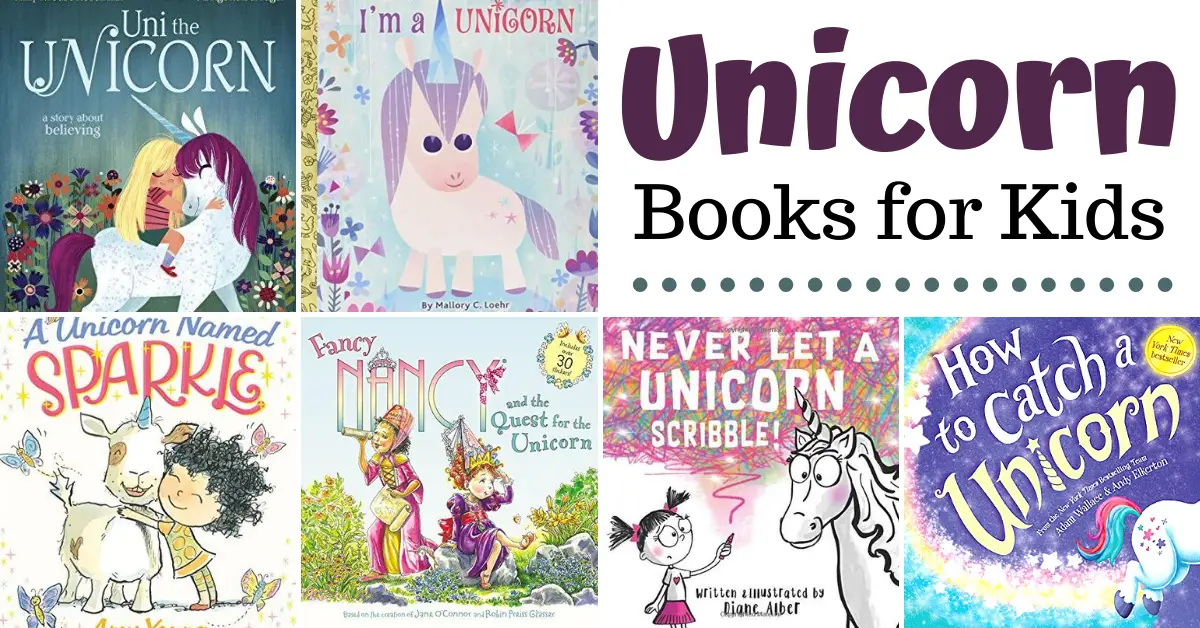 Round Out Your Unit with These Activities
This Unicorn Magic playdough kit is perfect for your little unicorn fan and loaded with lots of goodies for hours of play!
From unicorn to rainbow, this Unicorn Land sensory kit will be the dream kit for your little one! With the different elements provided and the imagination of your little one, countless adventures await!
Related Posts