Many kids have bunnies on the brain at this time of year as they await the arrival of the Easter Bunny!
Fill their book baskets (or Easter baskets) with some of these bunny books for kids. They'll thank you!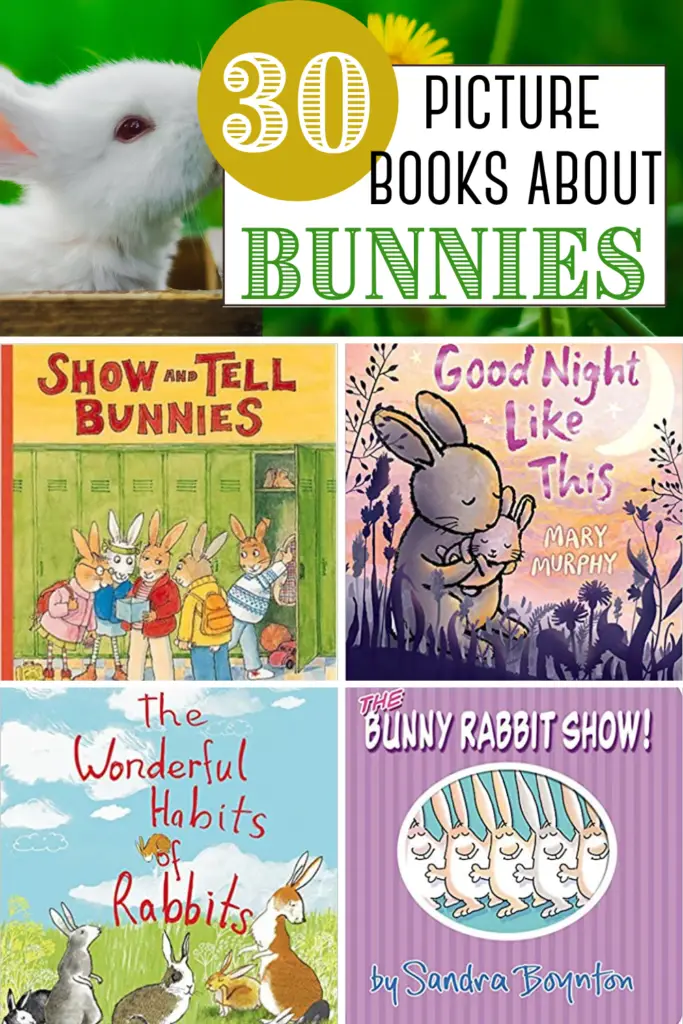 Bunny Books for Kids
Fill your book basket with a great collection of books about bunnies. Most of these books can be found at your local library or used bookstore.
If you have a hard time finding them, you can order them through my Amazon affiliate links by clicking the images below.
Show and Tell Bunnies – Clyde is nervous about what he should take for show and tell, but he ends up sharing a wonderful surprise with his class.
The Bionic Bunny Show – As an ordinary rabbit in real life is portrayed as a bionic bunny on his television series, the reader views all the production efforts that provide that illusion.
Hoppity Hop Peekaboo!
 – Babies love playing peekaboo-and once they latch on to this simple game, they can't get enough of it!
The Wonderful Habits of Rabbits – Follow a family of rabbits as they have fun doing everyday things like digging holes, building snow rabbits, thumping their feet, and more. But as the day comes to an end, their favorite thing to do is say "goodnight" with a hug and a kiss.
Good Night Like This – The rhythmic text is just right for gently lulling them to sleep while cuddly rabbits, bears, dogs, and even a dragonfly each take turns tucking in their little ones. The gentle pacing and sweet pictures will be sure to elicit lots of oohs, aahs, and . . . zzzzzzs!
The Bunny Rabbit Show! – Bunnies are very welcoming, so everyone (Boynton's pigs, sheep, chickens, and YOU) can come join the chorus line―bunny ears mandatory, of course.
Five Little Bunnies – Get ready for spring with these five little bunnies as they hide brightly colored Easter eggs for all to find
Bunny's Noisy Book – A little bunny listens to noises all around him and then makes some of his own.
Guess How Much I Love You – Sometimes, when you love someone very, very much, you want to find a way of describing how much you treasure them. But, as Little Nutbrown Hare and Big Nutbrown Hare discover, love is not an easy thing to measure!
Pat the Bunny – The original classic touch and feel book that has been entertaining babies for over 60 years.
The Velveteen Rabbit – Like the Skin Horse, Margery Williams understood how toys–and people–become real through the wisdom and experience of love.
The Runaway Bunny – The comforting story of a bunny's imaginary game of hide-and-seek and the lovingly steadfast mother who finds him every time.
The Bunny Hop – On Easter morning, Elmo, Grover, Cookie Monster, Big Bird, and their Sesame Street friends find cute bunnies in the strangest (and funniest) places!
Have a Silly Easter! Mad Libs Activity Book – In these Easter-themed stories, preschoolers can fill in the blanks with 140 stickers featuring pictures with corresponding words. Plus, each story is accompanied by a coordinating coloring page. It's the perfect introduction to reading – as well as a great Easter basket goodie!
It's Not Easy Being a Bunny – Tells the "tail" of P.J. and his quest to become something other than what he is. Is it more fun to be a bear, a bird, or a pig? Read along as P.J. tries to determine who he is—and where he belongs.
The Tale of Peter Rabbit – Peter disobeys his mother by going into Mr. McGregor's garden and almost gets caught.
Bunnies' ABC – Adorable bunnies scamper and play as they introduce an animal for each letter.
Grandpa Bunny – Great-Grandpa Bunny Bunny teaches each new generation of bunnies how to prepare for the coming spring.
The Itsy Bitsy Bunny – A fun and playful holiday twist on "The Itsy Bitsy Spider" makes this favorite nursery rhyme perfect for Easter!
So Many Bunnies – Old Mother Rabbit lived in a shoe. She had twenty-six children and knew what to do. From Abel, who sleeps on a table, to Zed who sleeps on the shed, help Mother Rabbit tuck a whole alphabet of adorable little bunnies in for the night.
Busy Bunnies – When Mama says it's time for a good spring cleaning, Rosy, Posy, and Dozy decide to help out! Young children will enjoy following along as the cute little bunnies hang the wash, sweep the garden path, and end the day with a bath and sweet snack.
Quiet Bunny's Many Colors – Quiet Bunny loves the bright colors of spring: yellow ducks, green frogs, and blue jays—everything but his own mousy-brown and wintry-white fur. It takes the help of a wise old owl for Bunny to realize that it's the rainbow of hues, including his own, that makes the world so beautiful.
Quiet Bunny – Quiet Bunny discovers the importance—and pleasure—of dancing to your own kind of music.
Snuggle Bunnies – Snuggle Bunnies is exactly what little children need to send them off to dreamland.
If You Were My Bunny – A mother rabbit tells her little ones that she could pick them out from all the other babies, and she sings a bunny version of "Hush, Little Baby," with lines like "if that carrot top should wilt, / Mama's going to bring you a clover quilt." Then a bear, a cat, a duck, a dog, and finally a human mother tell their children how much they love them.
The Country Bunny and the Little Gold Shoes – The Country Bunny and the Little Gold Shoes, the beloved tale of a mother rabbit who dreams of becoming an Easter Bunny that has won the hearts of readers for generations, is now available as a beautiful gift edition.
The Bunny Book – A daddy bunny plays with his baby bunny and says, "What will our baby be when he grows up?" Everyone, from the baby's mother to big sister to Great Aunt Bunny, seems to know: a clown, a policeman, a candy store owner. But the baby only nibbles on his carrot and looks wise . . . for he knows he will grow up to be a nice daddy bunny!
Marshmallow – Oliver is a tabby cat who is always the center of attention. Marshmallow is a baby rabbit who moves into Oliver's home. At first Oliver does not welcome Marshmallow, but the little bunny's charms are impossible to resist. This is the true story of how Oliver and Marshmallow become friends.
Richard Scarry's Bunnies – This bunny-shaped board book, featuring Richard Scarry's cutest bunnies ever, will be right at home in an Easter basket or at a springtime baby shower!
Home for a Bunny – Generations of children have followed this furry, lovable bunny on his springtime journey to find a home.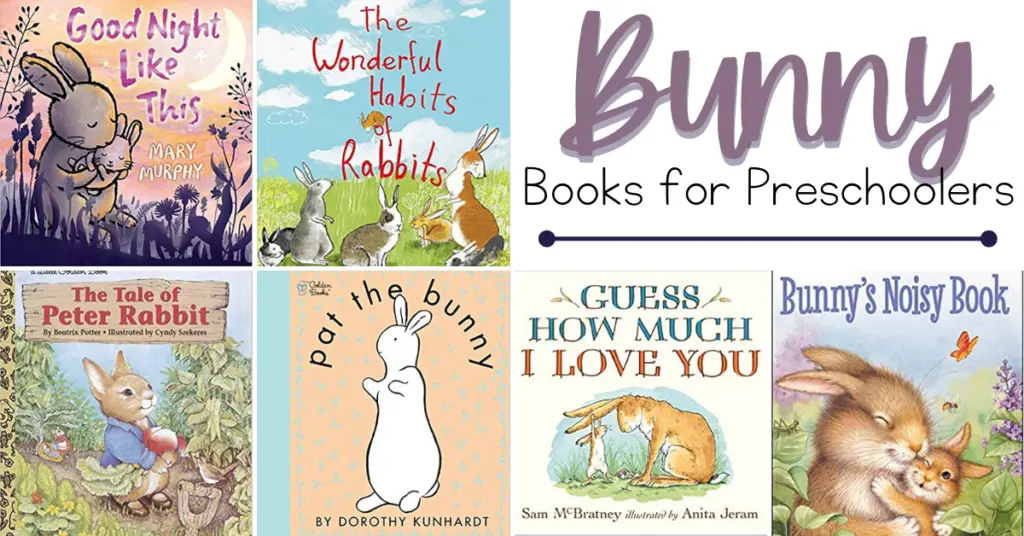 Related Posts