Graduation season is upon us. If you're looking for something inspirational for your grad, these graduation picture books make great gifts!
It seems that every time I jump on Facebook or Instagram these days, another friend is posting about a graduation.
Kids are graduating from preschool and kindergarten, fifth grade and middle school, high school and college.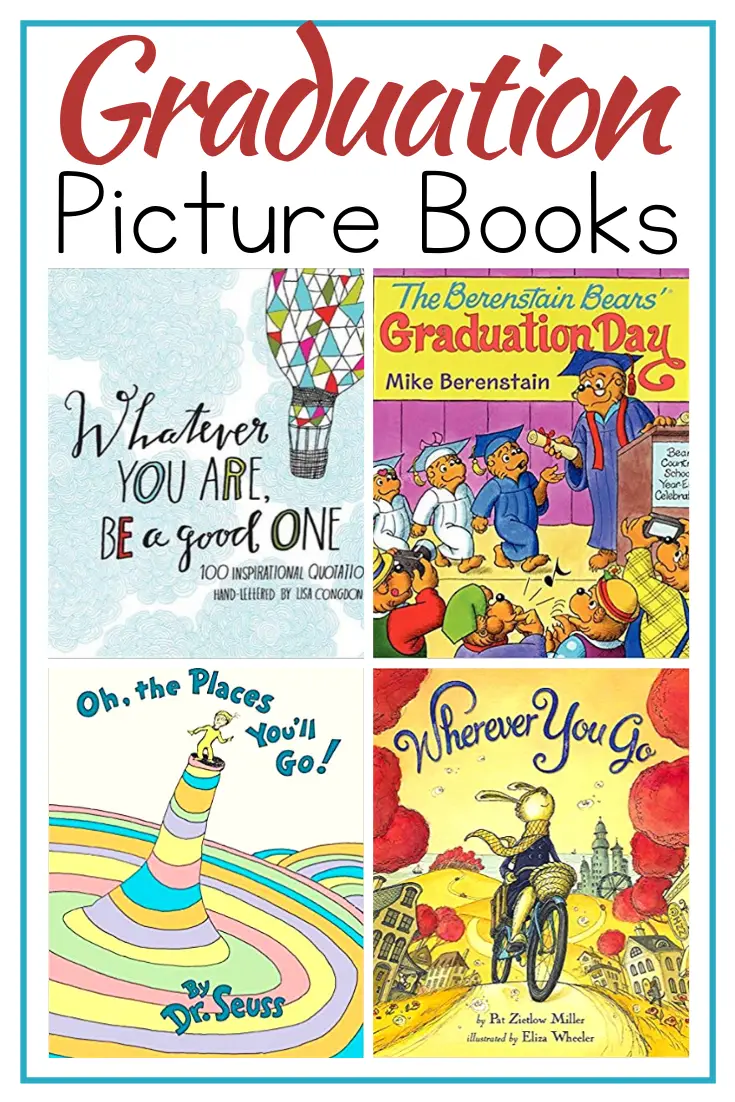 When my youngest graduated from public kindergarten, I presented him with a copy of Dr. Seuss Oh, The Places You'll Go.
That book is just one of many picture books for graduation that make fabulous gifts for kids of all ages.
Graduation Picture Books
Fill your book basket with a great collection of graduation picture books. Most of these books can be found at your local library or used bookstore.
If you have a hard time finding them, you can order them through my Amazon affiliate links by clicking the images below.
I Knew You Could –From "I think I can" to "I knew I could," The Little Engine That Could helps kids of all ages realize that anything is possible if you just put your mind to it!
I Wish You More – Whether celebrating life's joyous milestones, sharing words of encouragement, or observing the wonder of everyday moments, this sweet and uplifting book is perfect for wishers of every age.
Wherever You Go – An inspiring celebration of life and new experiences–perfect for graduations and fans of Oh, the Places You'll Go!
Yay, You!: Moving Up and Moving On – For new graduates, or for anyone facing imminent change, here is profound insight, bold inspiration, and truly ensloxifying advice.
Curious You: On Your Way! – Curious You: On Your Way! is a perfect sendoff for children of all ages entering a new phase of their lives. Follow along with George in classic scenes from many of his original books as he provides words of congratulations and encouragement to anyone who has accomplished much but still has many things to see, to do, and to dream!
Only One You – There's only one you in this great big world. Make it a better place. Adri's mama and papa share some of the wisdom they have gained through the years with their eager son. Their words, simple and powerful, are meant to comfort and guide him as he goes about exploring the world.
Oh, the Places You'll Go! – Dr. Seuss addresses life's ups and downs with his trademark humorous verse and illustrations, while encouraging readers to find the success that lies within.
Reach for the Stars – Reach for the Stars is a wonderful way to encourage and congratulate those, regardless of age, who are celebrating a milestone…and feel ready to SPREAD THEIR WINGS AND FLY!
Whatever You Are, Be a Good One – A quote book like no other, this thought-provoking collection compiles the timeless wisdom of great original minds— from Marie Curie to Stephen King, Joan of Arc to Jack Kerouac, Oscar Wilde to Harriet Tubman—brilliantly hand-lettered by beloved indie artist Lisa Congdon.
Seuss-isms! – The one and only Dr. Seuss dispenses invaluable advice about life in this collection of his most memorable quotes.
The Berenstain Bears' Graduation Day – It's the end of the school year and Bear Country School is holding a graduation ceremony for all the students. This year, Brother and Sister will get to wear a cap and gown—and get a diploma. But will Honey Bear be able to join in on the fun?
The Last Day of Kindergarten – Today is the last day of kindergarten. I wish it were the FIRST. Then I'd meet Mrs. Popinski all over again. A little girl is sad that kindergarten is coming to an end. She wishes it were the first day again, when everything was exciting and new and there was such a fun year ahead. But then she realizes that graduating is exciting, too, and maybe first grade won't be so bad, after all!
Miss Bindergarten Celebrates the Last Day of Kindergarten – Miss Bindergarten and her class have had a great year in kindergarten! They have gone on a field trip, marked the 100th day, created a circus, and even survived a wild day. But now the school year is over, and it's time to remember, to celebrate, and for Miss Bindergarten to say, "Good-bye, kindergarten. It's been a special year."
Graduation Day Stickers – Look at the grads stepping up in the world: a diploma-bearing lion, crocodile, mouse, goose, turtle, frog, kangaroo, koala bear, and school of fish, plus a reindeer with 10 tasseled caps on his antlers!
The Night Before Kindergarten Graduation – Get ready for a major milestone: kindergarten graduation! Of course, there's a lot of preparation the night before as kids prepare for the momentous occasion.
More Book LIsts