It's almost April, and Emma has been on me for days to create a new planner. She has ditched her Happy Planner for this version, and I am so excited! It's not often my 13 declares something I do to be "cool"!
She is almost done filling out the journaling pages in her March planner, and she's ready to start setting goals for April. So, I'm back with a brand new personal planner for teens just in time to kick off a brand new month.
You can help your teens reach their goals by encouraging them to plan. This personal planner is perfect for teens and tweens. It has a variety of pages designed to help them plan their whole month, work toward their goals, and track their progress all month long.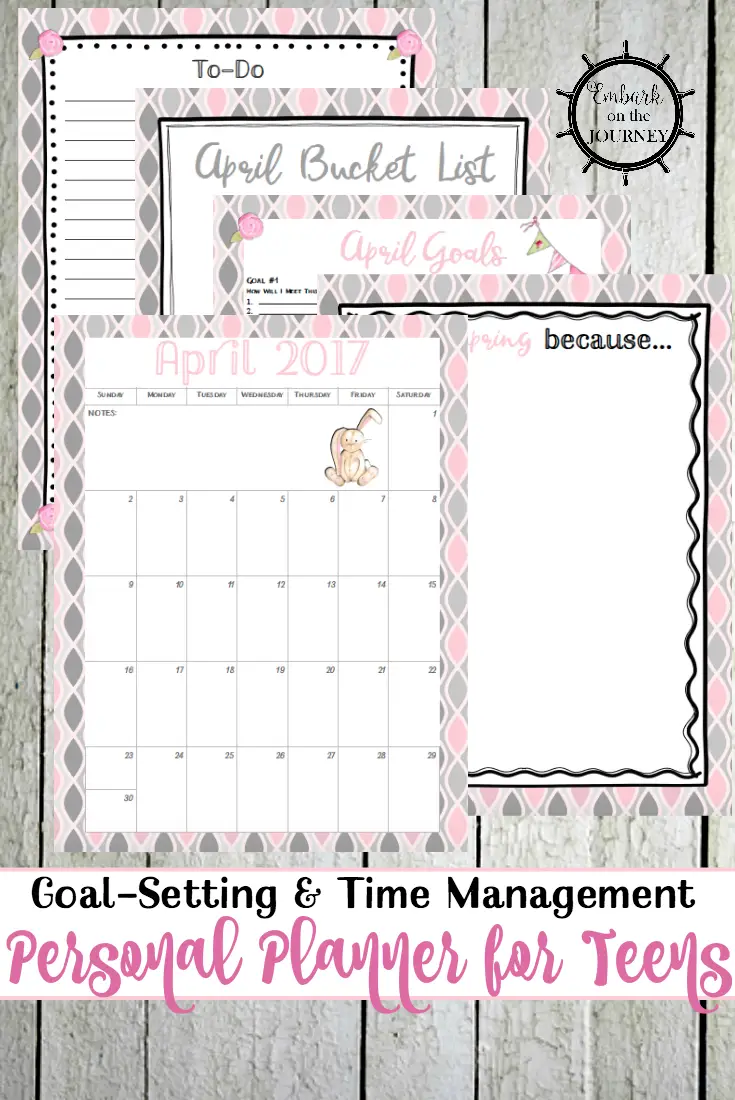 Personal Planner for Teens: April Edition
This month's design was inspired by the rising temperatures and the onset of spring. I'm ready to explore the newness of spring – flowers blooming, bunnies hopping through the yard, and the birds chirping outside my window.
What's inside?
The April teen planner follows the same format as the previous months. Inside you'll find:
The calendar page is designed for teens to record upcoming events, birthdays, and other fun activities that are coming up this month.
The weekly agenda can be used to record appointments and project deadlines. Print out one copy to laminate and use all month long. Or, print one out for each week.
The 'this month' page is perfect for teens to record what they're reading, what they're watching, and where they're going this month.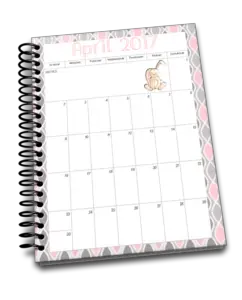 The goal tracker is designed to help teens break big goals into manageable chunks. There's space for them to track three goals for the month. At the end of the month, they can reflect on what worked and what didn't work before setting goals for the following month.
On the monthly tracker, teens will log their counter hours, exercise, books they've read, and things they're thankful for.
This month's bucket list is perfect for the beginning of spring!
New this month, at a reader's request, is a lined to-do list.
The journaling pages in the April personal planner for teens contain the following:
Currently: where teens can record their thoughts "in the moment"
The 'perfect' day…: What do your teens consider a perfect day? Or maybe they want to describe a day they thought was perfect…
I love spring because…: What is it they love about spring?
Mornings…: Love them? Hate them? Describe your thoughts and feelings on this page!
Doodles and Random Thoughts: For those thoughts that don't "fit" anywhere else…
Books to help teens plan:
Helpful planning tools for teens:
Get your Personal Planner for Teens: April Edition.

Does your teen use a planner? Do you have tips for helping your teen manage their time and stay on top of their responsibilities? Share them with us in the comments below. 
More posts about parenting teens: