Trying to decide what you're going to do with all that leftover Halloween candy? Use it to teach science and math, try a new recipe, or make a new craft.
I've gathered 50 ideas that will help you use up all that candy before your kids have a chance to eat it all.
Are you planning to take your kiddos trick-or-treating for Halloween? Will your kids will be attending a Halloween party at school or with friends?
Either way, you're likely to have an overflowing candy bowl when the night is over. You don't want your kids to eat it all. If you're like me, you'll be sneaking out the good stuff after the kids are in bed. (I can't be the only one!)
But what are you going to do with what's left?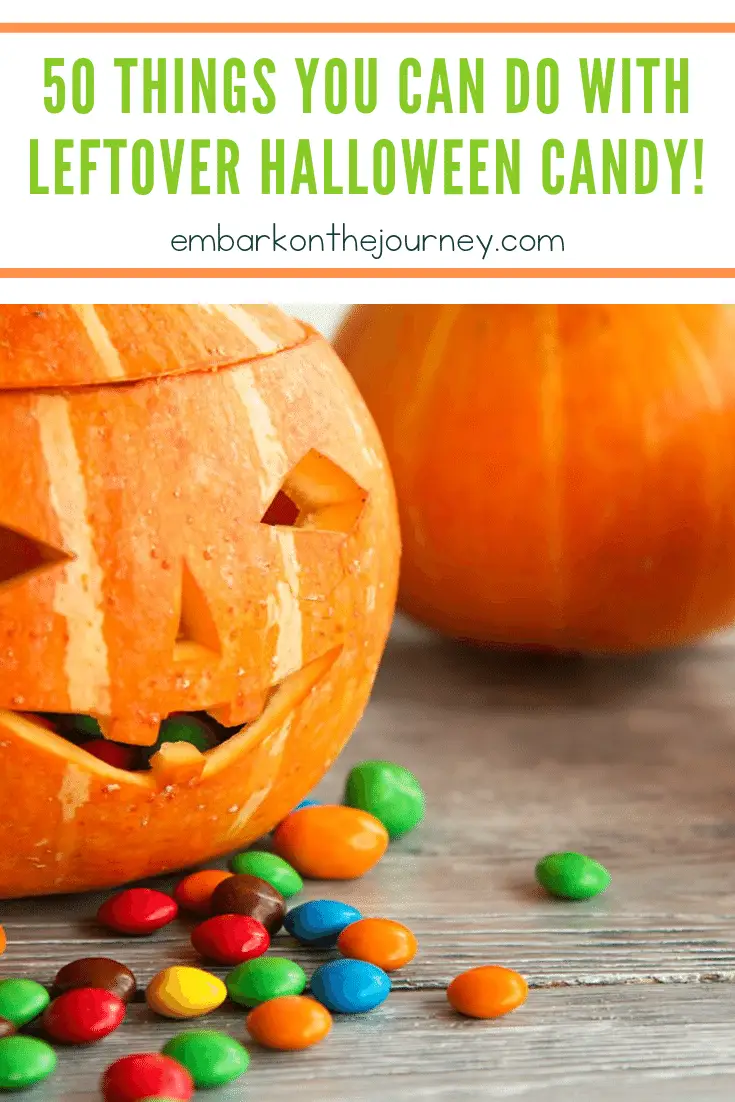 Many of these fun ideas are educational. Others are yummy! Still others are just plain fun!
Are you ready to explore this amazing list of activities?
See if you can find a fun activity to do the day after Halloween to replace your math or science lesson for the day. Can you find a tasty new treat to make for dessert?
10 Ways to Teach Math with Leftover Halloween Candy
Using M&Ms to Teach Statistics | Use M&M's to teach percents, average, mean, circle graphs, and pie charts!
Candy Corn Roll & Cover Math Game | Teach number recognition and beginning addition with this free printable game.
Candy Math – Counting, Weighing, Graphing | There are several great math ideas in this post!
Jelly Bean Sorting Busy Bag | This game will work with jelly beans, M&Ms, Skittles, and other small, colorful candies.
Jellybean Math | I love this activity for visual learners. As with the activity above, it will work with any small candy.
Balancing with M & M's | You don't have to have a scale to complete this fun math activity.
Candy Corn Math | I love this idea for teaching greater than and less than with candy corn!
Fun Fractions with M & M's | Teaching fractions has never been easier with a snack-sized bag of M&Ms and this free printable.
Introducing Division with Candy | Use Twizzlers and Skittles to introduce your students to division.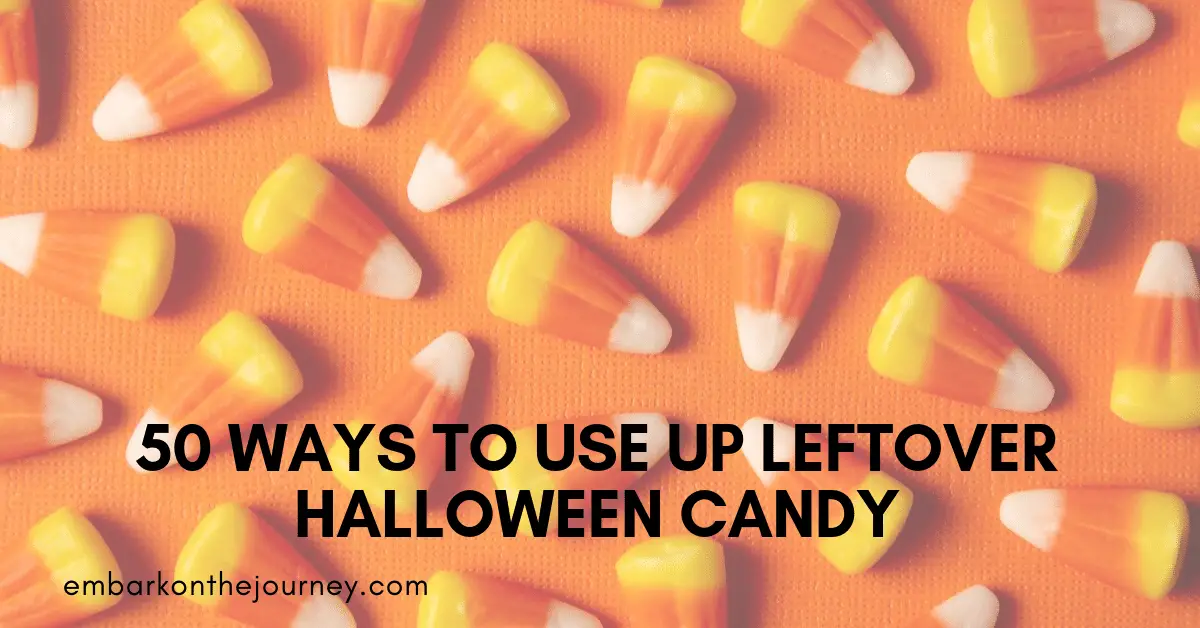 10 Ways to Teach Science with Leftover Halloween Candy
Dissolving Candy Experiment | It's a race to see which candy will dissolve first!
Pop Rocks Science: Capturing Carbon Dioxide | Can you blow up a balloon with Pop Rocks?
What Can the Sun Melt? | This activity will lead to a great discussion about the power of the sun.
Experimenting with Skittles | Two fun science experiments featuring Skittles.
Dissolving Candy, Candy Corn Structures, and Candy Corn Oobleck | Three fun kitchen science activities featuring candy corn.
Candy Taste Test | Explore the five senses with a candy bar taste test!
Sink or Float Candy Experiment | Here's a fun twist on a sink/float experiment.
Edible Animal Cell | Here's an activity your older learners will enjoy.
Experimenting with Gummy Candies | Did your little ones get gummy worms or gummy bears in their candy bag? Try these experiments. They'll be amazed!
Candy Chromatography | Explore science and create a unique piece of art at the same time.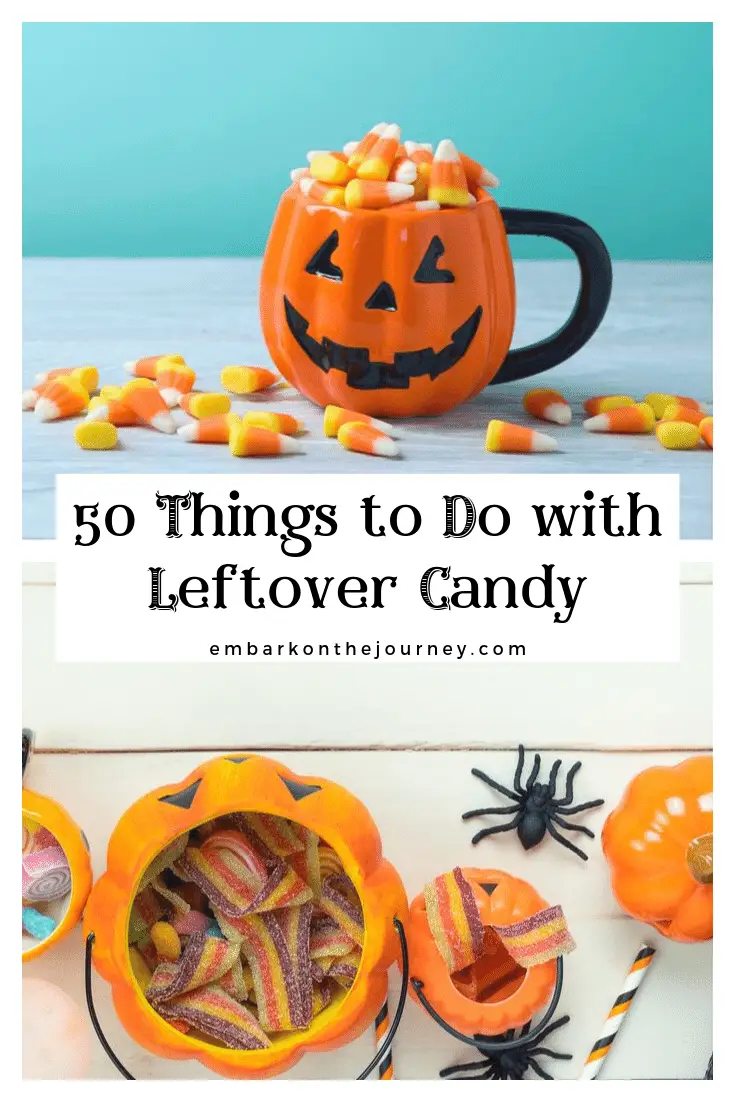 10 Ways to Have Fun with Leftover Halloween Candy
Teaching Kids to Give Back | It's important to teach kids to give back, and it's easy to do with your leftover Halloween candy.
5 Fantastic Ideas for Leftover Halloween Candy | All of these ideas are fantastic!
How to Make a Candy Lei | What kid wouldn't want to make their own candy necklace?
8 Creative Uses for Leftover Candy | Every one of these ideas would be a hit at my house.
What to Do with All That Candy | More fantastic ideas!
Starburst Candy Sculptures | Get your kids' imaginations going by building sculptures with Starburst candy.
Candy Jewelry | Edible jewelry? Yes, please!
Candy Playdough | This recipe makes for a great sensory activity for little ones.
Painting with Candy | This is a fun and unique craft idea for kids.
Homemade Starburst Paint Recipe | Homemade finger paints featuring Starburst candies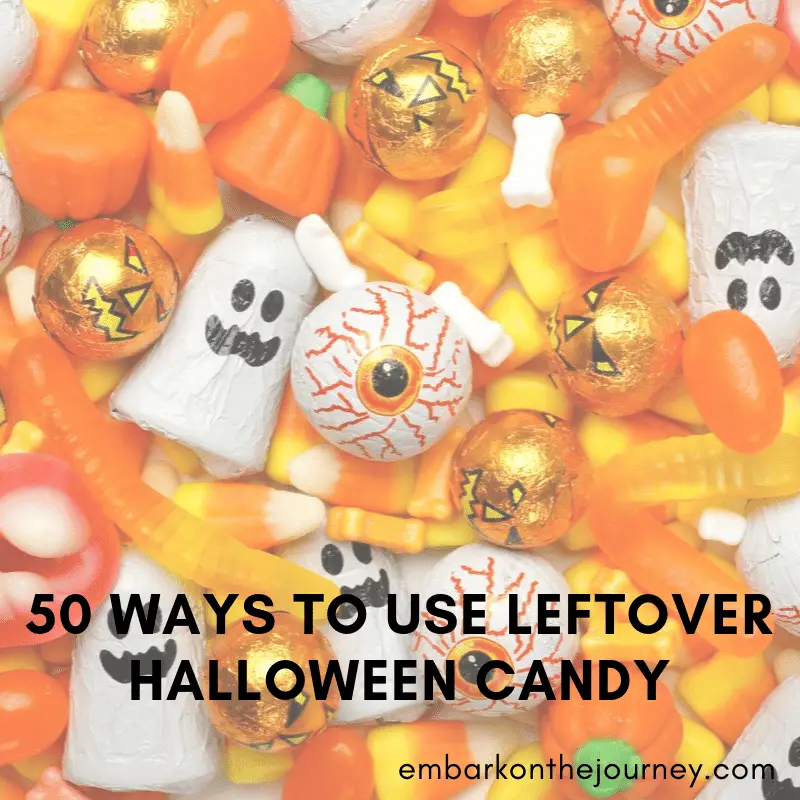 20 Recipes That Use Leftover Halloween Candy
Candy Corn Jello Treats | I shared this tasty treat last year.
Ghost Peep Brownies | I love peeps, and these brownies look divine!
Halloween Popcorn Balls | These would be great for family movie night!
Peanut Butter Monster Munch | I love taking various items from the pantry and turning them into a tasty treat.
No Bake Hershey's Bar Pie | Hmmm… Thanksgiving dessert anyone?
Candy Corn Blondies | I love candy corn! I have to try this recipe.
Fall Popcorn Centerpiece | What a pretty (and tasty) table decoration.
Football SNICKERS Brownies | Hubby wants these the next time he watches a football game with the guys.
No Bake Snicker Bar Pie | Or, maybe this one for Thanksgiving…
Halloween Candy Bark | This one's easy enough for the kids to make!
Ultimate Reese's Brownie Pizza | I'll have to try this one for my hubby. If he'll share his Reese's that is…
Chocolate Peanut Butter Cupcakes | These look amazing!
Salted Caramel Rice Krispie Treats | A fun twist on a classic treat.
Candy Corn Poke Cake | This would be fun at a kids' Halloween party.
Halloween Candy Dessert Pancakes | Breakfast for dessert? Em says yes!
Halloween Candy Apple Crisp | Yum!
Cookie Candy Pizza and Monster Pops | Em loves to make marshmallow pops. I can't wait to show here these.
Halloween Candy Angel Food Cake | Easy peasy!
Kit Kat Cupcakes | Add a little candy to your next batch of cupcakes for a tasty treat!
Related Posts