As the temperatures begin to drop, head outside with your kids. These outdoor autumn activities are sure to be a hit with kids of all ages!
Now that the temperature is starting to drop, it's a perfect time to get outside with your kids. Take your books outside and read under a tree. Take a break to play tag in the backyard. Eat lunch on your back porch. Draw math games on the sidewalk.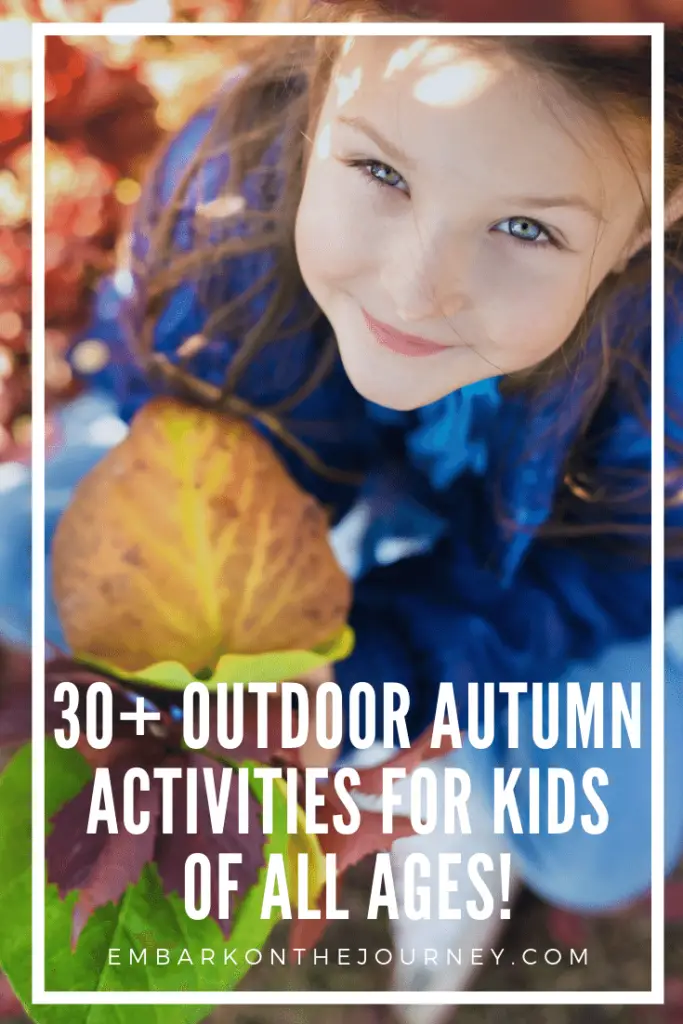 Whether you're working or playing, your kids will thank you for getting outside before the winter sets in!
Outdoor Autumn Activities
Grab an old sheet, and make art on the lawn. 
Gather some fallen leaves, and do some leaf rubbings.
If you have a yard full of leaves, you could make a leaf maze.
Read Leaf Man. Then, have your child make his own "leaf man."
Visit an apple orchard and pick your own apples.
Visit a pumpkin patch and pick pumpkins.
Go for a walk through the woods and talk about the beauty of the leaves changing colors.
Sit around a fire pit and make s'mores.
Rake the leaves in your yard into a pile. Then, JUMP!
Visit a corn maze.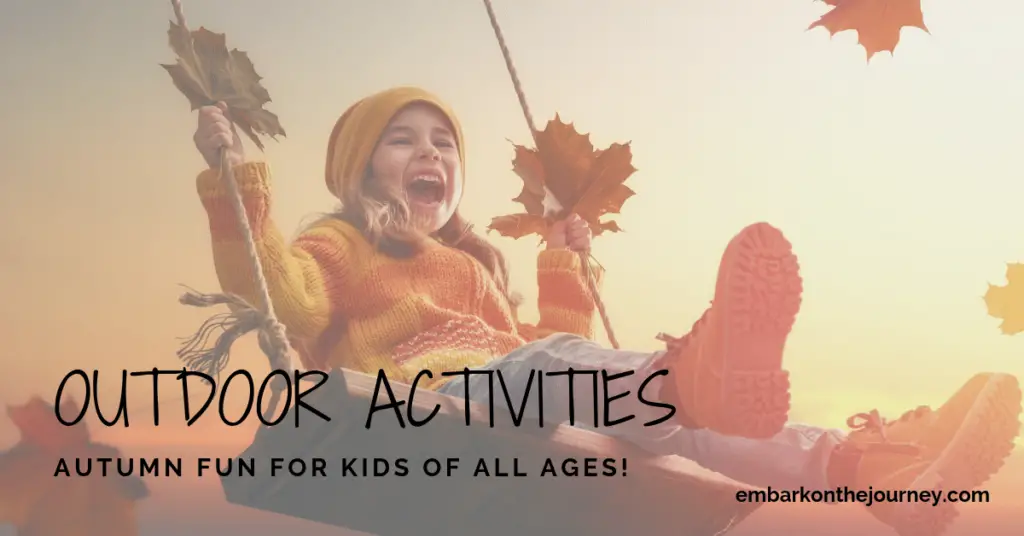 Go on a hayride.
Go on an autumn treasure hunt.
Grab some old jeans and a flannel shirt. Make a scarecrow.
Collect pine cones. Spread them with peanut butter. Roll them in birdseed. Then, hang your new bird feeders in a tree.
Collect pine cones, and use them to go bowling.
Play hopscotch.
Make a leaf slide.
Sneak in a little learning with some outdoor acorn math activities.
Print out this fall bucket list or create your own.
Play pumpkin hopscotch.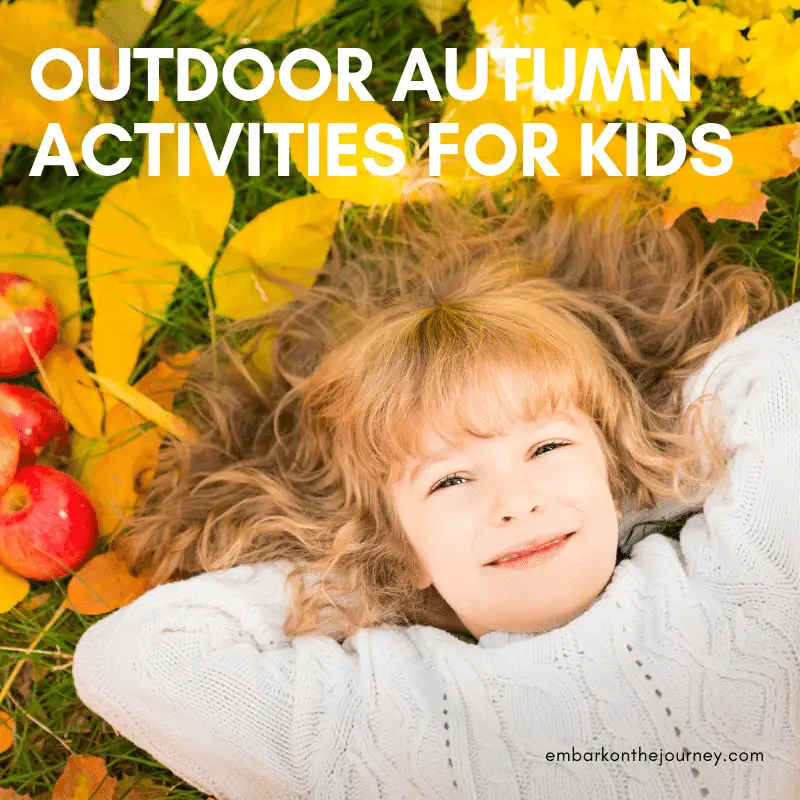 Make a leaf bracelet.
Explore a new park.
Visit a nature center.
Go on a night hike.
Collect twigs, leaves, and acorns to make an autumn mobile.
Find that tree! You find the leaves, and have your child find the tree it came from.
Use masking tape to make a leaf graph.
Play scarecrow tag.
Build a campfire and try one of these 5 fun campfire games.
Make twig ornaments.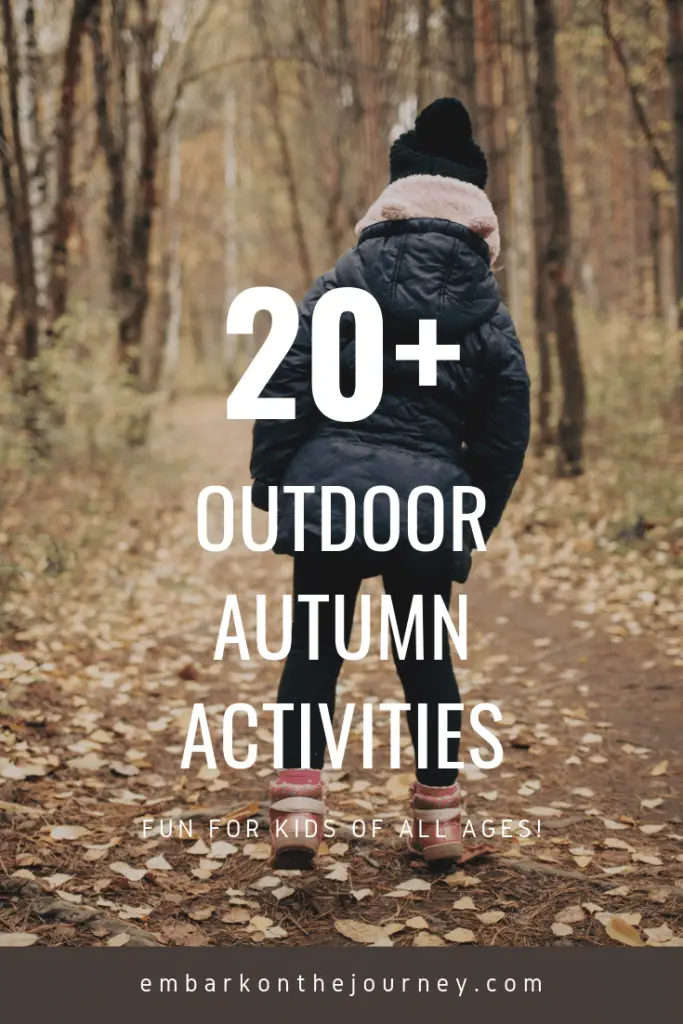 Make this awesome bark owl.
Visit a sunflower field and harvest some seeds. Then, make this fun sunflower suncatcher.
What fun things do you and your kids like to do outside in the fall?
Don't Miss These Posts