I know that I just released my Homeschool Through the Year: March pack, but I really want to get them up at the beginning of the month prior. I know that many homeschool moms, like me, like to plan ahead. So, here is April's pack. You have plenty of time to check out the resources listed below and incorporate these fun learning days into your April homeschool plans!
Homeschool Through the Year: April
April is National Humor Month.
I stink at telling jokes. (See my note about April Fool's Day below). Either I can't remember the punch line, or I am laughing so hard at the punchline that I can't get the joke out. My son, however, is the funniest kid I know. He can whip out a joke like no one I know. If you have kids who love to tell jokes, they'll love these joke books for kids:
April 1 is April Fool's Day. To be honest, I hate April Fool's Day. I'm not clever enough to come up with good tricks so I just sit around and wait for my kooky kids to prank me. 🙂 However, I did do an April Fool's Dinner one year. I don't remember exactly what I served, but I found these ideas on Pinterest that you might enjoy. None of these recipes will hurt anyone's feelings. They're just super fun! Which ones will you try?
April 2 is Children's Book Day. This is a great day to curl up with good books! I have many book lists on the blog! You're sure to find something great to read in one of these posts. Let your kiddos keep track of what they read in April on the book log included in this month's printable.
April 8 is Draw a Picture of a Bird Day. Read one or more of the books below about birds, and then use the bird drawing page in this month's printable pack to have your kids draw their favorite bird.
April 10 is National Siblings Day. Find something fun to do to celebrate siblings. Play a favorite board game. Do something nice for each other. Write a note to a sibling telling what you enjoy most about them.
April 13 is Scrabble Day. Here are some fun things you can do with Scrabble tiles
– besides playing the game…
April 17 is Bat Appreciation Day. It's a great day to read my favorite book about a sweet little bat named Stellaluna
. Here are some fun hands-on activities to go along with that book: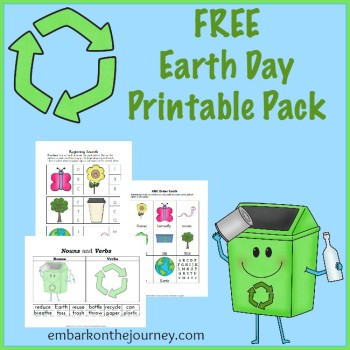 April 22 is Earth Day. Last year, I shared quite a few resources that your kids are sure to enjoy. First, here are 9 Earth Day freebies (the last one on the list of ten is no longer available).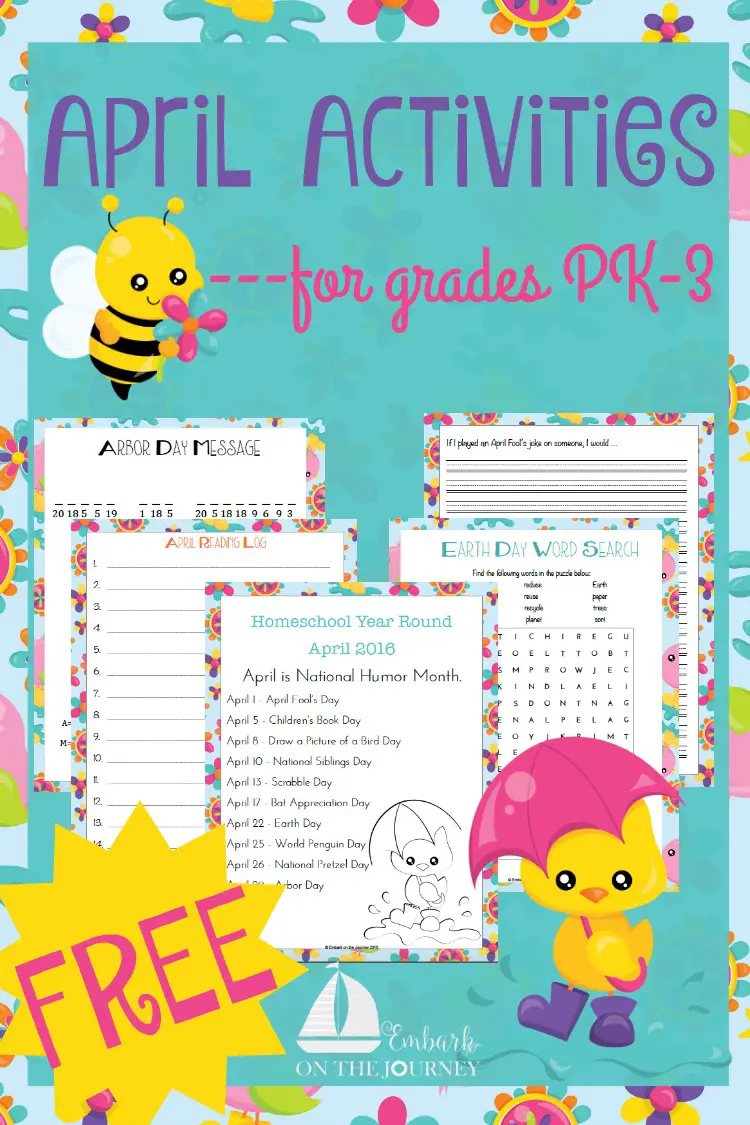 April 'Homeschool Through the Year' Printable
In this month's printable, you'll find the following activity pages:
Calendar of fun days to celebrate,
a reading log for Children's Book Day,
a drawing page for Draw a Picture of a Bird Day,
an Earth Day word search,
an Arbor Day message to decode,
and more!
To download your free printable pack, you must sign up to receive my emails. Enter your contact information below. You should receive your download link within the hour. If, after an hour, you have not received your link, please contact me and we'll figure it out together.
Please note that your link will expire in 3 days, and it can only be downloaded twice. Be sure to download and save it once it arrives in your inbox. Also note, these files will not open on a tablet or smart phone. You will need to open them from a PC or laptop. Enjoy!
[wp_eStore_free_download_squeeze_form id=99 button_text="Download Now"]