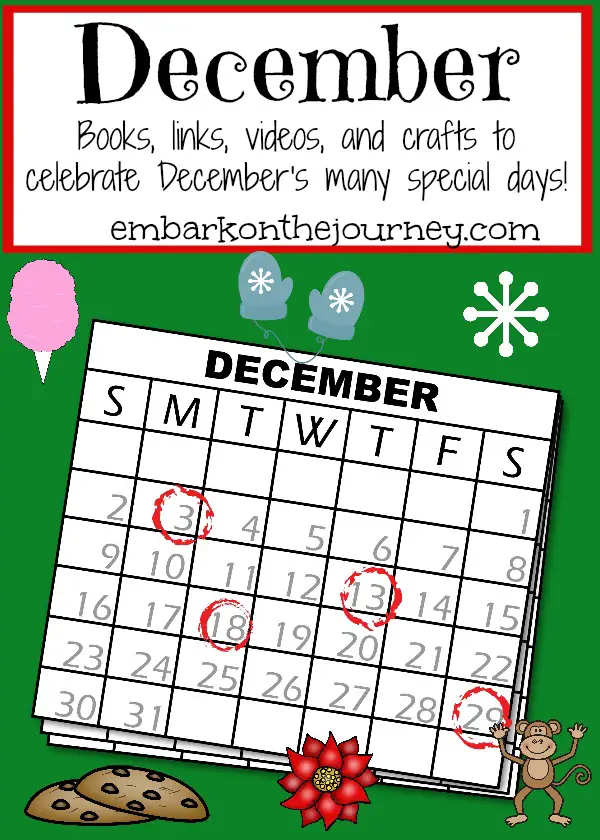 Christmas isn't the only holiday in December.
Use the books and activity links below to celebrate the every day all month long!
December 1: Rosa Parks Day
December 4: National Cookie Day
123Homeschool4Me has a great free printable to go along with the story.
December 5: Bathtub Party Day
December 6: Mitten Tree Day
December 6: Saint Nicholas Day
December 7: Cotton Candy Day
December 8: Eli Whitney's Birthday
December 12: Poinsettia Day
December 13: Ice Cream Day
December 14: Monkey Day
December 15: Bill of Rights Day
Watch this Schoolhouse Rocks video.
December 16: Hanukkah Begins
December 17: Wright Brothers Day
December 17: Maple Syrup Day
December 18: Bake Cookies Day
December 20: Go Caroling Day
Gather friends and go caroling in the neighborhood or a local nursing home.
Print out this free songbook before you go.
December 21: Winter Solstice
December 24: Christmas Eve
Celebrate with your family's Christmas traditions. We put on new pj's, make hot chocolate, and go look at lights. Then, we come home to watch Polar Express.
December 25: Christmas Day!!
Merry Christmas from my family to yours!
December 26: Kwanzaa Begins
December 30: Mercer Mayer's Birthday
December 31: New Year's Eve