This collection of winter crafts for kids will keep your crew busy during the long, cold winter months! There's something on this list of kids of all ages.
This time of year is when my daughter starts searching for fun winter crafts. Our resident artist and crafter-at-large is constantly searching for her next arts and craft project. So, I have created the following round-up post for her benefit.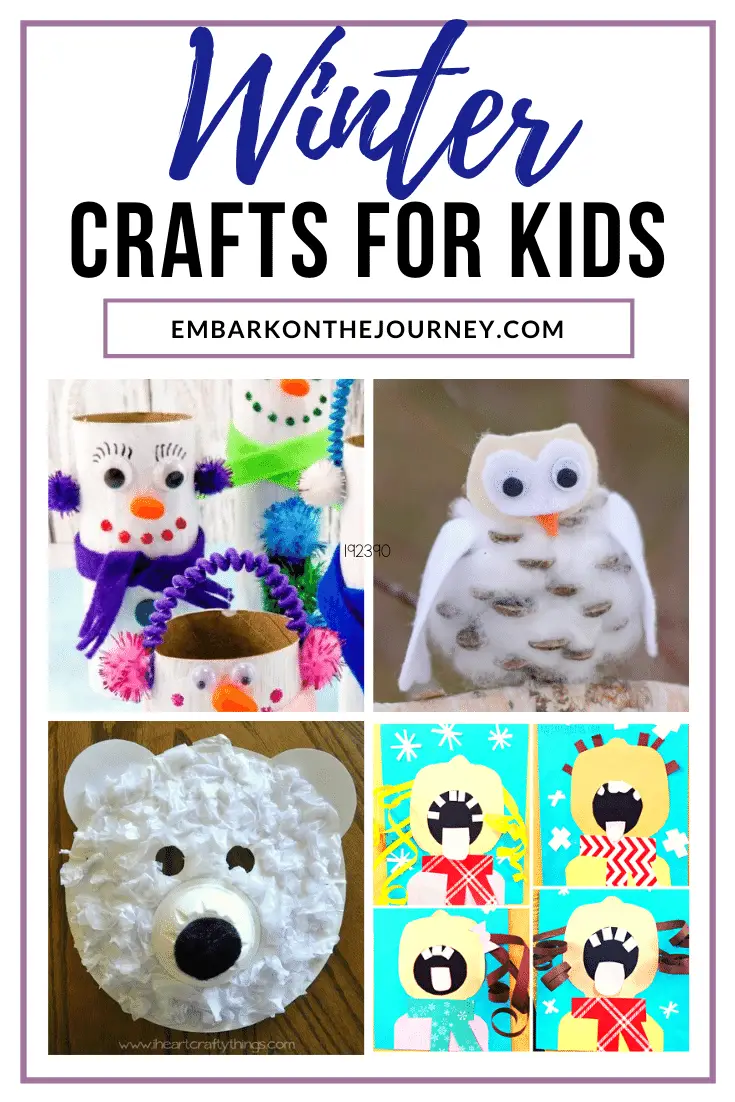 Some of these will be fun to work on with her. Others, she will have a blast making for herself or someone she loves.
I'm hoping she'll let me teach her to crochet soon, and we'll have fun making scarves and such together.
I'm also loving all of the 'melted snowman' crafts and projects around the web, and she already has her eye on a few of these, as well.
Winter Crafts for Kids
I've mentioned before how much my daughter loves the chalk art tutorials from You Are an Artist. She also has quite an obsession with penguins. This Penguins of Madagascar Art Tutorial combines two of her favorite things. We did the mug of hot chocolate few years ago, and it still hangs in our school room. I'd love for her to add the fireplace and the snowman to my wall.
Since we haven't gotten much snow this year, we'll have to settle for making a Pointillism Snowman.
I love these Winter Birch Trees at Art Projects for Kids.
She'll love learning to draw this funny snowman on skis or this penguin.
E will love making this winter cardinal for her Daddy – a St. Louis Cardinals fan!
I love this cute snowman card. While the creator used a Cricut machine, I think it could definitely be done with just paper and scissors.
What ballerina wouldn't love this fun wreath in their room. It looks like a tutu!
With a soft spot for all animals, Emma will be all over these bird feeders.
We already have plans for making melted snowman cookies. We may make these melted snowflake coookies or these super cute melted snowman cookies. Maybe we'll make some gingerbread snowmen, too.
Em has made hand warmers before, but we lost them in our move. It is so cold here in the Cinci area, and we sure could use some more! These flannel hand warmers make great ice packs, too.
Easy knitting with straws
– maybe we can learn this one together!
We had a great time making body butters and salt/sugar scrubs at Christmas. Maybe this Cocoa Peppermint Lip Balm will be our next DIY project.
Bake cupcakes and top them with these marshmallow snowmen.
Bake a snowman pizza for lunch!
Tweens can make string art snowflakes to decorate their rooms.
Sew a simple felt tote bag. This would be perfect for a library bag.
Repurpose old sweater to become new leg warmers. These would be fun for ballet night.
Make polar bear masks and act out Three Snow Bears or Polar Bear, Polar Bear, What Do You See?
Turn an ordinary pine cone into a fluffy winter owl.
Not only will these ice sculptures look beautiful hanging in your trees, they'll attract the birds, as well.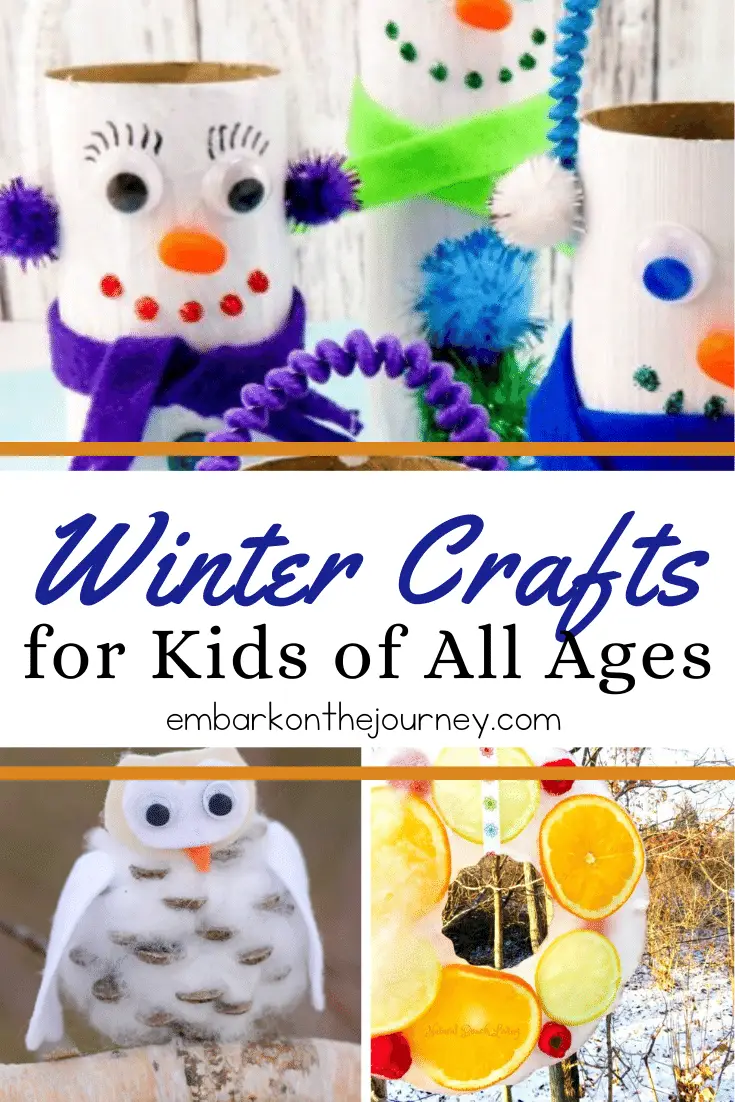 Gather up your art supplies and let your kids make a whole snowman family out of cardboard tubes.
This art featuring children catching snowflakes may be one of my favorite ideas ever!
Kids can make their own colorful ice sculptures.
RESOURCES I LOVE
Looking for an adorable toy that provides meaningful play for older toddlers and younger preschoolers? Imagining cold winter days stuck inside and want to keep things as screen-free as you can? Check out this adorable felt snowman set, because it takes care of all of that and more!
Remove the chill from your child's imagination with this unique stacking wooden snowman toy!
If you love filling your bookshelves with seasonal books, don't miss this collection of children's books about winter. Winter-themed fiction and nonfiction picture books!
FUN SNOWMAN BOOKS FOR KIDS
Fill your book basket with a great collection of books about snowmen. Most of these books can be found at your local library or used bookstore.
If you have a hard time finding them, you can order them through my Amazon affiliate links by clicking the images below.
Sneezy the Snowman – B-R-R-R-R! AH-CHOO! Sneezy the Snowman is cold, cold, cold. To warm up, he drinks cocoa, sits in a hot tub, stands near a warm fire–and melts! But the children know just what to do to build him up again–and make him feel "just right".
There Was a Cold Lady Who Swallowed Some Snow! – This time, the old lady is swallowing everything from snow to a pipe, some coal, a hat, and more! With rollicking, rhyming text and funny illustrations, this lively version will appeal to young readers with every turn of the page. And this time, there's a surprise at the end no reader will be able to guess!
Snowmen at Night – Snowmen play games at night when no one is watching.
Related Posts