I have discovered a new-to-me handwriting program that I just had to share with you guys! It's fantastic! Write Through the Bible provides a full year of writing practice inspired by God's word! It goes beyond writing by including vocabulary studies and dictation practice, as well. The best part is, though, that it encourages Bible memorization! This is Bible copywork at its finest!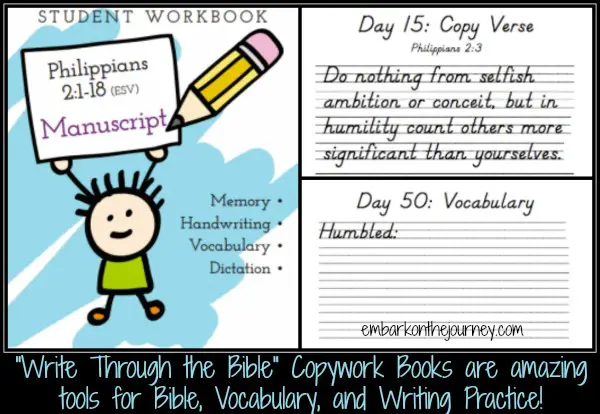 We start each homeschool morning off with some Jump Start time. During this time, I want Emma to focus on some skills that need honing – mental math, Bible memory verses, proofreading, etc. This year, Emma will be practicing her handwriting skills. The best part of the Write Through the Bible program is that she and I will be memorizing the Bible while we work through this program.
Write Through the Bible: Philippians 2:1-18 (ESV) ~ Manuscript is designed to be used four days a week throughout the school year. The first three days of each 'lesson,' the child copies the verse or part of the verse. The following two days will be spent looking up and defining vocabulary words from the verses. The following day, the child is to write from dictation – you speak the verse and they write it.
There are so many versions of Write Through the Bible to choose from. There are ESV and KJV versions. You can also choose from manuscript or cursive.
Matthew 5:1-20
Exodus 20:1-21
Isaiah 52:13-53:12
The Nicene Creed
Psalm 1, 23, and 121
and more…