Our weather warmed up last week, and I almost forgot it was still winter. 
Then, we got some snow. Bummer! It wasn't even enough to play in. Just a dusting on the flat surfaces – the deck, the slide, the patio table. Just enough to remind me that it's still winter.
We went from upper 40's to mid-20's, and I decided it's the perfect weather for curling up in front of the fire with come hot chocolate and a good book!
Em has been reading up a storm, too. While I'm re-reading Lord of the Flies, she just finished The Bronze Bow. Now, she's looking for something new to read.
In my search for inspiration, I was reminded of some of my favorite winter books for fluent readers. These books are geared toward kids reading at least a third grade level. However, if your child isn't reading at a third grade level, these books make great family read-alouds.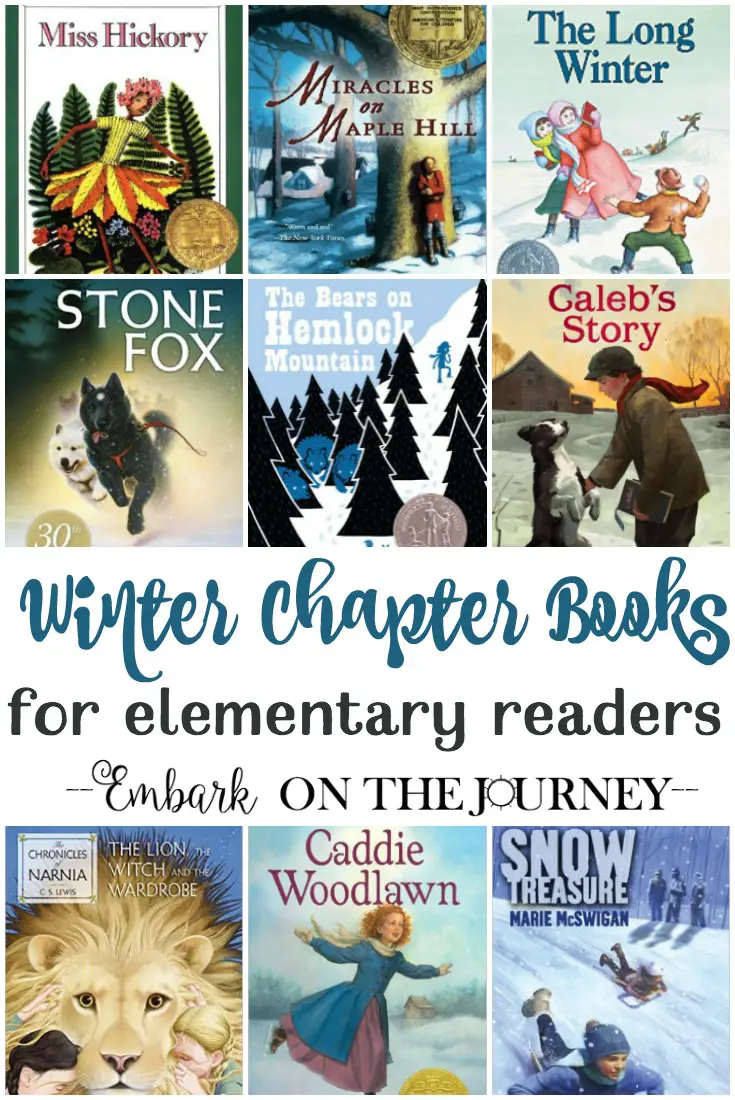 Winter Chapter Books
Miss Hickory
The Long Winter
Snowbound Mystery
&
Snowbound Mystery by Gertrude C. Werner
A freak snowstorm isolates the Aldens in a mountain cabin where they discover a coded message.
The Long Winter by Laura Ingalls Wilder
The town of De Smet in the Dakota Territory is hit with terrible blizzards in the hard winter of 1880-81, and the Ingalls family must ration their food and coal. When the supply train doesn't arrive, all supplies are cut off from the outside. Soon there is almost no food left, so young Almanzo Wilder and a friend must make a dangerous trip in search of provisions.
Miss Hickory by Carolyn Sherwin Bailey
Most dolls lead a comfortable but unadventurous life. This was true of Miss Hickory until the fateful day that her owner, Ann, moves from her New Hampshire home to attend school in Boston—leaving Miss Hickory behind. For a small doll whose body is an apple-wood twig and whose head is a hickory nut, the prospect of spending a New Hampshire winter alone is frightening indeed. In this classic modern day fairy tale, what's a doll to do?
The Lion, the Witch, and the Wardrobe
Mr. Popper's Penguins
Caleb's Story
&
The Lion, the Witch, and the Wardrobe by C. S. Lewis
Four adventurous siblings—Peter, Susan, Edmund, and Lucy Pevensie—step through a wardrobe door and into the land of Narnia, a land frozen in eternal winter and enslaved by the power of the White Witch. But when almost all hope is lost, the return of the Great Lion, Aslan, signals a great change . . . and a great sacrifice.
Mr. Popper's Penguins by Richard Atwater
How many penguins in the house is too many? Mr. Popper is a humble house painter living in Stillwater who dreams of faraway places like the South Pole. When an explorer responds to his letter by sending him a penguin named Captain Cook, Mr. Popper and his family's lives change forever. Soon one penguin becomes twelve, and the Poppers must set out on their own adventure to preserve their home.
Caleb's Story by Patricia MacLachlan
"It′s your job now," Anna says as she hands Caleb her journals, asking him to continue writing the family story. But Sarah, Jacob, Anna, Caleb, and their new little sister, Cassie, have already formed a family, and Caleb fears there will be nothing left to write about. But that is before Cassie discovers a mysterious old man in the barn and everything changes. Everyone is excited about the arrival of a new family member except for Jacob, who holds a bitter grudge. Only the special love of Caleb, and the gift he offers, can help to mend the pain of the past.
Stone Fox
The Bears on Hemlock Mountain
Caddie Woodlawn
&
Stone Fox by John Reynolds Gardiner
Based on a Rocky Mountain legend, Stone Fox tells the story of Little Willy, who lives with his grandfather in Wyoming. When Grandfather falls ill, he is no longer able to work the farm, which is in danger of foreclosure. Little Willy is determined to win the National Dogsled Race—the prize money would save the farm and his grandfather. But he isn't the only one who desperately wants to win. Willy and his brave dog Searchlight must face off against experienced racers, including a Native American man named Stone Fox, who has never lost a race.
The Bears on Hemlock Mountain by Alice Dalgliesh
"There are no bears on Hemlock Mountain, No bears, no bears at all…" Or so young Jonathan is told by the grown-ups as he sets out alone over Hemlock Mountain. But as Jonathan discovers on that cold winter night, grown-ups don't always know…. And there are bears on Hemlock Mountain!
Caddie Woodlawn by Carol Ryrie Brink
Caddie Woodlawn is a real adventurer. She'd rather hunt than sew and plow than bake, and tries to beat her brother's dares every chance she gets. Caddie is friends with Indians, who scare most of the neighbors — neighbors who, like her mother and sisters, don't understand her at all.
Snowflake Freeze
Miracles on Maple Hills
The Rescue Princesses
&
Snowflake Freezes Up by Joan Holub
Snowflake isn't sure which fairy tale character she is. But with her magical powers causing lots of trouble, she's definitely on thin ice! So just in case she might be a villain, Snowflake is chilly to her classmates. Can she keep her cool until she knows her whole story, or will her social life at Grimm Academy be permanently frozen?
The Snow Jewel by Paula Harrison
When Princess Freya's mischievous kitten goes missing, the princesses leap into action. They have to find the kitten-even if it means letting Freya in on their Rescue Princess secret.
Miracles on Maple Hill by Virginia Sorensen
Marly's father came back from the war a different man. Something inside him seems as cold and dead as the winter world outside. But when the family moves to Grandma's old house on Maple Hill, miracles begin to happen. The sap in the trees begins to rise, the leaves begin to turn, and Marly's father starts to bloom again, like the world around them.
The Poet's Dog
Snow Treasure
Absolutely Truly
&
The Poet's Dog by Patricia MacLachlan
When Teddy (the dog) finds Nickel and Flora trapped in a snowstorm, he tells them that he will bring them home—and they understand him. The children are afraid of the howling wind, but not of Teddy's words. They follow him to a cabin in the woods, where the dog used to live with Sylvan . . . only now his owner is gone.
Snow Treasure by Mary McSwigan
In the bleak winter of 1940, Nazi troops parachuted into Peter Lindstrom's tiny Norwegian village and held it captive. Nobody thought the Nazis could be defeated—until Uncle Victor told Peter how the children could fool the enemy. It was a dangerous plan. They had to slip past Nazi guards with nine million dollars in gold hidden on their sleds. It meant risking their country's treasure—and their lives.
Absolutely Truly by Heather Vogel Frederick
An unsent letter in a first edition copy of Charlotte's Web leads to a hunt for treasure in this heartwarming middle grade mystery from the author of The Mother-Daughter Book Club.
More Winter Fun