After making the decision to homeschool, many new homeschool parents wonder what to teach. How will they know what to teach when? There are so many subjects to cover and so many ways to cover them. How do you know when to teach algebra and biology? When should you teach health or typing?
There is a wealth of information available online and at your local library. Don't let it stress you out. Do a little research, and remember that you can't teach them everything.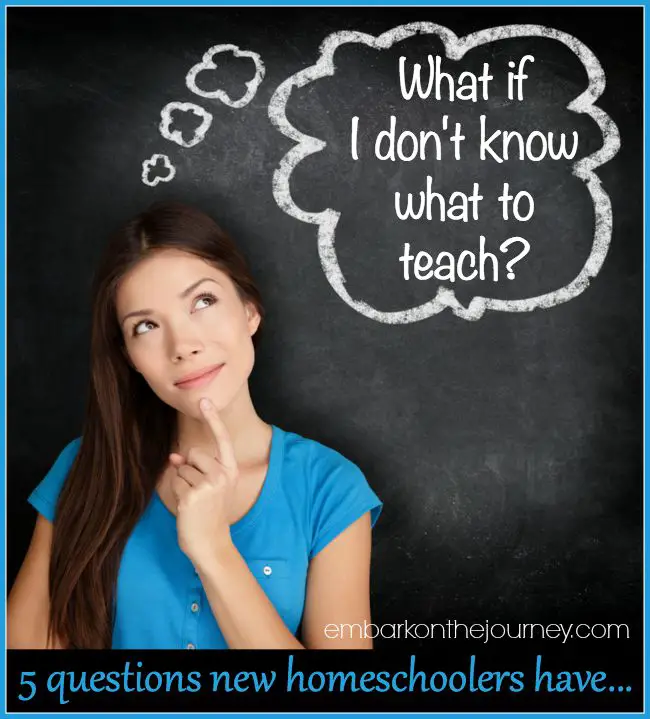 What Do I Teach?
There are quite a few great places to start when you're deciding what to teach in your homeschool. The easiest place to start is with a boxed curriculum. A boxed curriculum, or all-in-one, simply means that all or most of your choices are pre-packaged together. You may have to choose an elective or a math, but most everything else is already put together for you.
A lot of new homeschoolers start with this option, because someone else has already made the decision about what to teach when. You decided which grade or level to teach, and they send it all to you.
This is the route I chose when my oldest came back home to homeschool in the middle of his sophomore year. It was an unexpected decision. I didn't have time to put a plan in place or to research my options. So, I ordered a boxed curriculum for him to work through so we could finish up our school year.
Where can you find a boxed, or all-in-one, curriculum?
If an all-in-one curriculum is not what you're looking for, how will you know what to teach? First, start by seeing if your state has any requirements. You can find this information on the HSLDA website.
Once you know what your state requirements are, it's really all up to you! You can start with a general "what your child should know when" scope and sequence, if you don't know where to start. I like the World Book Typical Course of Study.
There are also quite a few authors who have created books that answer this question. I've read many of these, and I always take away new ideas and inspiration. I don't follow any of them as they are written, because I design my curriculum around our long-term goals and short-term passions. But, these books definitely influence our direction.
How do you decide what you will teach and when?
Linking up at these parties: Favorite Things Friday