Have you ever looked back at your younger homeschool days and wished for a do-over? I have plenty of times. The longer I am on this homeschool journey, the more amazing homeschool products come out that would have been a perfect fit for one or more of my kids.
I've always been a fan of open-and-go curriculum, but I had a hard finding one that was affordable enough to purchase for our family. I often look for curriculum that spans several subject areas, but, again, those tend to be pretty pricey. With three kids, each five years apart, I struggled to keep homeschooling engaging and affordable for all of my kids.
Oh, how I wish I had known about The Good and the Beautiful homeschool curriculum many years ago. It's affordable, engaging, and would have been a huge hit with all of my kids.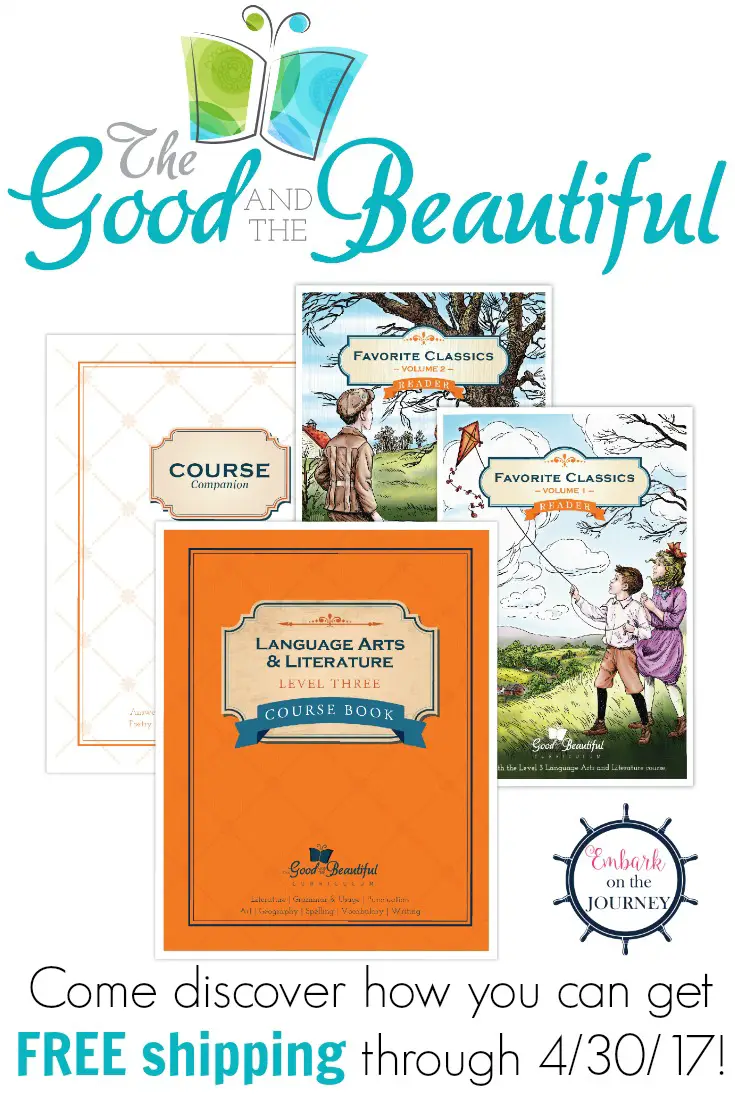 The Good and the Beautiful Homeschool Curriculum
Jenny Phillips is a songwriter, music producer, author, and homeschool curriculum writer. After majoring in English in college, Jenny released numerous albums, traveled the world with her music, and eventually settled at home to homeschool her five children.
Dissatisfied with the lack of "clean" reading material and unable to find exactly what she was looking for in a curriculum, Jenny set out to write her own. The result is called The Good and the Beautiful.
What exactly is it?
Jenny has created a no-prep, language arts curriculum for students in preschool through middle school. High school levels are in the works right now, with the first set to be released in June of 2018.
Jenny's approach to language arts combines multiple subjects allowing students to connect the dots across the curriculum. For example, Level 4 covers reading, writing, spelling, grammar and punctuation, literature, art, and geography. This is wonderful because it eliminates the need to purchase 6 or 7 different courses to cover all of those subjects. This is a huge budget saver!
The upper-level courses, from level 4 and above, are designed to be self-directed by the student. This is a great way to encourage your child to work independently, and it frees mom to work with other children.
Each course is bundled with all of the teaching materials you'll need to teach the course. However, it may be necessary to purchase a few additional items – notebooks, sketchbook, etc. – in order to get the most out of this program.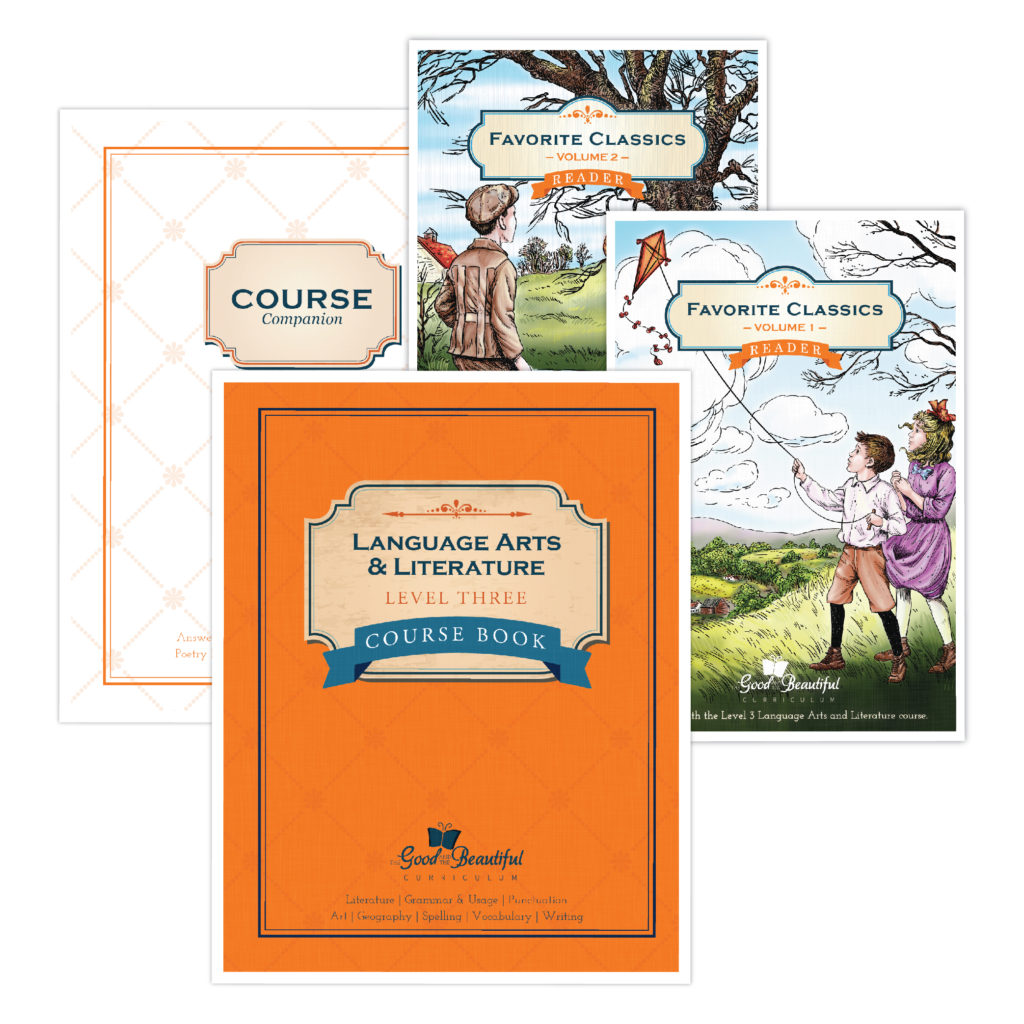 The Best Part…
Not only is The Good and the Beautiful a solid, Christian language arts curriculum, but many levels are offered FREE! Yes! You read that right. Free!
Levels 1-5 of the language arts and literature curriculum (she also offers history, handwriting, and more) are available as free PDF downloads. You get all of the required pieces – the course book, flashcards, companion book – for FREE.
Bonus!
If you want to save time and money, you can order the print version of each level for a very affordable price. And right now you can get free shipping on all orders over $40 if you use the code EMBARK.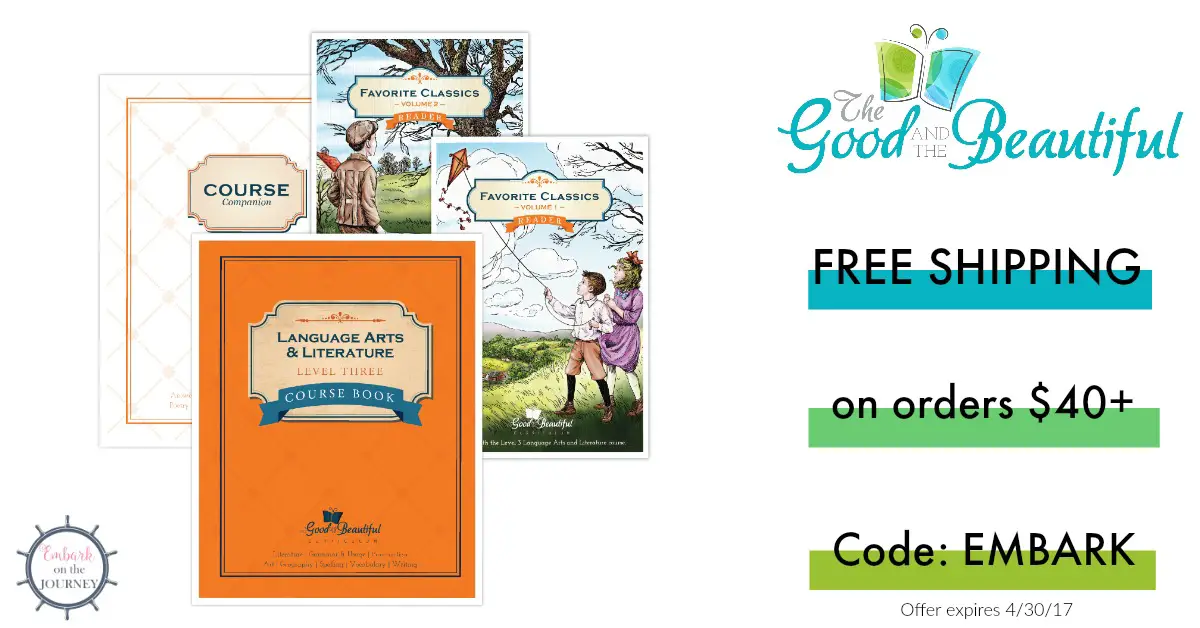 More important information…
On Jenny's website, you can find a course level assessment (placement test) to determine which level is the best fit for your students. There are samples available for each level except level 6 which is due to be released on 8/21/2017. These samples are perfect seeing the layout of the levels before you decide to purchase/download the full product.
If you have a chance to explore The Good and the Beautiful, let me know what you think.
Related Posts