If you've got little ones who aren't math fans or you're looking for a fun change of pace for your upcoming math lessons, check out these books that use candy as manipulatives!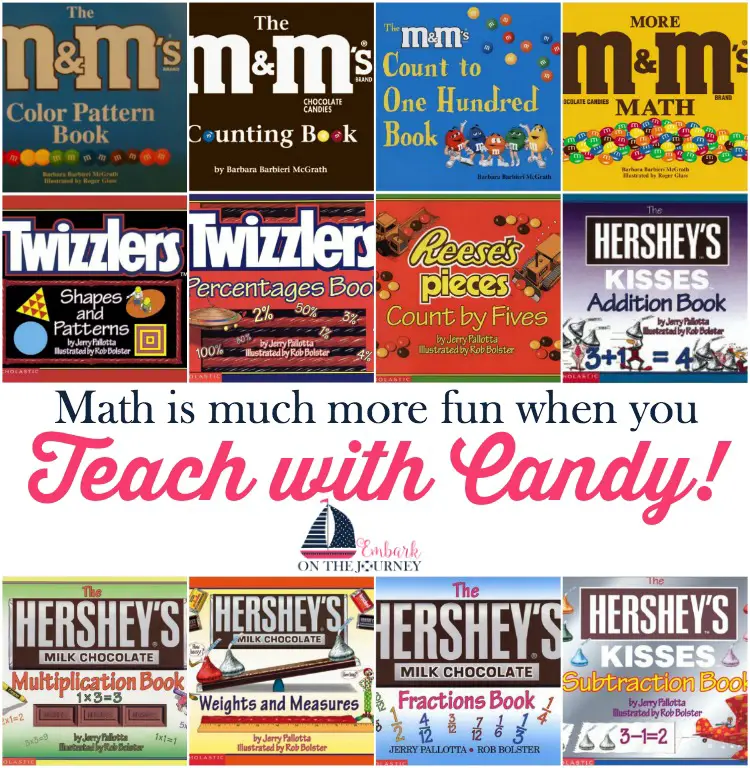 Teaching Math with Candy
The M&M's Count to One Hundred Book – Explains how to count up to 100 pieces of M&M candy by ones, twos, fives, and tens.
The M&M's Color Pattern Book – Red, Yellow, Orange, Green, and Blue are here to help teach about patterns. From two-color patterns to complicated six-color pattern arrangements, brightly colored, movable, compact (and delicious) M&M's Chocolate Candies are the ideal manipulative to introduce patterning concepts.
Twizzlers Shapes and Patterns – What tastier way to introduce the concepts of shapes and patterns than with red and black Twizzlers candy? Starting with a dot, a line, and different types of angles, author and educator Jerry Pallotta teaches youngsters all about shapes and patterns in the fun, relaxed way that has become his trademark.
The M&M's Counting Book – Pour out the candies. Get ready. Get Set. This counting book is tastiest yet! This yummy little counting book teaches the numbers 1 – 12, six colors of the "M&M's" Chocolate Candies, including the new blue and three primary shapes: the circle, square, and triangle. Beginning scholars also learn the sets of twelve. What's more, children are introduced to simple math!
Reece's Pieces Count by Fives – Don't just play with your food…learn with it! Using clear text and life-sized pictures of yummy Reese's Pieces, author and educator Jerry Pallotta teaches children how to count by fives.
Twizzlers Percentages Book – What better way to introduce the concept of percentages than with delicious Twizzlers candy? As he's done with fractions, addition, and counting, author and educator Jerry Pallotta teaches percentages in the fun and relaxed way that has become his trademark.
The Hershey's Kisses Addition Book – What better way to introduce simple addition concepts than with delicious Hershey¹s Kisses? To illustrate math concepts, this book features a cast of miniature clowns struggling under the weight of life-sized Hershey¹s Kisses.
More M&M's Math – Topics covered include estimation, simple graphing, factoring, multiplication, problem solving, division, and simple fractions. The instructive text and colorful illustrations will appeal to younger children ready to explore the challenges of more advanced math concepts as well as to older children needing an entertaining and user-friendly review.
Hershey's Kisses Subtraction Book – Children love chocolate! And what better way to teach them the basics of subtraction than with yummy Hershey's Kisses?
Hershey's Milk Chocolate Weights and Measures – How long is a foot? What is the metric system? What weighs more, a ton of feathers or a ton of Hershey's candy?
The Hershey's Milk Chocolate Multiplication Book – Learn multiplication with a yummy Hershey's Milk Chocolate Bar! With its 3 horizontal rows and 4 vertical columns–totaling 12 sections in all–children can easily begin to understand the concept and process of multiplication. Memorizing multiplication "facts" has never been so delicious!
The Hershey's Milk Chocolate Fractions Book – A Hershey's bar is made up of 12 little rectangles, making it the perfect edible tool for teaching fractions!
---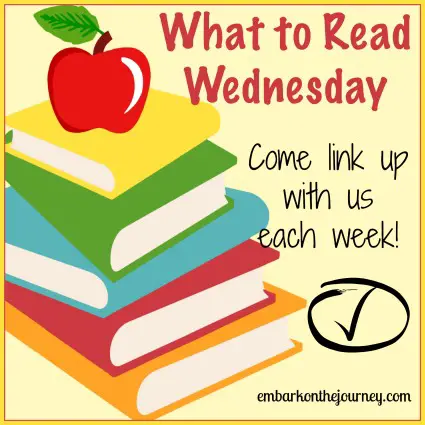 If you have a children's literature or other family-friendly post you'd like to share, please link up with us. Share what you've been reading with your kiddos. Do you have a fun book-based activity or printable? Share it with us. You may find yourself featured next week!
[inlinkz_linkup id=598262 mode=1]