When teaching geography in my homeschool, there are a few tools I like to keep on hand. Many of these tools are ones I've had on my shelves throughout my sixteen year homeschool journey.
This year, when I was deciding what to teach for eighth grade, I came across a folder containing a printed copy of my favorite geography curriculum. I used this FREE World Geography curriculum from Harmony Fine Arts at Home years ago when my boys were in middle and high school, and I couldn't wait for Emma to be old enough to use it. This year, she is, and I get to pull out my favorite geography tools for one last round through this book.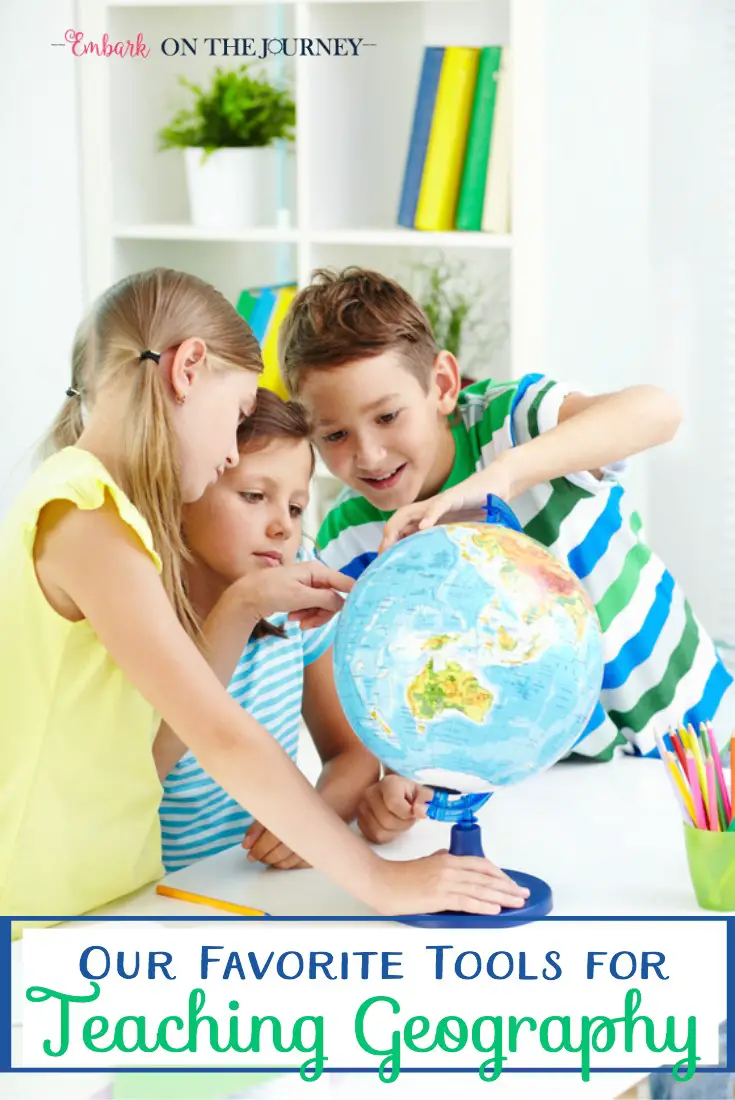 Tools for Teaching Geography
I think the reason I love this curriculum so much is because of the tools we use in our weekly lessons. From books and printables to hands-on tools and more, here's a peek at our favorite tools for teaching geography.
Maps and Atlases
No study of geography is complete without maps and atlases. We've had a US map and world map on our school room wall for as long as I can remember. I bought cheap ones from Walmart and had them laminated at a local teacher store when we lived in Texas. Maps are helpful for providing a big picture look at the states and countries being studied.
Atlases are helpful, too. Especially as students get older and get more in depth in their studies. Emma uses her Rand McNally Answer Atlas weekly to draw and/or label maps.
Curriculum Supplements
When Emma was younger, we used Galloping the Globe. Now that she's older, we're using Trail Guide to World Geography. We also use Wondermaps for blackline maps. Wondermaps is a great resource for blackline maps that kids can use in their geography lessons.
Books
Our world geography curriculum assigns several book excerpts a week. I remember how much my boys loved the books, and I hoped Emma would. She does! These are her favorite books geared toward middle and high school students.
Printables
When my kids were younger, we did a lot of lapbooking. It's pretty easy to find lapbooks for specific countries and states if you do a Google search. Our two favorite sites, though, are Homeschool Share and A Journey Through Learning. Lapbooks are great for allowing kids to showcase what they've learned.
Now that Emma is older, however, we do more notebooking than lapbooking. We love the country notebooking pages from NotebookingPages.com. For years, we used their free pages before I finally bit the bullet and purchased a lifetime membership. That was, by far, the best purchase I ever made for my homeschool. From countries to states to landmarks and more, there are notebooking pages galore for your geography studies.
Music
Auditory learners can benefit from putting their lessons to song. So, we use Geography Songs in our homeschool. I bought this CD way back when I went through World Geography with my oldest. Since then, I have added it to my iTunes account, and we pull it up on our iPad when we want to listen to the songs. Well, when I assign the songs, that is. Emma isn't a huge fan, but I find them helpful so I continue to assign them.
She much prefers this Nations video from Animaniacs. I let her watch it once a week, but I don't assign it. I don't like the way it skips around the world instead of focusing on one entire continent at a time. However, she enjoys it.
Art
Em is our resident artist, and she loves any chance to combine art with her day to day studies. When she was younger, we worked our way through our Draw Write Now books. Today, we are using Geography Through Art. So far this year, she's sketched Big Ben and an English castle. I'm looking forward to watching her work her way through this book as the year progresses.
Hands-on tools
I've saved our favorite resources for last! I have collected quite a few sets of flash cards from Target's Dollar Spot and the Dollar Tree. These are great for sticking in our pocket chart as we travel through the countries in our curriculum.
Another fun tool is the TOOB from Safari Ltd. They have a fun Around the World set as well as World Landmarks and USA Landmarks.
Our favorite, though, is this set of GeoPuzzles. We have four of the six, and we'll be purchasing the last two soon. I love that the puzzle pieces are shaped like the country it represents. So, when the puzzle is complete, it is shaped like the continent. Emma likes that they are challenging, and I like that she's getting more familiar with each of the countries and its capital as she works on the puzzle.
This, of course, is only the tip of the iceberg for geography tools. However, this is a peek at many of our favorites. Every item mentioned here is something we've used personally. I've seen how well they help my kids learn, and I hope you enjoy them, too.
What is your favorite resource for teaching geography?