I love being able to use my favorite picture books to provide a new take on our homeschool lesson plans. Picture books tend to be less intimidating than a text book or lesson plan. And, as the kids get older, they seem to get a little more pleasure out of learning with some of their favorite childhood stories.
One easy topic to teach with picture books is cause and effect. There seems to be an endless supply of books you can use. Children will encounter cause and effect in all subject areas throughout their school careers. Whether they're solving equations in math or applying the scientific method to an experiment, they need to understand the causal relationship between two or more events.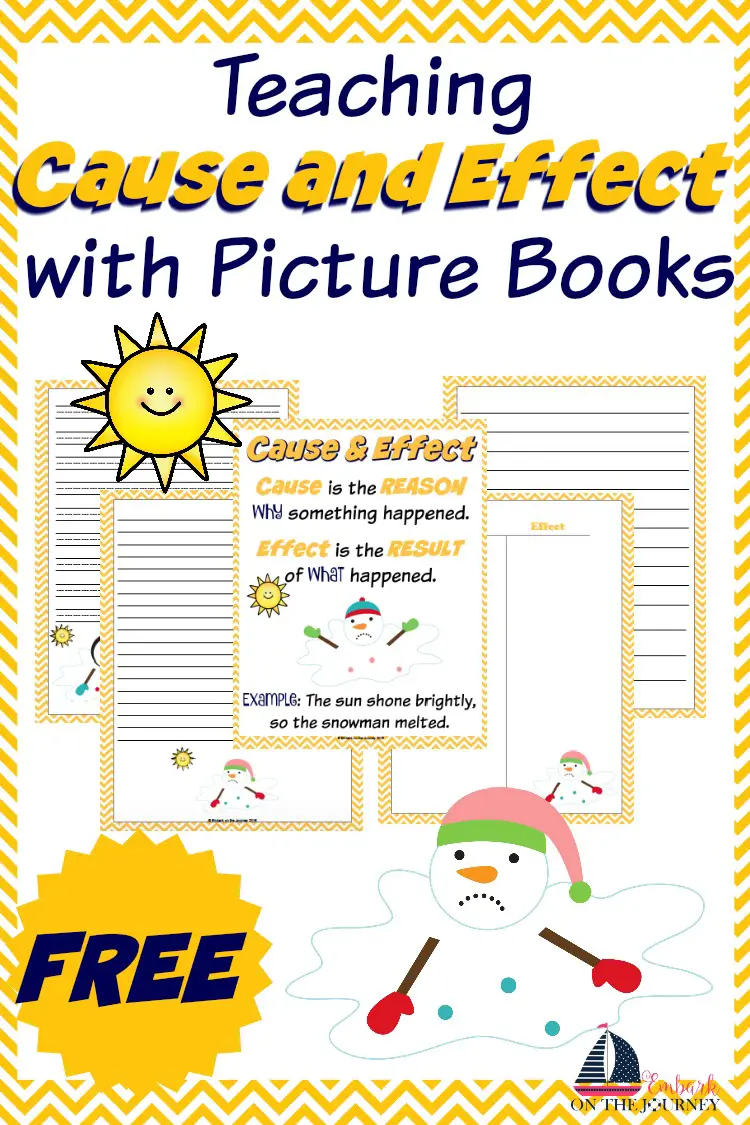 Teaching Cause and Effect
Laura Numeroff's books are full of opportunities to teach cause and effect. Take If You Give a Mouse a Cookie
, for instance. Each time the mouse gets what he wants, he wants something new. This is cause and effect.
Start by showing your kids the cause and effect poster which defines both cause and effect. Read If You Give a Mouse a Cookie
or any of the other books listed below. After reading it through once, go back and discuss cause and effect. How does one event affect the next? How does the effect then become the cause of the next event?
Once your child has a clear understanding of cause and effect, choose another story to read. Let them use the t-chart included in my printable pack to record the cause and effect scenarios in the new story. Afterward, have them tell or write about a cause and effect they've experienced in real life.
Another fun book you can use is Snowmen at Night
. In this story, a child makes a snowman. The next day, the snowman looks different, and the child wonders what snowmen do at night. He imagines the snowmen ice skating, drinking hot chocolate, and even having a snowball fight. It would fun to have your kids discuss what their snowman would look like (effect) after each night's activity (cause). This requires them to think through the cause in a slightly different way to describe the effect.
Other books you can use include Alexander and the Terrible, Horrible, No Good Very Bad Day
(how does each incident cause Alexander's day to get worse and worse), Tops and Bottoms
(how does hare react when bear gives him planting instructions), and The Day Jimmy's Boa Ate the Wash
(what events lead up to the boa eating the laundry on the line).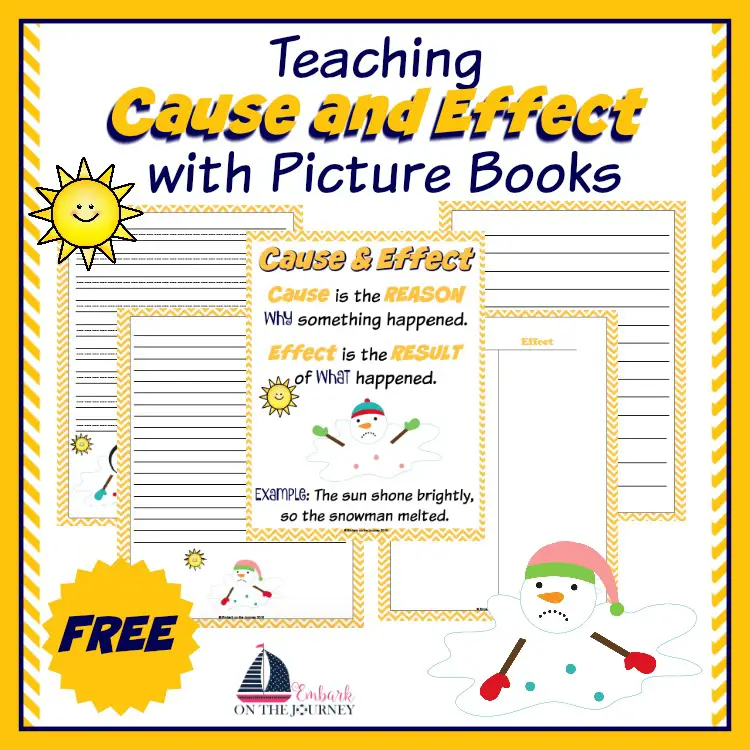 To download your free printable pack, you must sign up to receive my emails. Enter your contact information below. You should receive your download link within the hour. If, after an hour, you have not received your link, please contact me and we'll figure it out together.
Please note that your link will expire in 3 days, and it can only be downloaded twice. Be sure to download and save it once it arrives in your inbox. Also note, these files will not open on a tablet or smart phone. You will need to open them from a PC or laptop. Enjoy!
[wp_eStore_free_download_squeeze_form id=76 button_text="Download Now"]