So far this week, we've talked about nouns and verbs. Continuing with my "teaching grammar with picture books" portion of this series, let's talk about adjectives. Adjectives are describing words. They always describe or modify nouns. In order to be good writers, students need to be able to use adjectives to dress up their sentences. "Dogs bark" is a pretty boring sentence. "The little brown spotted dog barked" paints a much better picture.
One fun way to teach about adjectives is to put a familiar object in a brown paper bag and ask your child to describe it. How does it feel? What shape is it? All of those words will be adjectives.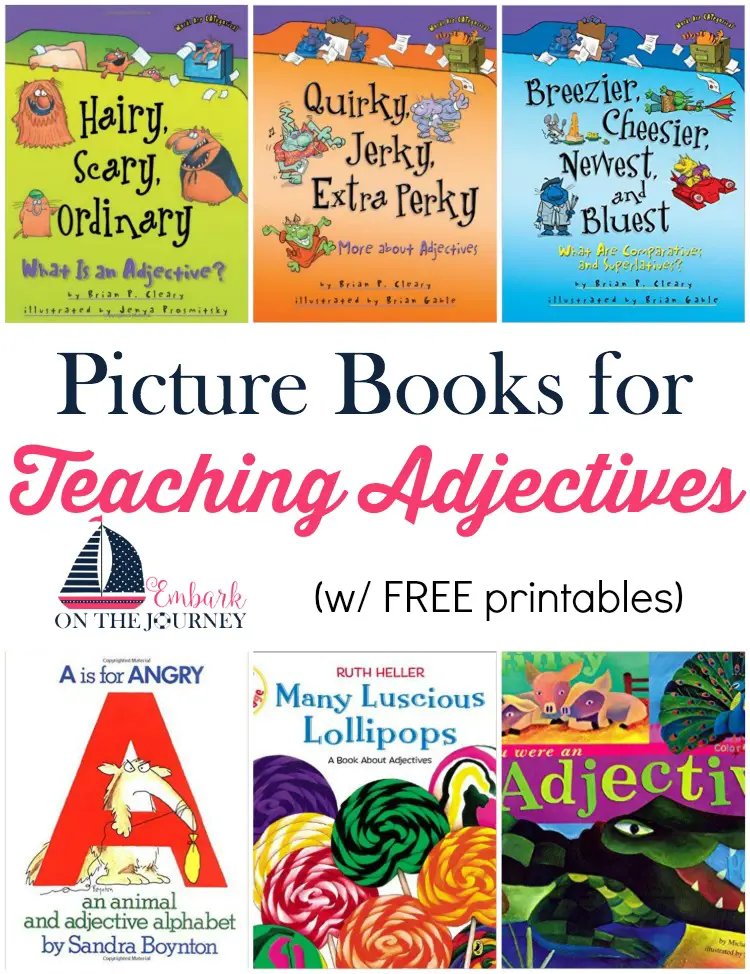 Teaching Adjectives with Picture Books
As I have for the past two days, I'll revert back to my favorite grammar picture books by Ruth Heller and Brian P. Cleary. Remember that Cleary's books seem to be written for a younger audience. Hairy, Scary, Ordinary
is a great book to use when introducing adjectives to your kiddos. Another great introductory book is Quirky, Jerky, Extra Perky
. Once they've got the hang of things, you can introduce your kids to comparative and superlative adjectives with Breezier, Cheesier, Newest, and Bluest
. Ruth Heller's Many Luscious Lollipops
is good for students who many already have some knowledge of adjectives already, because it's more comprehensive than the other books mentioned. It covers all types of adjectives in one book – demonstratives, articles, possessives, and more.
I've not read them, but I found A is for Angry: An Animal and Adjective Alphabet
and If You Were an Adjective
on Amazon. They both look good. A is for Angry
is written by Sandra Boynton, and I've never read a book of hers that I didn't like.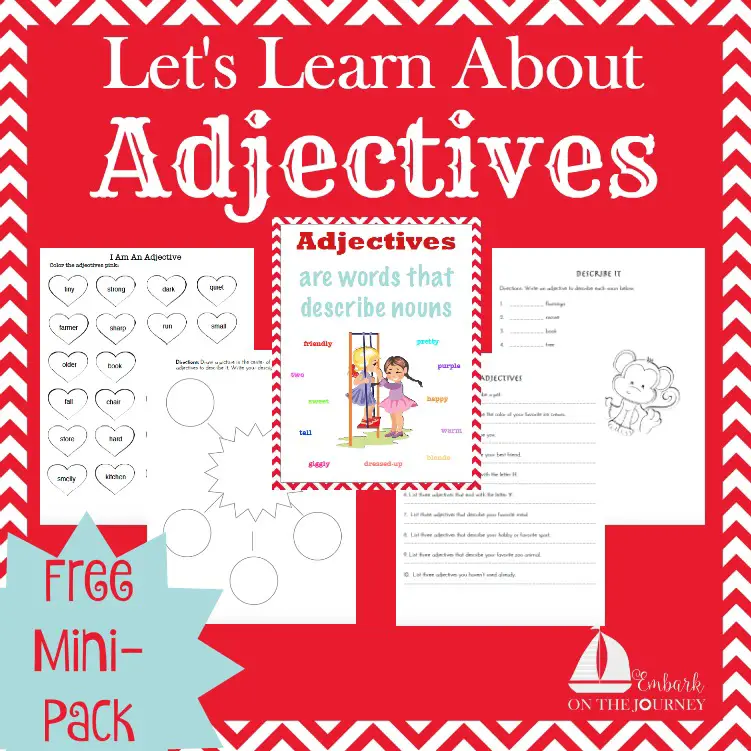 Adjectives Mini-Pack
Inside this adjectives mini-pack, you will find an anchor chart and four worksheets. To download your free printable pack, you must sign up to receive my emails. Enter your contact information below. You should receive your download link within the hour. If, after an hour, you have not received your link, please contact me and we'll figure it out together.
Please note that your link will expire in 3 days, and it can only be downloaded twice. Be sure to download and save it once it arrives in your inbox. Also note, these files will not open on a tablet or smart phone. You will need to open them from a PC or laptop. Enjoy!
[wp_eStore_free_download_squeeze_form id=83 button_text="Download Now"]
What is your favorite resource for teaching adjectives to your kiddos?