Middle school math used to scare me to death! I excelled at math when I was a student, but teaching algebraic equations and geometric formulas to a child who doesn't love math is a whole different ballgame!
We have used Saxon Math since our second year of homeschooling (sixteen years ago) when my oldest was entering the fourth grade. In fact, I start all of my kids in Saxon Math when they hit the fourth grade.
Logan, my oldest, was trucking right along in his math lessons until he hit middle school. At that point, math started to become a chore. It was a subject we both dreaded, and quite often lessons included raised voices (mine and his) and not-so-great daily scores.
I knew I didn't want to switch math programs because I'm a firm believer in a strong foundation. And, I strongly believe that Saxon provides that strong foundation. But, I had to do something or neither of us would survive middle school math.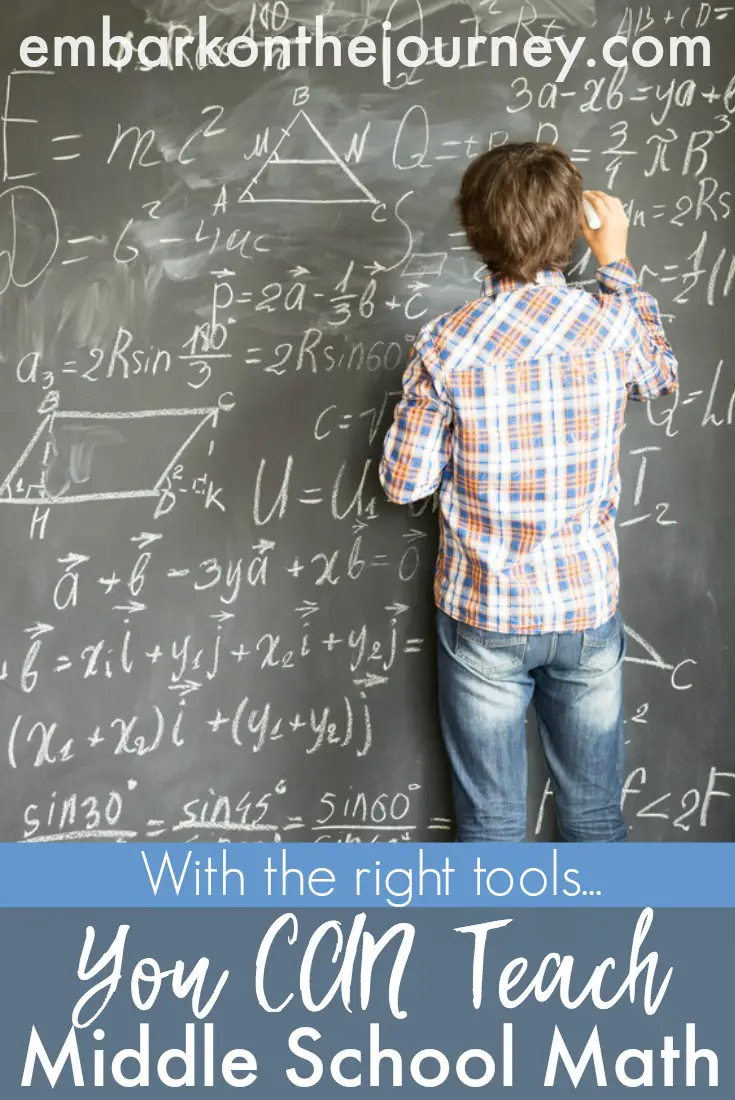 You CAN Teach Middle School Math!
I discovered a great math tool that allowed me to take a fairly hands-off approach to teaching middle school math. I stayed involved, of course, but I was no longer the 'main' teacher. I purchased a CD that provided a "teacher" who would teach each lesson on a virtual whiteboard. That teacher taught the lesson and walked my kids through the practice problems of each lesson.
Sounds like a great plan, huh? It was! Except… the CD's are boring! There is no live person to see on the screen. You can hear his voice, and you can see his work on the virtual whiteboard. But, there's not a person to see and to connect with. Sometimes, with a longer lesson, my kids tended to tune out and had to go back and rewatch parts of the lesson.
It was working for us, though, so I had no plans to change what we were doing. Until I discovered Nicole the Math Lady!
Teaching Saxon Math with Videos
Aside from the fact that none of my kids wanted me to teach them math (I did mention that I'm actually good at it, right?), I really want my kids to work toward independence as they reach their middle school years.
By teaching middle school math with Nicole the Math Lady videos, I fall into a mentor role instead of teacher. Em can come to me when she struggles with a math problem, but we aren't butting heads when it comes to the teaching part.
Emma really likes being able to watch the videos on the family computer in the other room before heading to the living room to spread out and do her lessons. Nicole the Math Lady makes math way more fun than I do. Not only does she love math, but she loves teaching math. Having a teacher who's passionate about a subject makes it so much more engaging.
She has tips and tricks and mnemonic devices that make understanding complex math concepts a little easier. These NICOLEisms take her math instruction to a level I can't provide. And, they make the lessons engaging for kids who don't want to have to ask mom for help.
You can see more of Nicole's videos on her YouTube channel. Nicole provides videos for odd-numbered lessons free her on YouTube channel.
But, what if you don't use Saxon Math? That's okay! Nicole still has you covered. You can use Nicole the Math Lady videos with any math curriculum by looking at the topic list to find the video you need.
Nicole the Math Lady Details
Nicole the Math Lady Yearly Membership
Single Membership – $49
All Grades Membership – $79
Grade Levels:
Saxon 7/6
Saxon 8/7
Saxon Algebra 1/2 (coming soon)
Saxon Algebra 1 (coming soon)
Math by Topic (perfect for those not using Saxon)
Try it before you buy it with a FREE one-week trial! Use code Free1Week-nhi . 
And, enter to win a one-year subscription to the level of your choice!
Related Posts