Do you find yourself fighting cabin fever at this time of year?
Warm weather means the kids may be getting a bit antsy to put the books away and head out into the sunshine. Spring is here and instead of fighting it take your homeschool outside and make the most of it. Grab the books, clipboards, pencils, art supplies, cameras, or just a magnifying glass and go get some fresh air to breathe new life into your homeschool.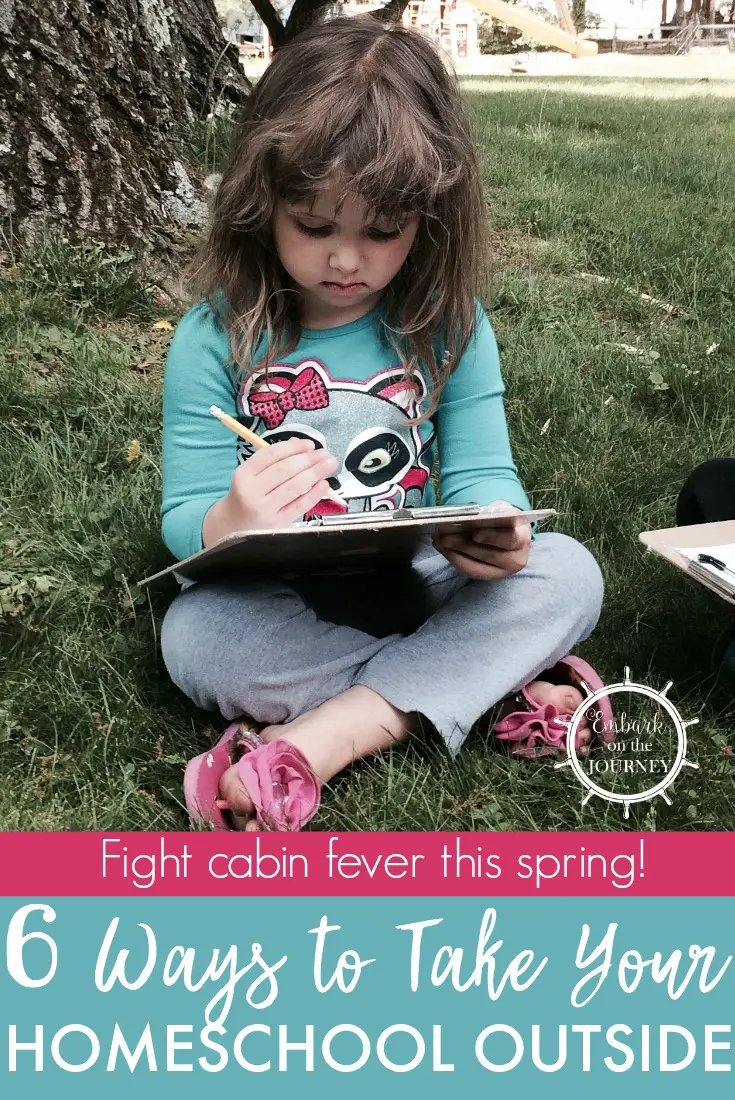 Take Your Homeschool Outside
Take your books with you, and find an open space with a few trees for shade. This is a great way to spend an afternoon reading poetry to little ones while they run and spin. Older kids will benefit from the sunshine and fresh air while they enjoy their own reading list, just be sure they get some time to run too.
Make a nature journal. Nothing like venturing through your local botanical gardens to sketch the specimens you find or tromping through the woods collecting leaves, flowers, and other items to document the wonders of nature.
Need something a bit more high-tech that takes up less space? A little nature photography is a great way to explore the world. Don't forget to try a macro lens.
Take your homeschool outside and get truly messy. Springtime brings warm weather you can head outside to really enjoy. Take the paints, crazy science explosions, and messy sensory play outside where you can enjoy the fresh air and let the next rain do most of the cleanup.
Start a garden and learn how food gets from seed to table up close and personal. A garden is a great way to encourage children to explore and learn. As the seasons wear on your children will have the chance to learn about everything from soil to pest control and how to use the fresh produce and herbs from your garden.
Get in a little PE and have some fun together. Drag out the bikes, make a hopscotch board, join a sport. Do anything to get up and get out after being stuck inside though the winter. Not only will it be great for the kids, but it will help them burn off energy making the book work easier.
Go on field trips. Spring is the perfect time to hit all of your favorite outdoor field trip spots like the zoo, historical landmarks, farms, and other adventures that will be packed with tourists come summer. Once school lets out these trips become crowded and you can not get as much time in without feeling rushed by others around you.
What do you do to combat cabin fever? What's your best tip for taking your homeschool outside?
Related Posts