For the past month, Emma and I have been on a lactose elimination diet. Em has always suffered from tummy troubles, sensitive skin, and a year-round stuffy/runny rose. After telling her GI doctor that I was lactose intolerant as a kid, he suggested the elimination diet.
After a month, we've noticed that her GI symptoms have been greatly reduced. She no longer suffers from a stomach ache and/or nausea after she eats, and her heartburn is gone! WooHoo! So, the doctor declared that she is lactose intolerant. However, it hasn't eliminated all of her symptoms, so we are gearing up for a gluten-elimination diet.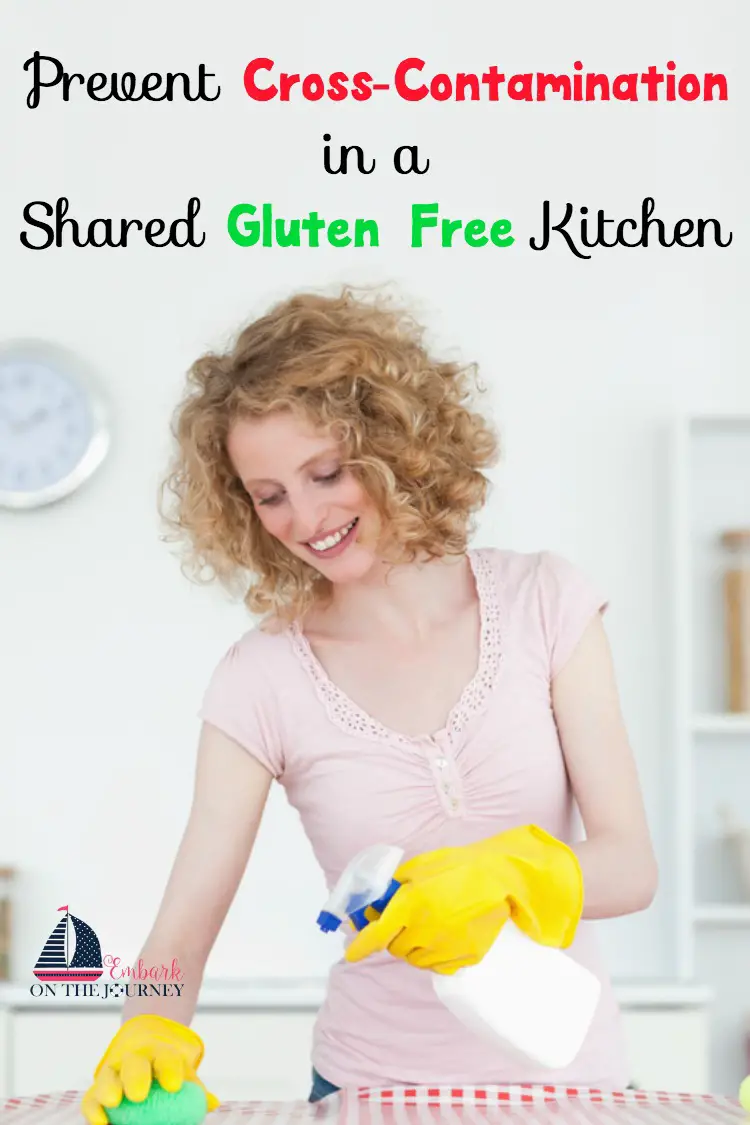 Preparing a Shared Gluten Free Kitchen
We have an appointment in three weeks with the nutritionist that works with our GI doctor. She will help us make sure we're ready to tackle this change. It's huge, guys! I'm not kidding when I say that I'm a bit intimidated. I've been reading and researching like crazy so I can start preparing now. I want to be 'mostly' ready when we walk in her office. I say 'mostly,' because I'm sure she'll mention things I hadn't thought of.
Because of this upcoming dietary change, spring cleaning my kitchen has taken on a whole new meaning this year. When a person has a gluten-intolerance, they have to eat as if they have Celiac disease even if they don't. That's because even a small amount of gluten can cause their symptoms to flare up.
We are spending our Spring Break deep-cleaning our kitchen. It's a different kind of deep-cleaning, though. We have to create a gluten-free section of the kitchen. There is a lot of conflicting information about how much needs to be done to prepare our kitchen, but I'm erring on the side of caution. I want to see my kiddo feel better.
Here are 10 things we're doing as we prepare for our visit with the dietician and our subsequent gluten-elimination diet:
Deep clean the entire kitchen. We will clear everything out, and wipe everything down. I mean everything – shelves, drawers, doors, handles. We'll run all of our dishes through the dishwasher, and run the self-cleaning cycle on the oven. We'll clean out the refrigerator and freezer compartments, and wipe down the pantry, as well. Hopefully, this will effectively remove all traces of gluten.
Designate gluten-free zones. We will designate a gluten-free countertop where we will prepare all of Emma's foods. The boys will know this area is off-limits to them. She will also have a gluten-free drawer and cabinet. She'll have a gluten-free shelf in the fridge and in the pantry.
Put gluten-free foods above those containing gluten. This will prevent flour and other gluten particles from floating down onto her food cross-contaminating it.
Buy a new toaster. There is really no way to clean a toaster well enough to prevent cross-contamination. I've already purchased an inexpensive toaster that will go on our gluten-free counter. I also discovered these toaster bags which will allow us to eat gluten-free toast when we visit family this summer. When we're home, though, it makes more sense just to have a dedicated gluten-free toaster.

Purchase two of every condiment. We'll buy two of the following condiments: relish, peanut butter, jelly, mayonnaise, cream cheese, butter, hummus and mustard. I'll have each container clearly marked as gluten-free
. This will prevent my boys from sticking their gluten-contaminated utensils in Emma's gluten-free containers.
Purchase a new strainer, cutting board, and baking/serving utensils. Make sure your items are stored separately from your 'regular' cookware. You'll also need to find some way to mark each item so that the whole family knows they are only to be used with gluten-free foods. Scratches in wooden utensils and cutting boards can harbor gluten so it's best to purchase new ones.
Purchase new pots and pans. Like the items above, scratches in the finish of non-stick cookware can harbor gluten. I've already purchased a new skillet, cookie sheet, and baking pan. I will also be purchasing a new pot and muffin pan.
Get new plastic bowls and storage containers. All of our mixing bowls are metal so I won't be replacing them. However, all of our cereal bowls and most of our storage containers are plastic. I will be purchasing a small set of each for Emma to use.
Have kitchen towels and sponges that are only to be used on gluten-free dishes. Emma is now the proud owner of lime green dish towels and potholders and purple scrubby sponges for washing dishes. 🙂
Pick a color that says "gluten free." I had Emma pick a color for her gluten-free kitchen items. She wanted purple. If I couldn't find purple, I was to look for lime green. So, she has a purple and a lime green spatula, purple cutting board, and lime green bakeware! She also has lime green dish towels and potholders and purple scrubby sponges for washing dishes. 🙂