For the past three years, Lindsey the Elf has 'visited' our house. She isn't your typical elf in that she doesn't report back to Santa for bad behavior. However, she is quite mischievous. The first year she came to our house, Emma was a total believer in the elf. The second year she visited, Emma kind of knew, but she didn't want to admit she knew the elf wasn't real. Last year, she begged for Lindsey to visit again even though she knew it was all me. She just like the magic and wonder of waking up in the morning to see what antics Lindsey had gotten herself into the night before. However, I was tired. I was tired of scouring Pinterest for new ideas. I was tired of jumping up out of bed right before I fell asleep, because I forgot – again. I wasn't quite sure what we'd do this year.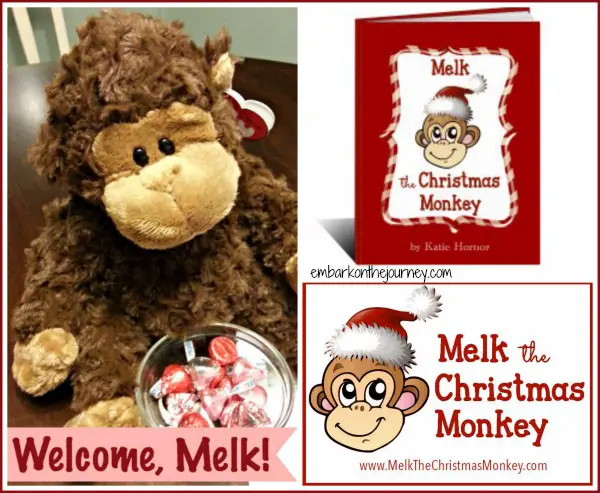 Melk the Christmas Monkey
In my focus to find the next bit of "trouble" that Lindsey could get into, I lost my focus on the true meaning of Christmas. We still talked about Jesus' birth, but He kind of took a back seat to Lindsey and her shenanigans. We didn't even bake a birthday cake for Jesus last year, because I was too tired. So, when I was introduced to Melk, I was super excited to invite him in to my home. Even though my youngest is 11, she still loves the magic of Christmas. She loves to make gifts for those she loves. She sets up all of our Nativity scenes around the house. But, I wanted to bring Jesus back to the forefront of our minds during the upcoming holiday season.

What makes Melk different?
Like the elf, Melk the Christmas Monkey comes to visit each day of the advent season. He likes a little mischief and fun, as well. Unlike the elf, he isn't here to report back to Santa for bad behavior. Instead, he's here to teach us about God's character every day until Christmas. His purpose is to help us prepare our hearts for Christmas by focusing on who God is.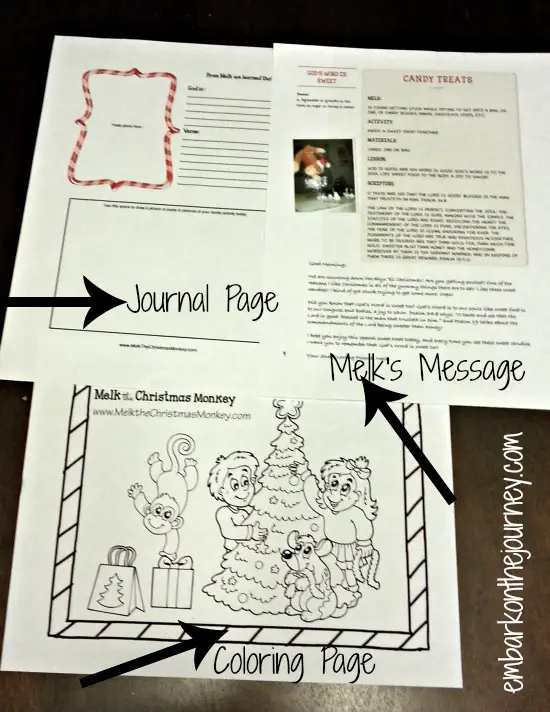 How can you get your own Melk, the Christmas Monkey?
Melk, the Christmas Monkey ebook is on sale now! If you purchase the Melk, the Christmas Monkey ebook before November 8, you will also get a pack of free Melk coloring pages. You can get a free lesson to try before purchasing the entire ebook. Katie is also including a set of journaling pages for your children to document their adventure with Melk. You can download these after your purchase. If you prefer to have a print version or Kindle version, you can order those on Amazon.
The fun thing is that you can pick out your own monkey! If you already have one, you're one step ahead of me. I didn't have a monkey so I ordered this guy. Emma loves him! She can't wait until he comes back to visit after Thanksgiving.
Katie has generously offered me a coupon to pass along to you, my dear readers! To save on the ebook version of Melk, the Christmas Monkey enter JOURNEYMELK at checkout for 10% off from Nov 4-8!
Help Melk give back this Christmas.
For every book sold between now and November 8, 1 child in Mexico will get a Christmas Gift and the Gospel.