Grammar. You either love it or hate it. I know many students start out indifferent in the early years when they are learning the basics of nouns and verbs, pronouns and adjectives. However, for many, grammar becomes a dreaded subject when the lessons transition to intransitive and transitive verbs, active and passive voice, and subject-verb agreement.
While I fall into the first category, Emma falls in to the latter one. She has a hate-hate relationship with grammar, and our lessons often end in frustration. When I start drawing lines on the white board, a look of dread comes over her! Who invented diagramming anyway?
What if you could learn all you know about grammar and punctuation in a way that is not so intimidating? From a book that is conversational in tone? A book that speaks directly to the student? A book that makes the student want to turn the page and complete one more lesson? That sounds like a dream, huh?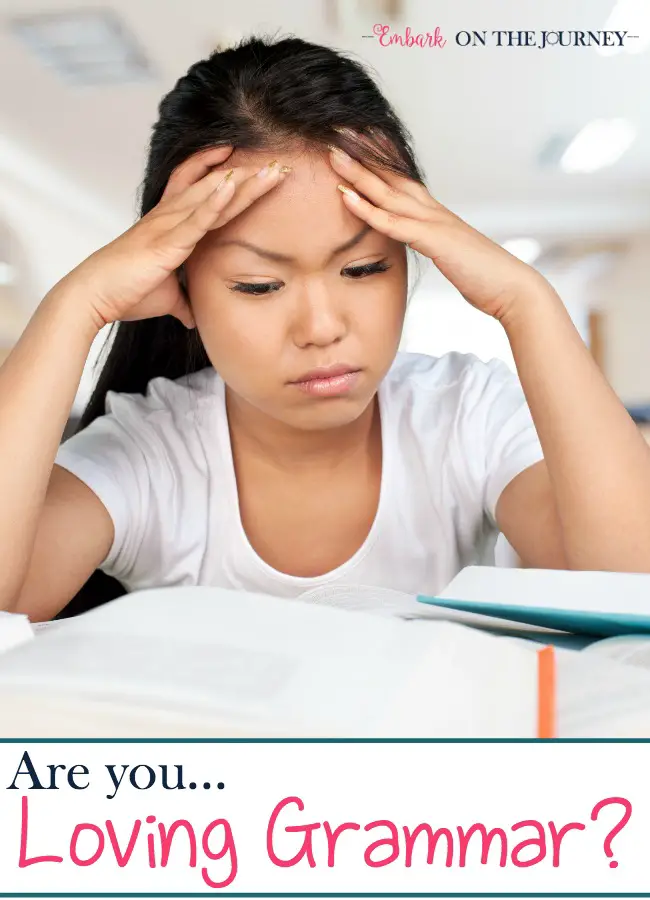 Are You Loving Grammar?
Well, wake up! Steven Lund has created just that – a grammar book that teaches grammar and punctuation in an easy, laid back manner. Loving Grammar: Mr. Lund's Guide to Professional Clamdigging is described as a 'quirky workbook' for high schoolers. It has a very conversational tone. In fact, the text is written as a conversation between Mr. Lund and three of his most inquisitive students.
Loving Grammar is not your average grammar book. It doesn't start out with teaching what a noun is, what its function is, the different types of nouns, etc. before moving on to verbs. There is no endless drilling of grammar rules and all of the exceptions to those rules. The text isn't dry and repetitive as many grammar books are (including the one we've been using for years).
Instead, Steve Lund has written in a way that will grab your teenager's attention. They will feel like they are part of an ongoing conversation inside a high school English class. He breaks grammar down into four basic 'moves' and describes those moves like the pieces in a game of chess. (I promise it makes sense when you read the text.) When you think about it, though, isn't grammar a bit less intimidating when you think about learning it in four basic chunks? All of the concepts in this grammar book are designed to come together to help students become better writers.

As he teaches through the Magical Wheel of Function (where he describes the four 'moves'), he digs deep by explaining gerunds and prepositional phrases, clauses and phrases (and more) in a way that flows seamlessly from one concept to the next without endlessly drilling the point. Students won't spend their time diagramming sentences and reviewing things they've learned in previous years. They're going to jump right into the heart of the matter.
While the text isn't full of endless drilling, this is a grammar mastery program. There are mastery quizzes sprinkled throughout the book. Do you see that? They're mastery based. Students either get an A or an F. There is no in between. They either master the concept or they don't. Because it's mastery based, Steven Lund has taken the time to really narrow down what needs to be memorized. He makes it clear throughout the book what he expects students to remember. He gives fair warning of upcoming mastery quizzes. There are no surprises.
The other cool thing about this grammar book is the reliance on mastery rules and memory sentences. Mastery rules are just that – rules that must be memorized in order to write properly. For each mastery rule taught in Loving Grammar, there is a sample sentence for kids to memorize. The sample sentence demonstrates the mastery rule. When studying prepositional phrases, students learn that when there are two or more prepositional phrases at the beginning of a sentence, they need to be set off with a comma. They are expected to memorize that rule along with the memory sentence: In my room under my bed, you'll find my geometry textbook. This gives kids a visual so they can "see" the rule in action while they memorize it and practice it throughout the chapter.
[bctt tweet="Discover a fun, quirky way to teach high school grammar! #homeschool #ad @LovingGrammar" username="homeschljourney"]
Each chapter ends with a review. The review is pretty comprehensive. Students are expected to write definitions and mastery rules. They are expected to add punctuation to sentences and show what they know. It's all written work. No multiple choice or fill in the blank. Again, this is a mastery based program. Kids are expected to know what they're taught, and they're expected to be able to share that knowledge on the review.
My final thoughts…
If your student has a pretty good grasp of basic grammar concepts, they'll be able to dive right in to this book.
If dry, boring texts make your student want to bang their head on their desk, they may love this book!
If your student likes to learn outside the box, this book is for them!
If your student has ever wondered what it takes to become a professional clamdigger, they'll know by the end of this book!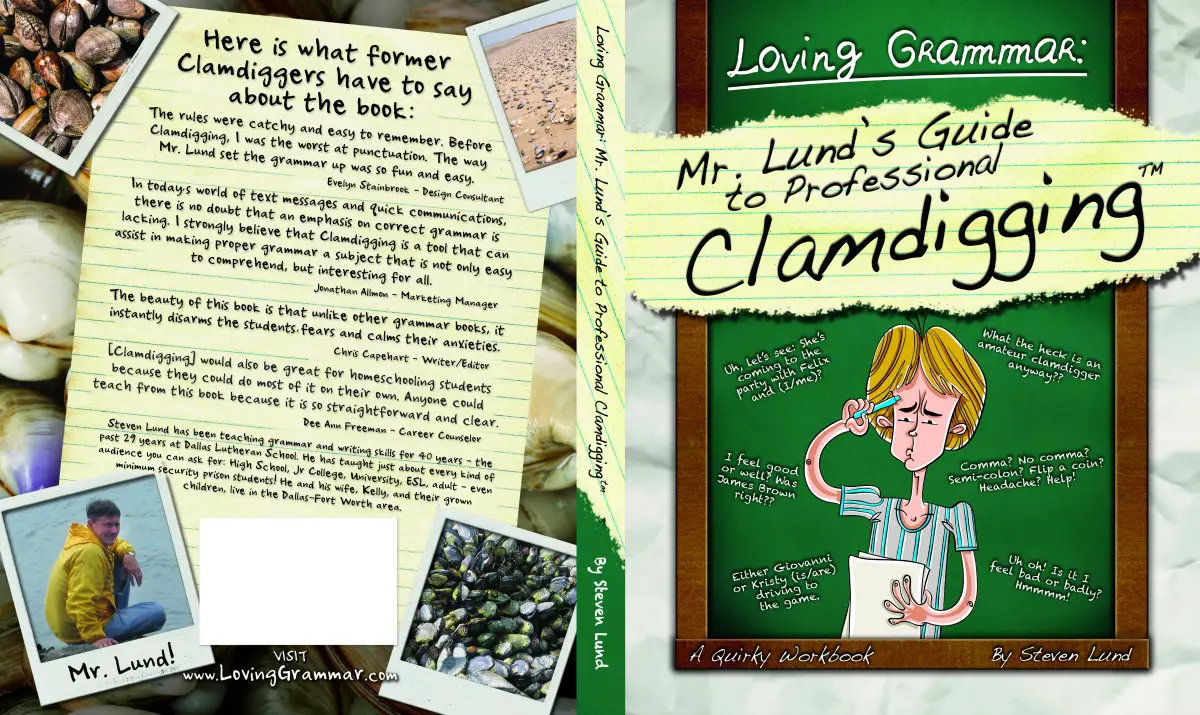 Disclaimer: This post is sponsored by Loving Grammar, but all thoughts and opinions are my own.