Most kids I know love helping out in the kitchen. It makes them feel "big." Having little kids help out in the kitchen can be a fun way to sneak in some learning, as well. The littlest ones can help with gathering supplies that are within their reach as well as putting things in the mixing bowl and stirring foods that aren't too hot. Preschoolers can help chop with a butter knife. They can count how many items or measurements you are adding in. Early elementary students can work on their fraction skills as you talk about halving or doubling a recipe. Or, what if your 1-cup measuring cup is dirty? How many halves will you ned? In Emma's last baking endeavor, she had to figure out how many teaspoons were in a tablespoon when the tbsp was in the dishwasher.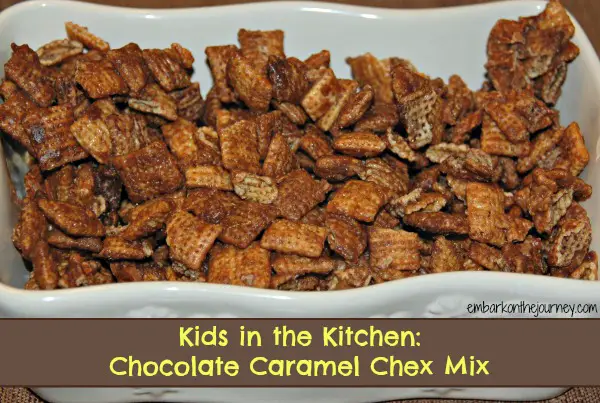 I don't know about you, but I'm always on the hunt for quick and easy snacks that my whole family will enjoy. Emma has a crazy schedule. Between dance classes and co-op, we often find ourselves eating lunch or a snack in the car. Or, she needs to take a dinner with her to the dance studio. I always try to pack a little sweet treat in our lunch boxes when we eat on the go. Chex Mix is the perfect on-the-go snack. Even better than that, Emma can make Chex Mix all by herself which she loves!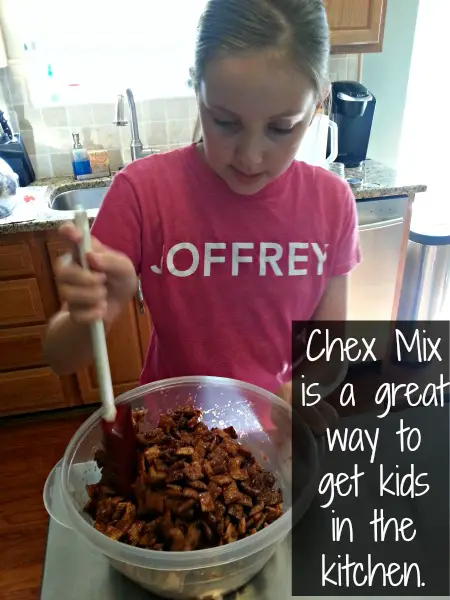 Emma can make Chex Mix all on her own.
This week, she decided to try her hand at some Chocolate Caramel Chex Mix. It was easy for her to make all on her own since it used the microwave instead of the stove and/or oven. After I snapped a picture of her prep station, she shooed me out of the kitchen until she was done.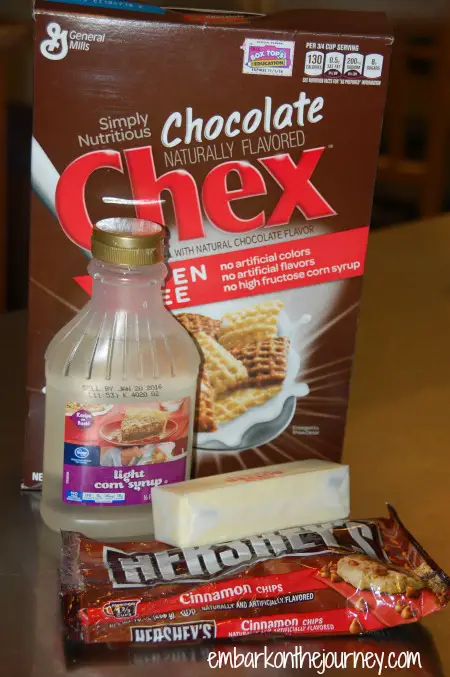 Chex Mix is a great on-the-go snack!
Because this Chex Mix recipe makes so much – 8 cups of snack mix, the whole family was able to snack for the whole week. I packed some in my high schooler's lunch box every day before he headed out to school. I put some Chex Mix in my lunch box and Emma's on co-op day and on Saturday (when we snack in the car on the way home from dance). I also put some Chex Mix in her lunch box both nights that she had to eat dinner at the studio this week. (She has a long dance night with a one-hour dinner break twice a week.)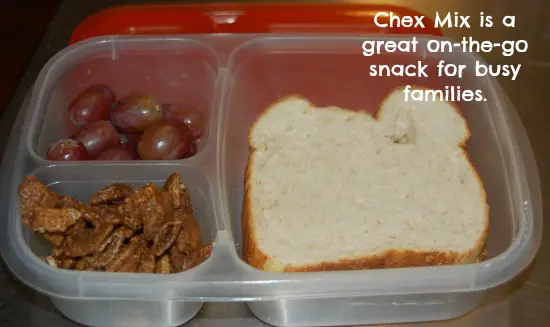 Chocolate Caramel Chex Mix is gluten-free!
Emma even had enough Chocolate Caramel Chex Mix left over that she shared it with her dance teachers and friends. In my opinion, the best part about making Chex Mix is the fact that it can be a gluten-free snack. The cereal is already gluten free, but it I make an effort, I can find the other ingredients in a gluten-free brand. That is great for me since I'm trying to cut out gluten in my diet. Well, maybe it'd be better if it wasn't gluten-free, and then I wouldn't be able to eat it. Nah! This Gluten-Free Chocolate Caramel Chex Mix is too good to miss out on!
[yumprint-recipe id='1′]
Do you have a favorite Chex Mix recipe?
If so, please share it with me! As I said, I'm always looking for great on-the-go snacks, and Emma loves to be able to make them all on her own.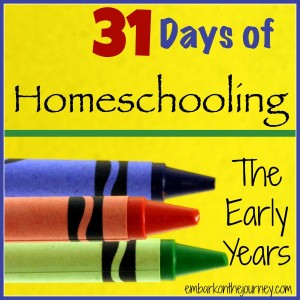 Click the button above to see all of the posts in this series. Better yet, sign up for my newsletter, and they'll be delivered directly to your inbox.