Homeschooling can be difficult with a toddler. They can be rowdy and rambunctious if left to their own devices. They often need your attention at the most inopportune times. Some parents work around their toddlers and homeschool when their toddler naps. Others do school when their spouse is home to help entertain the younger ones.
Why not include them in your homeschooling instead? You will be surprised at what they will learn and pick up from just being involved! Here are some tips and resources that will help you include your toddler in your homeschool.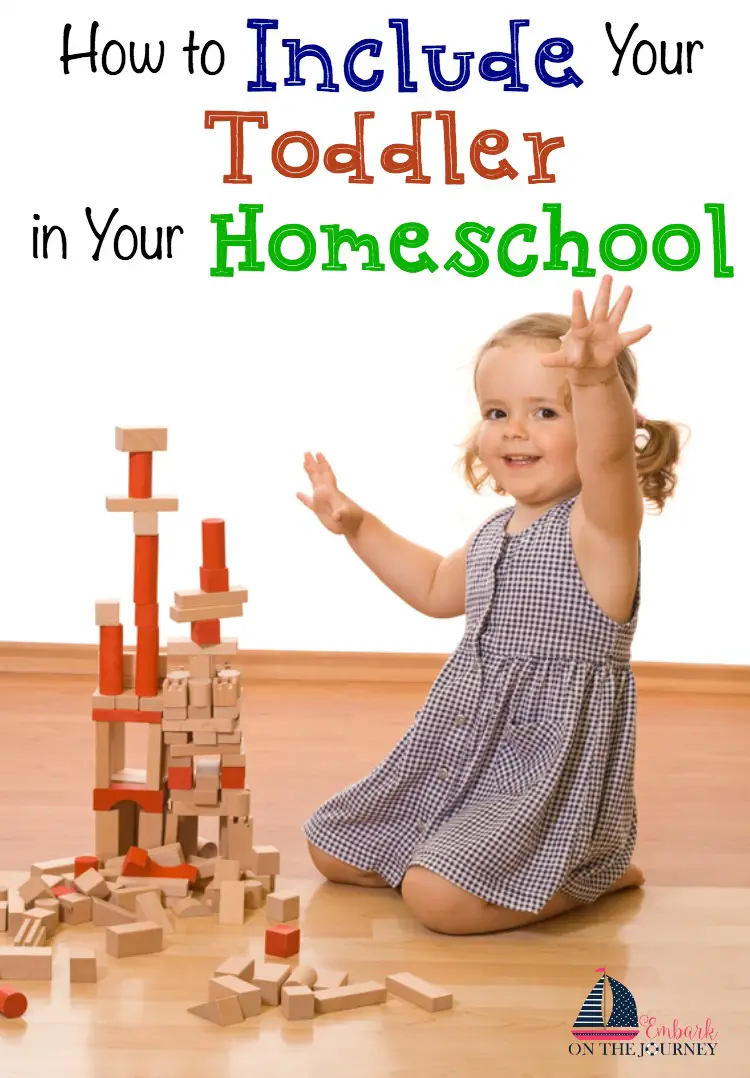 How to Include Your Toddler in Your Homeschool
Preschool Prep – The Preschool Prep DVDs are designed for toddlers and those of preschool age. They can learn their letters, numbers, colors, and shapes, then move into phonics and sight words. These are videos that will catch their attention and allow you to have some one on one time with your older kids. They have also expanded to workbooks, coloring books, and flash cards to go with the videos.
Educational Television – Turning on kids' shows that have educational content will help your child learn while they watch TV. Blue's Clues is a great show! While it no longer airs on television, if you have Amazon Prime, your kids can watch all of the episodes from the first six seasons. Other great shows include Wild Kratts (great for animal lovers), Dora (introduces beginning Spanish), Diego (another one for animal lovers), Bubble Guppies (explores many preschool themes), and Team Umizoomi (episodes have an emphasis on early math skills). After your preschooler watches an episode, discuss some of the concepts introduced in the show – math, Spanish, animal facts, etc.
Preschool Printables – You can do a quick search on Pinterest and find tons of free printables for preschoolers and toddlers. You can get them in almost any theme. Try to find them in themes that match what your older kids are learning so they feel included. While your older kids might be learning about animal science your toddler can be doing farm worksheets on matching and numbers. I provide a weekly printable here on the blog, and many of the pages are appropriate for preschoolers. In addition, I share more printables created specifically for preschoolers on my second blog, Homeschool Preschool. Check out my Pinterest board devoted to educational printables.
Follow Embark on the Journey's board Educational Printables on Pinterest.
Play-Doh – Play-Doh is great for helping kids with their fine motor skills. They love to play with it, and you can even give them tasks like make a snowman or make the letter T. You can make your own playdough if you want to save money or have scented playdough on hand. Last year, I created a fun set of Springtime Playdough Mats and shared a round-up of homemade playdough recipes.
Busy Bags – Last summer, when my four-year old nephew came to visit for a week, I created 8 busy bags to entertain him at doctor appointments and dance classes. I used items from around the house as well as items from Target and Dollar Tree. For more ideas, enjoy this list of 20+ busy bags for toddlers and preschoolers.
Follow Embark on the Journey's board Busy Bags and Quiet Books on Pinterest.
Coloring – Sitting at the table with their older siblings and coloring will help them feel involved as well. If your kids don't enjoy coloring books, they may enjoy the freedom to create with crayons and plain paper.
ABC Mouse – ABCMouse.com is a well-known school prep site that has a toddler section. Toddlers can work their way up, and they now also have a 1st-grade section so it will really grow with them. They can work on it from your phone or a tablet at the table while you work with the older kids.
Sensory Bins – Sensory bins are a great way to keep toddlers busy during your homeschool day. Themed bins are a great way to include your little ones in your homeschool. As with printables, you can create a sensory bin for a multitude of themes – holidays, science, math, letters, seasons, and so much more. Most sensory bins can be created with common household items or inexpensive items purchased at the Dollar Tree or in Target's Dollar Spot.
Follow Embark on the Journey's board Sensory Bins on Pinterest.
Now, it's your turn.
How do you involve your toddler in your homeschool?