This year, I have started something new in our homeschool, and it has redefined our days. I don't know why I didn't do it sooner! I have started letting Emma sleep in. She only has to set an alarm
on days we have appointments or co-op. Other than that, I have started letting her body decide when it is ready to wake up.
In years past, we have had to finish our days earlier due to early dance schedules or because we wanted to be done before the neighbors got home from school. But these days didn't always run smoothly. She was grumpy. She was sassy. She dawdled and was unfocused. There were raised voices on an almost-daily basis.
However, a strange thing has happened in our homeschool as a result of her sleeping more, and buying her a new mattress. We have had very few grump days. There are virtually no tears – hers or mine. And, she is plowing through her school work with a focus and determination that I have never seen before.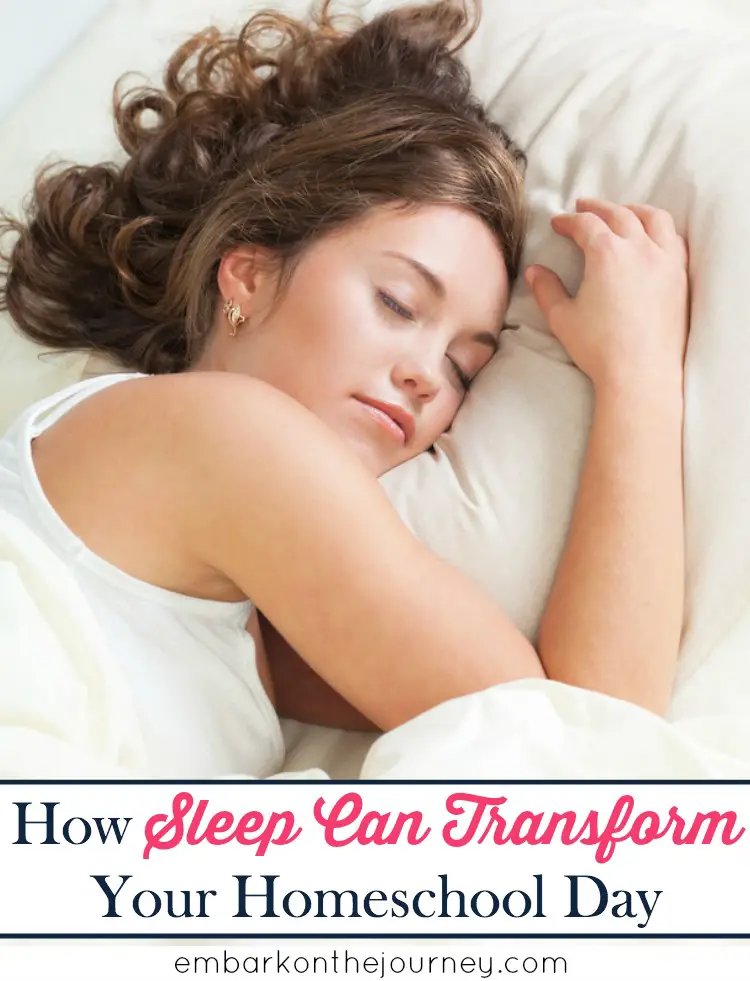 How Sleep Can Transform Your Homeschool Day
Emma is a much more pleasant person to be around. I am amazed at the transformation in her demeanor. Emma wakes up, moseys her way downstairs, and snuggles with the puppies for a few minutes. She eats breakfast, showers, and she's ready to kick-start her day. The difference is that we are now starting school at 10:00 most days instead of 8:30.
This has been a huge transition for me. I'm a get-up-and-get-things-done kind of person. I hit the ground running. So, I prefer to start our school day as early as possible so it's done as early as possible, because I've got other things I need to do. I hate feeling rushed to finish school before Isaac comes home from high school or before I need to run errands and start dinner.
[bctt tweet="I can't get over how a little extra sleep has transformed our #homeschool day! "]
Emma is plowing through her work like never before. Because she is well-rested, Emma is focused when she sits down at her desk
to work. Because she works independently for most of the day, it doesn't really affect my schedule at all anymore. As I mentioned in my post last week, we have times blocked out each day where Emma works with me. I can still finish my teaching day by 2:00 whether she's done with her assignments or not.
She knows that if she doesn't have her work completed by the end of the week, she will have 'homework.' She is responsible for getting all her work done before playing with her friends. This is a big deal for her since she dances almost every day. Her 'free' time is a very precious commodity. She works hard to get her work completed so that it doesn't cut in to her play time.
She's learning to be the manager of her time. Because she is getting a late start while still wanting to play and relax for a bit before ballet class, I often find her working on some schoolwork during breakfast and lunch. She watches CNN Student News at breakfast. She reads during lunch. She might even read ahead or do an extra workbook page on our way to and from dance class, because that will free up some school time the next day.
I have read study after study after study about teenagers and sleep, but I haven't seen it played out in real life until now. Studies show that teenagers need 9-10 hours of sleep. Emma isn't quite a teenager, but it is obvious to me that her body needs a bit more sleep than she was getting. She dances 2-3 hours or more a night almost every night of the week. Her body needs its sleep to recharge and stay strong.
Do you let your tweens and teens sleep? Or, must they set alarms to get their days started at a certain time each day? How does that decision affect your school day?