Just because it's summertime, doesn't mean the learning has to end. July is full of quirky holidays you can add to your summer days.
Many of you have left comments telling me how much you enjoy learning about these quirky holidays and ways you can celebrate them in your homeschool all year long.
So, here we are looking ahead to July so I have pulled together a list of things you can celebrate in your home or homeschool this month. Be sure to scroll down and grab July's printable pack full of learning activities to go with the holidays below.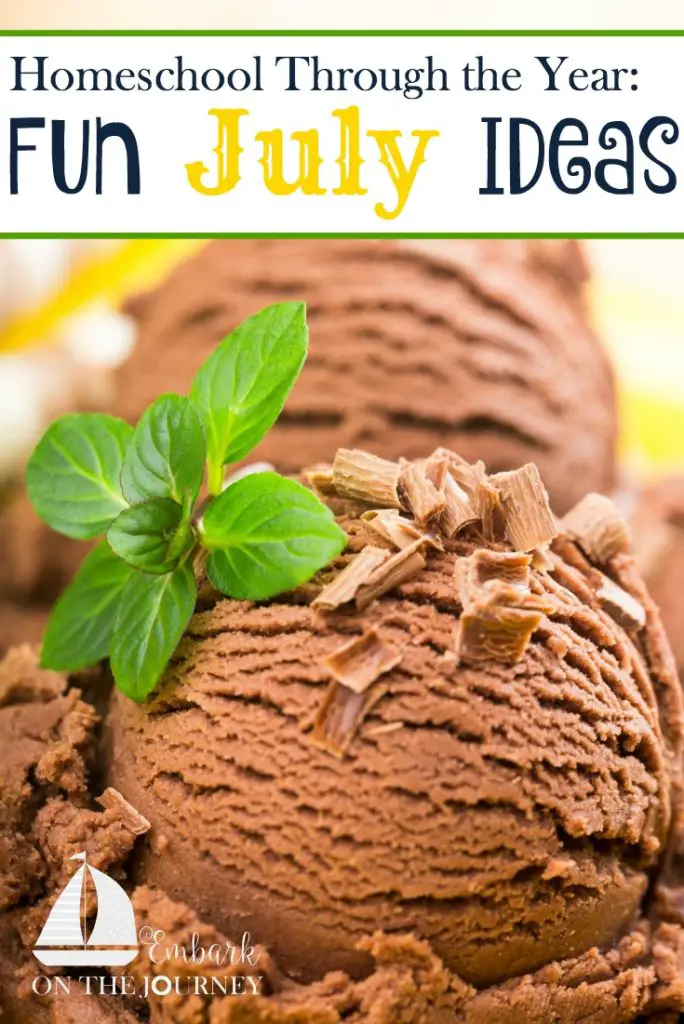 Homeschool Through the Year: July
July is Anti-Boredom Month.
July can be hot and the days can be long. The newness of summer has worn off, and the kids may be bored. Discover over 80 boredom busters in my list of screen-free activities for kids of all ages. Need more ideas? Check out one or more of these books. They're all available from Amazon, but you may be able to find them at your local library, as well.
July 1 is National Creative Ice Cream Flavor Day. Today is a great day to set up an ice cream sundae bar. Start with classic flavors like chocolate, vanilla, and strawberry. Then, let your child create their own flavors with a variety of mix-ins – gummy candies, fresh fruit, sprinkles, chocolate or caramel syrup, marshmallows or marshmallow cream, graham cracker or cookie crumbs, M&Ms, chopped nuts, etc. The possibilities are endless!
July 4 is Sidewalk Egg Frying Day. I wonder who thought up this holiday. Have you ever tried to fry an egg on the sidewalk? I have not, but I should have when we lived in Texas. I'm sure it was definitely hot enough. I'm going to give it a try this summer with Em. I'll have her record her findings on the page I've included in this month's printable pack below.
July 6 International Kissing Day. Pucker up, Buttercup! Give momma a smooch! Or Daddy or brother or sister? She your loved ones a little love today with an extra kiss or two.
July 9 is National Sugar Cookie Day. Save your sprinkles and leftover candy from Ice Cream Day, because you'll need them today! Bake a batch of your favorite sugar cookies and let your kids decorate them. This month's printable pack includes a fun cookie-themed activity page. Be sure to check it out.
July 10 is Teddy Bear Picnic Day. My daughter loved having picnics in the backyard with her dolls and stuffed animals when she was younger. Spread a blanket in the backyard today, and let your kids host a teddy bear picnic. If they're not fans of stuffed animals, let them host a teddy bear-themed picnic with some of the ideas listed below. Then, let them color the teddy bear picture in this month's printable.
July 11 is Slurpee Day. If you live near a 7-Eleven you're in luck today! You can get a free small Slurpee at your local 7-Eleven! If not, you can make your own at home.
July 12 is Cow Appreciation Day. Here's another opportunity to score some free food! Dress up like a cow and you could eat for free. If you partially dress up like a cow, you will get a free entree. Dress entirely like a cow for a free meal. Of course, print out the fun cow activity page in this month's printable.
July 13 is National French Fries Day. Need I say more! 🙂
July 20 is National Lollipop Day. If your kids aren't too hyped up on sugar after ice cream, a teddy bear picnic, and free slurpees, they'l love celebrating Lollipop Day! They can learn about the history of lollipops and then eat one
to celebrate the day.
July 24 is Amelia Earhart Day. Amelia Earhart is a fascinating women. She's a pioneer in the field of aviation. I created a unit study last year that will be perfect for today. I've included a printable in this month's pack if you don't need a whole unit study.
July 28 is National Chocolate Milk Day. What?!? More sugar! Serve chocolate milk with today's lunch or dinner to celebrate!
July 29 is National Lasagna Day. Phew! Finally something relatively healthy – unless you make chocolate lasagna. Ha! Lasagna is actually one of my favorite dinners. I love to prepare a double batch. We eat one and freeze the other for a later date.
July 30 is International Day of Friendship. The only thing better than celebrating our families is celebrating our friends! Take a moment today to let your friends know how much you enjoy their company. You could even use the letter template in this month's printable to write to your bestie!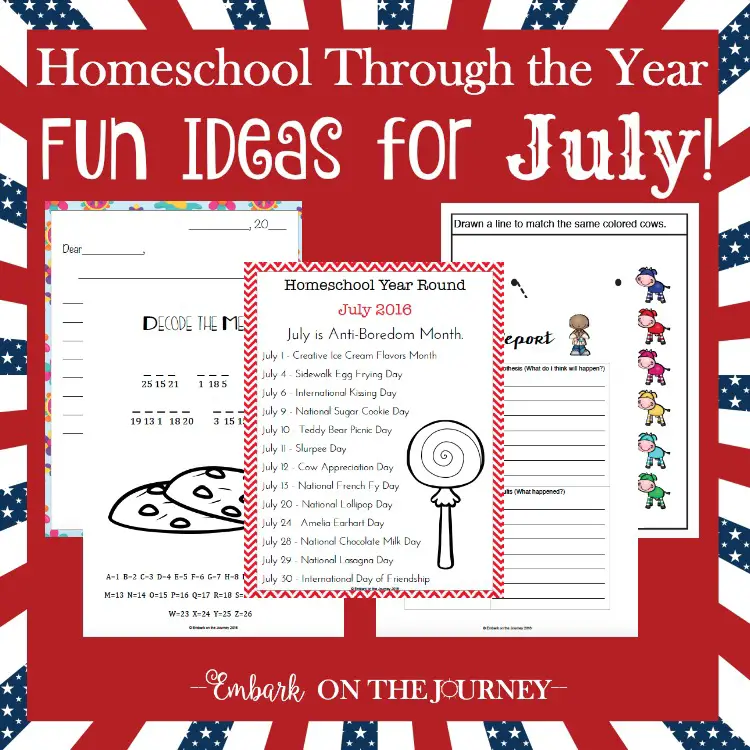 July 'Homeschool Through the Year' Printable
In this month's printable, you'll find the following activity pages:
Calendar of fun days to celebrate
Science experiment recording sheet
Cookie activity page
Teddy bear coloring page
and more!
To download your free printable pack, you must sign up to receive my emails. Enter your contact information below. You should receive your download link within the hour. If, after an hour, you have not received your link, please contact me and we'll figure it out together.
Please note that your link will expire in 3 days, and it can only be downloaded twice. Be sure to download and save it once it arrives in your inbox. Also note, these files will not open on a tablet or smart phone. You will need to open them from a PC or laptop. Enjoy!
[wp_eStore_free_download_squeeze_form id=112 button_text="Download Now"]