I've been asked before about the structure of my homeschool lesson plans. New homeschool moms want to know how structured they should be. The answer to that question is… They need to be as structured as you need them to be to have a successful homeschool day. How's that for a magic equation? Sorry! There really isn't a "right" way to lesson plan. There is only a "right-for-you" way.
I am highly structured. I have every day planned out and scheduled. I write exactly what needs to be done in my planning binder so I don't have to guess what comes next. However, my structured plans would send a relaxed homeschooler over the edge! Some would find my plans far too structured. And, that's okay.
Each of us have to find a system that works for us. It's the only way we will succeed on this homeschool journey. If you need structure…be structured. If you need freedom to float through your lessons…then float!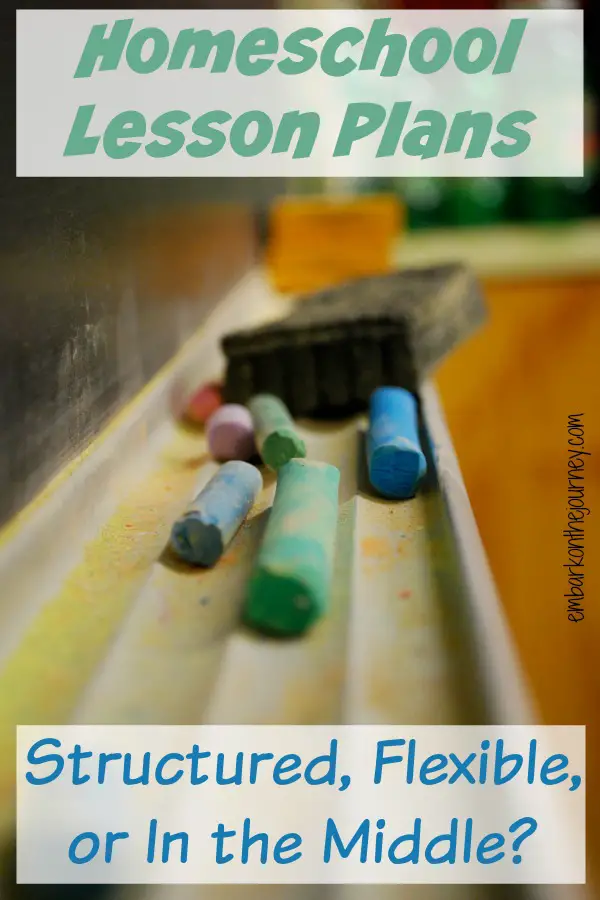 Homeschool Lesson Plans
My "Teacher" Plans
The way I plan my lessons has evolved over the years. But, for the most part, they haven't changed much in the past two years. So, I can say that I have finally found a planning system that works for me. I start each year mapping out my curriculum on a 6-week planning page. These plans are very generic and are used solely for tracking purposes. Each week when I write out my lesson plans, I write the next lesson in my planner. Then, I mark it off of the 6-week planning page. This shows me where we are in each subject and where I had hoped to be at this point.
As I mentioned, I try to put as much info as possible on my daily planner. Sometimes, however, there is too much information to include. So for these subjects, specifically history and science, I keep a unit planner in my planning binder. Then, I just have an overview of the lesson on my planner, and I flip to the back of my binder for details.
However, while my written plans are pretty structured, I do try to keep some flexibility in our schedule to allow for changes to our day. Right now, we're in the midst of some pretty hefty ballet rehearsals. So, I have tweaked our day to allow for Em to sleep in and for us to leave early for rehearsals.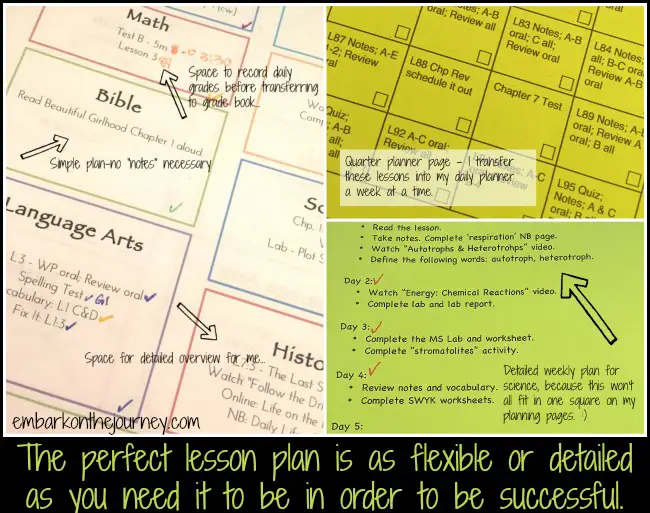 Emma's "Student" Plans
At the beginning of the school year, I was typing my lesson plans into a similar planning page for Emma's weekly binder. However, I recently read a post about using a spiral notebook for a planner. I did this last year, and I'm not sure why I switched. As of last week, we have switched back to the spiral notebook. For me, it's much easier to write out the lessons each evening as I grade her daily work. I have added the checkbox to the end of several of her lessons to remind myself to grade her work for the day.
Using the spiral notebook allows me to include as little or as much information as she needs to complete her work. Emma likes this method better. Having her own planner allows her to work independently. She is responsible for managing her time to complete the day's assignments. She doesn't have to rely on my to tell her what to do next. As a 6th grader, she knows which subjects she is required to consult with me on before starting – science, history, and her spelling test. The rest she can usually start on her own without me. We love the independence this gives her.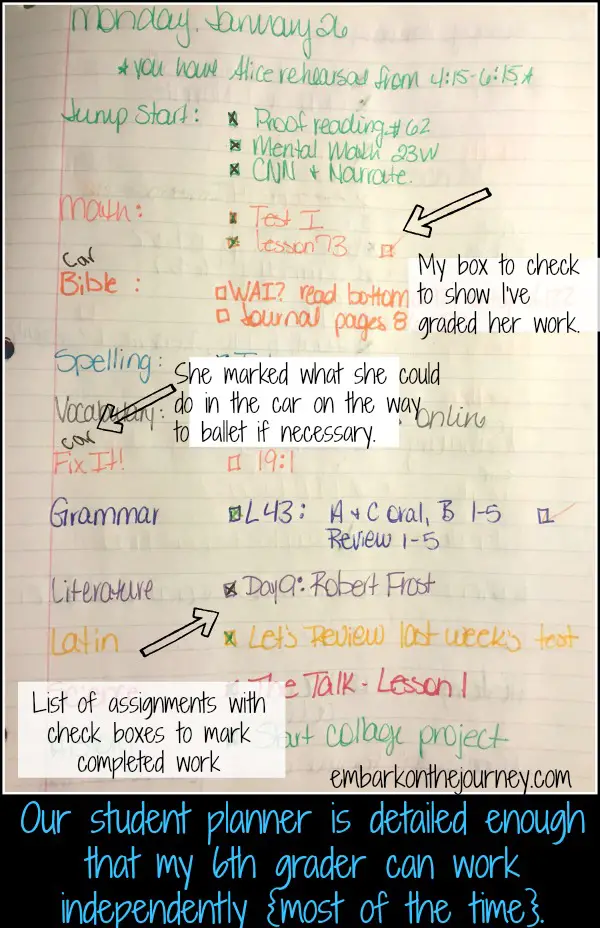 How Others Do It
How do you lesson plan? Are your plans structured or more flexible?