Homeschooling is a constant balancing act. Even after being on this homeschool journey for almost fifteen years, I find myself teetering on that imaginary tightrope. I find myself struggling to reach a balance. How can I achieve homeschool balance?
How in the world am I supposed to homeschool, clean the house, keep up with the laundry, run kids to and from activities, spend time with the family, and still get dinner on the table every night? Not to mention lesson planning, running two blogs, and writing for several others. Without super powers – or a clone or two – is it really even possible to do everything that needs to be done around here?

Homeschool Balance
Doing It All
Do you ever wonder how other women do it all? They seem to have it all together while you're scrambling just to get in the shower on a daily basis. Let me tell you a little secret…
No one does it all. I don't, and you won't either. It's just not possible. There aren't enough hours in the day to "do it all." We all have to decide on our priorities at the moment. And, our priorities will change from day to day or week to week.
When you look at someone who seems to have it all together, who seems to be able to do it all, you are missing a behind-the-scene look. There is something they are not doing.
So, how do we decide what needs to be done today? How do we keep our heads above water?
One Step at a Time
Put one step in front of the other when you're overwhelmed with all that needs to be done. Focus on the "have to's. " What are your have to's today or this week? Laundry? Dinner? Math? Snuggling with a newborn, cranky toddler, or sick tween?
Whatever it is, find peace in the priorities. Take one step at a time. Mark off one to-do at a time. Or, don't worry about the to-dos. Focus on what is most important right now.
If you can't get to the laundry today because a little one needs you, declare a pajama day. No time to cook an intricate dinner from scratch? Make some grilled cheese and call it a day.
There are times when I can freezer cook and bake homemade bread, and there are times we rely on pizza and Chick-fil-a. There are times I am able to do a load or two of laundry a day, and I'm feeling pretty good about life. There are other times when I can't get caught up no matter how hard I work! There are times I can schedule fun art projects and field trips for Emma, and there are seasons when we take it back to the basics.
It all changes from day to day and week to week depending on what is going on in our lives at the moment.
How do you handle it all?
Divvy Up the Load
Divvy up the load! I have to have help around the house, because I just cannot do it all. My kids have chores, and they have since they were young. Isaac has kitchen duty on the nights he doesn't work, and Emma does it when he's gone. Em takes care of the pets, and Isaac mows the yard. Everyone does their own laundry.
Older kids can help with school, too. I've had an older child give a younger one a spelling test. I've had one child listen to another read-aloud. An older sibling can play with a younger one while you work with yet another.
We're all balancing on the tightrope of life. We are only human. We only have two hands. There are only so many hours in the day no matter how long or short your to-do list is. Forget the image of doing it all. Look at your to-dos and decide what is actually a must-do and what can wait. Divvy up the load so that you can accomplish a little more in your day.
Your turn:
How do you balance everything that you must do as a wife, mom, and homeschooler?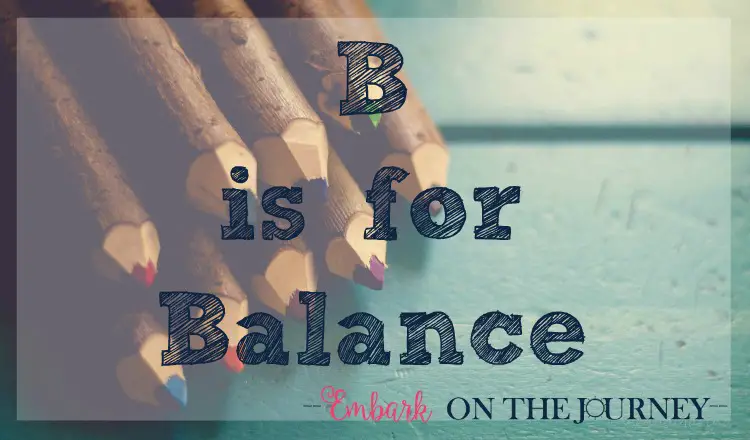 This post is the second in my ABC's of Homeschooling series! To read the entire series, visit my ABCs of Homeschooling page. I'll add to this page each day as the posts go live.