We spent Mother's Day weekend doing some yard work. We cleaned out the weeds and mowed the grass. We cut back all the bushes and roses. Now things are starting to bloom. Now that the threat of the last freeze of the year has passed, we can head back into the garden to plant this year's flowers.
In years past, we have had fun in the spring planting seeds inside and watching them sprout. We've planted grass seeds in paper cups with faces on them so we could cut the "hair" that grows. Check out this awesome list of resources you can use to create a whole unit study about gardening and seeds and plants.
Garden Party Printable and Activities
Teaching About Seeds and Gardens
Teach kids about seeds
, plants, and the life cycle of plants. This is a great way to teach little ones about what exactly goes on in the garden – even when they can't see it.
Let them help pick out the plants you'll grow. Whether they're choosing their favorite veggies or their favorite purple flowers, they'll be more excited about pitching in if they have some input.
Let them pitch in. When we did raised beds
a few years ago, it was a family affair. We all helped build the boxes and fill them with soil
. We all marked the garden plots and planted seeds. Every pitched in with the watering, the weeding, and harvesting the veggies we grew.
In our flower beds, everyone helps pick out flowers and weed the garden. The kids take turns being in charge of the watering.
Other fun, hands-on activities:

Free Garden Party Printable
This free printable is great for kids in grades K-2, and it's free for my awesome readers! There is so much fun packed into this activity pack. Your kids will be occupied for hours!
Activities include:
Handwriting practice
Letter identification
Counting and skip counting
and more!
To download your free printable pack, please enter your information below. You should receive your download link within the hour. If, after an hour, you have not received your link, please contact me and we'll figure it out together.
Please note that your link will expire in 72 hours, and it can only be downloaded twice. Be sure to download and save it once it arrives in your inbox.
[wp_eStore_free_download_squeeze_form id=19 button_text="Download Now"]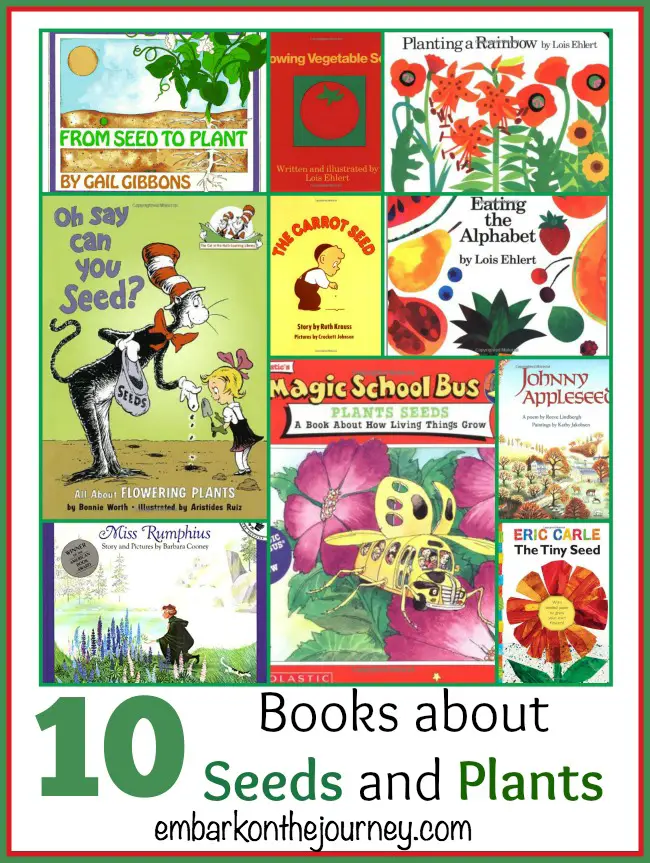 Books Seeds and Gardens
Oh Say Can You Seed?
The Tiny Seed
Planting a Rainbow
The Carrot Seed
The Magic School Bus Plants Seeds
From Seed to Plant
Miss Rumphius
Johnny Appleseed
Growing Vegetable Soup
Eating the Alphabet