Welcome back for another fun author study! Last month, I shared an author study all about Doreen Cronin and her books. Be sure to check it out and grab the free printable if you missed it. Each month, I will share a new author study focused on some of the most popular children's authors – old and new. You can choose to study each author for month picking one focus book each week. Or, you can do a weeklong study with a new book each day.
I'll share some fun extension activity ideas as well as new printables. There will be printables dedicated to each author and pages to use with each book I feature. I hope you enjoy this new series! Be sure to scroll all the way to the bottom of the post to download your freebie.
This month, let's learn about Ezra Jack Keats! Many years ago, I used Before Five in a Row with Emma. Most of the stories we rowed have become family favorites. I've saved many of our Five in a Row
stories to read to my grandkids – a long time from now.
One of our all time favorite stories from those years is The Snowy Day
 by Ezra Jack Keats. I had never read any of his book before that time. Since then, I have discovered that he has written lots of books, and they're all pretty fun to read to little ones.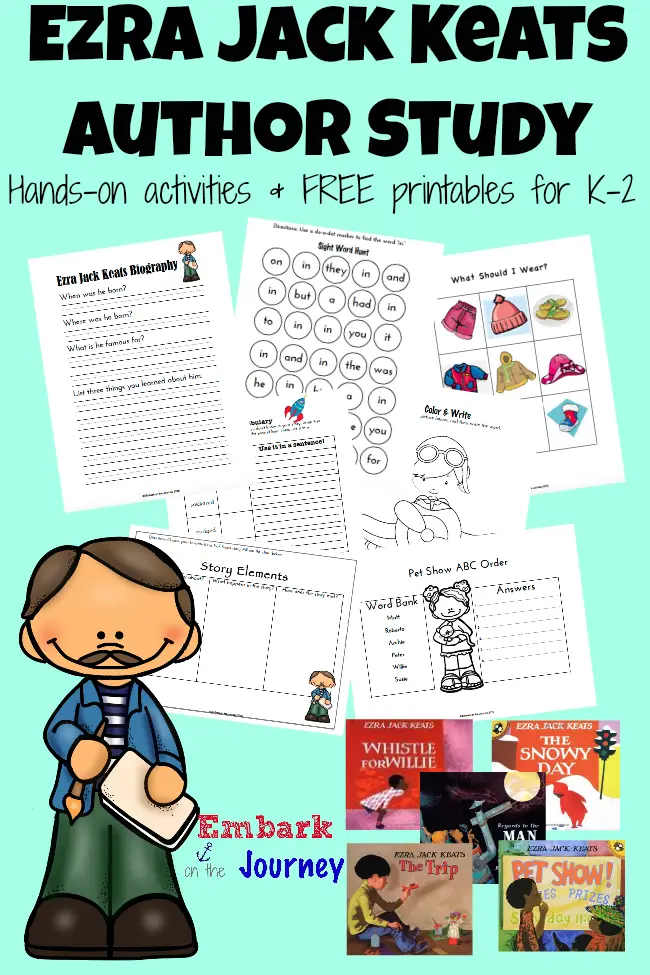 Ezra Jack Keats Author Study
The Snowy Day
: The adventures of a little boy in the city on a very snowy day.
Hands-on Activities:
Printables Include:
Handwriting practice
Rhyming word match
What Should I Wear? sorting activity
What else starts with "S"
Whistle for Willie
: For Peter, learning to whistle means being able to call his dog Willie, and being a bit closer to those two magic words; grown up.
Hands-on Activities:
Help your little ones make a whistle out of a straw.
Watch a video retelling the story of Whistle for Willie:
Printables Included:
Write about something you are good at.
Long and short "i" sort
Discuss the beginning, middle, and end of the story.
Regards to the Man in the Moon
: When the other kids make fun of Louie and call his father "the junkman," his dad explains that the so-called junk he loves "can take you right out of this world" with a little imagination. So Louie builds the spaceship Imagination I and blasts off into his own space odyssey.
Hands-on Activities:
Printables Included:
Practice writing the names of the planets.
Sight word hunt
Vocabulary recording sheet
Write about the moon.
Pet Show
: How can you enter a pet show when your pet runs away? That's the question Archie faces when he can't find his cat to enter in the neighborhood pet show. Fortunately, he does some fast thinking to win a prize in this beloved classic from award-winning author-illustrator Ezra Jack Keats.
Hands-on Activities:
Printables Include:
Writing and ordering the days of the week
Beginning sounds
Design a pet and award.
ABC order
The Trip
: One of Keats's best-loved characters, Louie, stars in this poignant story about the loneliness of moving to a new place. Homesick for his old neighborhood, Louie finds a way to return—by making a shoe box model of where he used to live, and pretending he is inside it. But soon, Louie will discover that he doesn't need to use his imagination to find friends; in fact, they may be as close as his new front door.
Hands-on Activities:
Printables Include:
Write a new ending for the story.
Write about feelings.
Airplane color and write page
Draw your Halloween costume.
Write and draw about the view from Louie's airplane.

Ezra Jack Keats Author Study Printables
To download your free printable pack, you will need to sign up to receive my newsletters.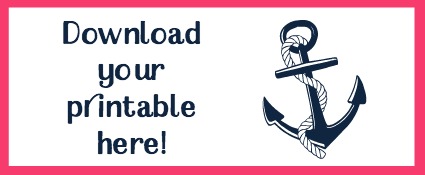 What is your favorite book by Ezra Jack Keats?