Doreen Cronin is a former attorney turned children's book author. Actually, she wrote the manuscript for her first book, Click, Clack, Moo: Cows That Type
, before she ever started law school. It took five years to get her first book published. And, the rest is history.
From cows and chickens to worms and ducks, Cronin has published over 20 children's books. She's a fantastic author to choose for an author study. Dig in and learn a little bit about her life. Then, choose some books from her, and have tons of fun!
I'm excited to kick off a brand new series here on my blog! Each month, I will share a new author study focused on some of the most popular children's authors – old and new. You can choose to study each author for month picking one focus book each week. Or, you can do a weeklong study with a new book each day.
I'll share some fun extension activity ideas as well as new printables. There will be printables dedicated to each author and pages to use with each book I feature. I hope you enjoy this new series! Be sure to scroll all the way to the bottom of the post to download your free  printable.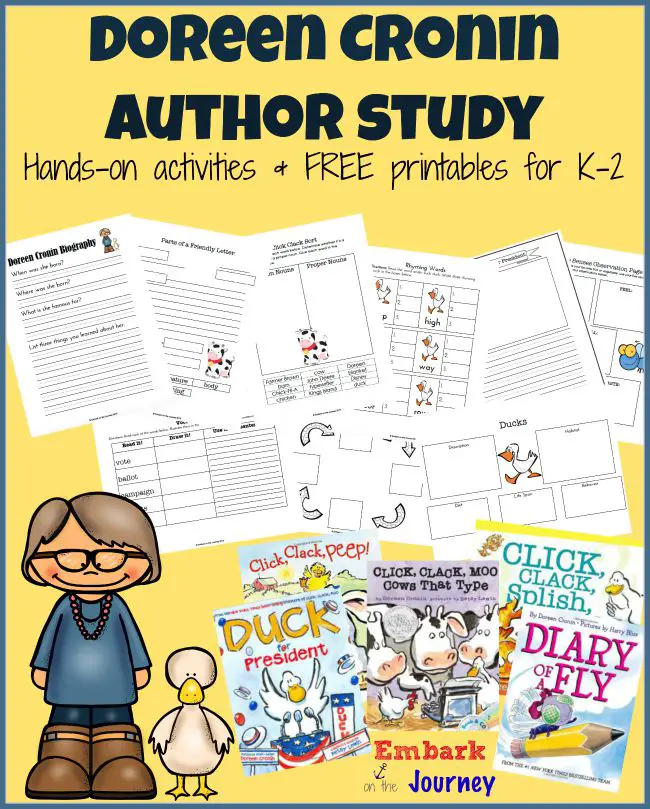 Doreen Cronin Author Study

Click, Clack, Splish, Splash
: Duck and his fellow barnyard friends are planning to trick Farmer Brown.
Hands-on activities:
Use goldfish crackers to practice counting to ten.
Use shaving cream or a sand tray to practice finger-writing the numbers 1-10.
Let kids see how high they can stack blocks.
Write a note for someone and leave it on their door.
Printables include:
trace the numbers 1-10
count and clip cards 1-10
match the rhyming words

Diary of a Fly: Oh my goodness! This is one funny little picture book. Little Fly keeps a diary journaling his days at school, at home, and with his friends.
Hands-on activities: 
Printables include:
vocabulary page
life cycle of a fly recording page
five senses observation page
diary page
superhero writing prompt

Click, Clack, Moo: Cows That Type
: Typing cows. Ransom notes. Animals on strike. What's Farmer Brown going to do?
Hands-on activities: 
Printables include:
proper nouns
label a friendly letter
compound words
write friendly letter
fantasy or realistic

Duck for President
: Duck has very high aspirations! What will happen when he hits the campaign trail?
Hands-on activities:
Printables include: 
chores
the President's job
story map
vocabulary
campaign signs

Click, Clack, Peep! There's trouble on the farm when a newly hatched visitor arrives.
Hands-on activities:
Printables include: 
farm animal sort
what's in your egg?
duck research
animal sounds
writing prompt
Doreen Cronin Author Study Printables
To download your free printable pack, please enter your information below. You should receive your download link within the hour. If, after an hour, you have not received your link, please contact me and we'll figure it out together.
Please note that your link will expire in 72 hours, and it can only be downloaded twice. Be sure to download and save it once it arrives in your inbox.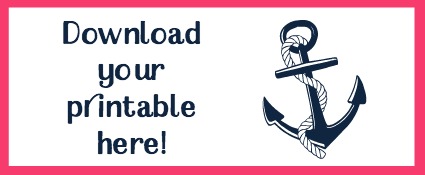 What is your favorite book by Doreen Cronin?