If you are in full-on homeschool planning mode, you don't want to miss this awesome 39 page DIY Homeschool Planner. It is packed with forms you can print to create the perfect planner for your family.
From calendars and. reading logs to attendance trackers and password keepers, you will love all that this homeschool planner has to offer. This ebook is designed for you to download and print to create exactly what you need to keep all your homeschool records up-to-date and in one place.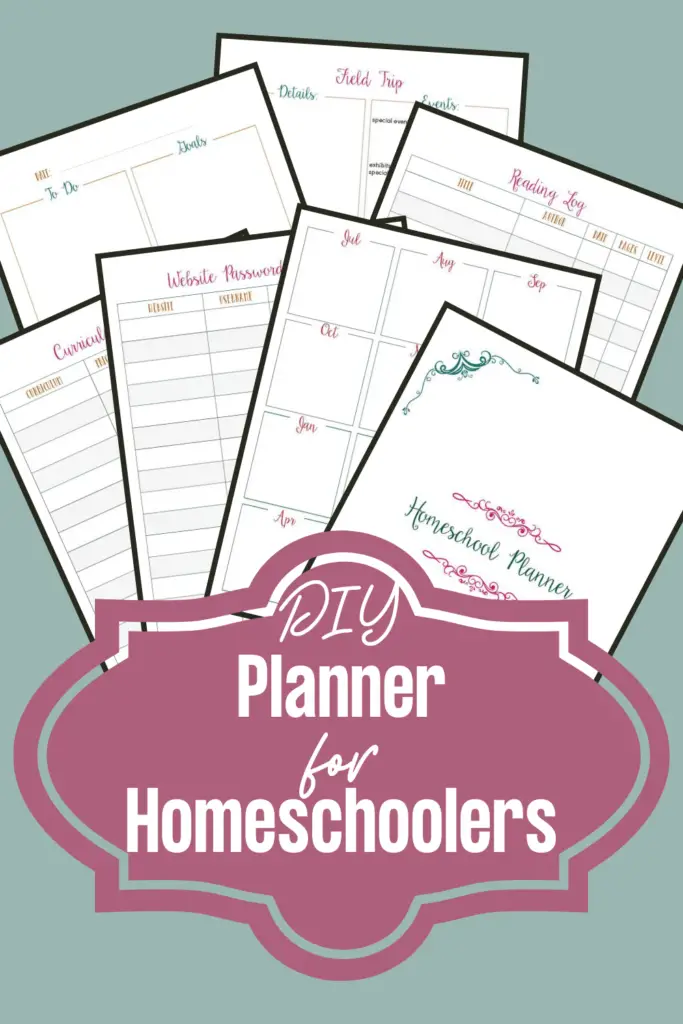 The pages in this homeschool lesson planner are a great resources to have on hand whether you're a veteran homeschooler or you're brand new to it.
Below, you'll discover just what's in this planner and how you can use it with your family.
DIY HOmeschool planner
For some reason, finding the perfect homeschool planner alluded me for many years. I can't even begin to count how many I've used over my eighteen years of homeschooling.
Some years, it was easy – I only had one child to track. As I added kids to our homeschool, it became harder and harder. Just how can you plan for and track records for multiple kids without breaking the bank on expensive planners?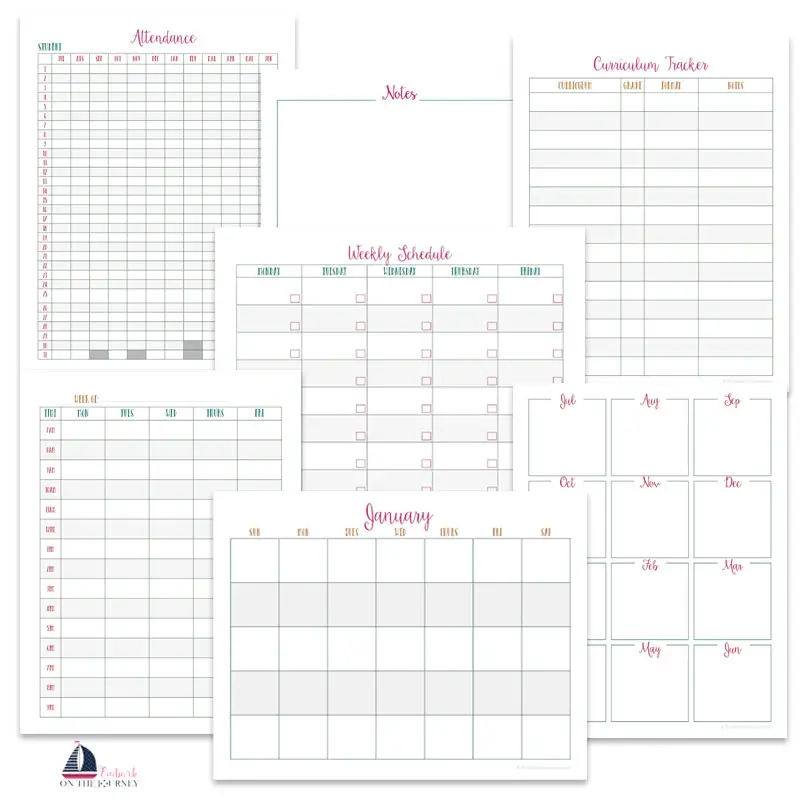 Is a planner necessary?
The short answer is no. It's not necessary. But, I find homeschooling days go much smoother when I have a plan. I'm more organized when all my files are in one spot.
A homeschool planner is a place where you can:
• Keep a record of each child's lesson plans
• Research curriculum options and track your purchases
• Record the books you read-aloud and/or the books your child reads
• Keep track of all of your field trips
• Track attendance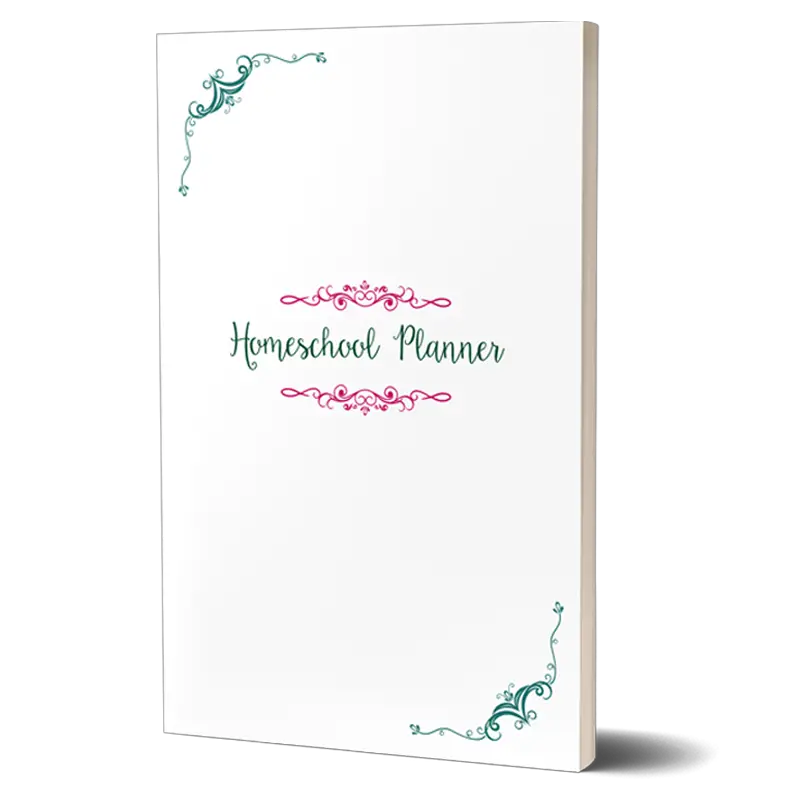 what's included in this homeschool planner?
I've included many different kinds of trackers, logs, and calendars inside this 39-page homeschool planner.
The pages can be printed as many times as necessary to create the perfect homeschool planner for you. And, you can print them over and over again to create a new planner each year.
• Year at a glance – This page features a box for each month of the year from July to June. It's perfect for recording an overview of themes or topics you want to cover each month. Or, it's a great place to pencil in field trip ideas, college-prep deadlines, and more.
• Quarter at a glance – Four pages with three months on each page. These can be used the same way as the year-at-a-glance page, but there is room for a little more detail.
• Password tracker – If you use specific websites in your homeschool on a regular basis, you may want to keep track of your passwords in your planner. This is great incase you have to delete your browser's cache and lose all of your saved passwords.
• Curriculum research and tracker – While you're planning the upcoming year and deciding what curriculum to use, use the research page to list publishers, prices, etc. When you've decided what you're going to use, record this year's information on the curriculum tracker.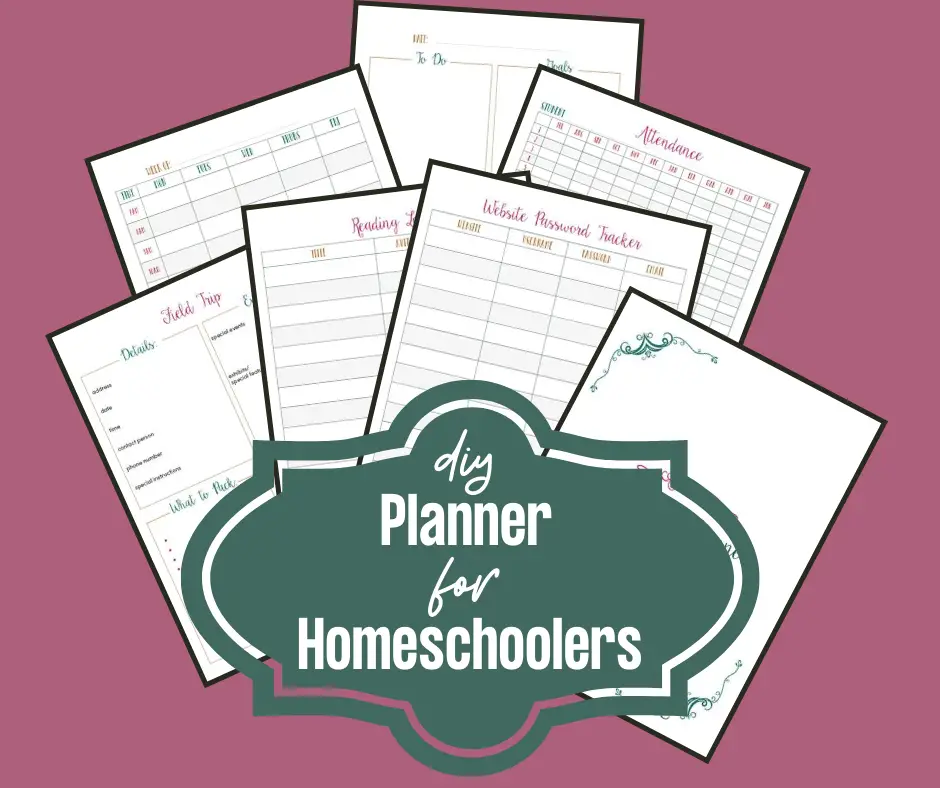 • Reading log – Print one page for each child, and record the books they read through the course of the school year. You can also print one to track your read-alouds.
• Field trip planner – On this page, you can record all important information such as the address, website, and phone number of your field trip venue. You can also make notes of special things you need to pack or special instructions.
• Attendance tracker – This page is unnumbered so you can track attendance however you choose. You can number the boxes and color each one as you conclude each day.
• Monthly calendars – There is one calendar page for each month of the year. There are a multitude of ways you can use these pages. Record co-op days, plan tests, map out your yearly calendar, etc.
• Weekly schedules – There are six weekly planner pages included. You can choose from an overview look, an hourly layout, one-page and two page layouts.
Encouragement for Homeschool Moms
Below, I've featured just a handful of
books meant to encourage homeschool moms
that will help your readers celebrate their favorite characters. You should be able to find them at your local library or bookstore. If you can't find them locally, you can click each image cover to purchase them on Amazon.
Creating Homeschool Balance
- "Creating Homeschool Balance" will help you understand what balance looks like, feels like, and how to create it.
Your Goals This Year
- No matter which kind of homeschool parent you are, this book will help you understand the stages of homeschooling high school, put you on the path to success, and keep you from feeling overwhelmed. You can homeschool through high school, and here are the tools to help you.
Scheduling: The Secret to Homeschool Sanity
- When you homeschool, it's important to take time to plan and rest, and not just work, work, work! Using schedules in your homeschool can help you avoid burnout.
Get your Diy homeschool planner
Get your DIY Homeschool Planner via Teachers Pay Teachers by clicking the button below.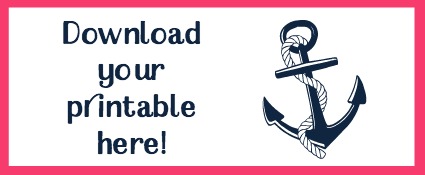 Related Posts