Dinosaur fans will love these dinosaur printables! Inside, you'll find fact cards, a memory game, and notebooking pages. Perfect for kids ages 6-10!
As you begin to flesh out your dinosaur lessons for kids, add these fun dinosaur printables to your activities. There are so many fun ways to include these three activities to your daily lessons. Keep reading to find out more about each one.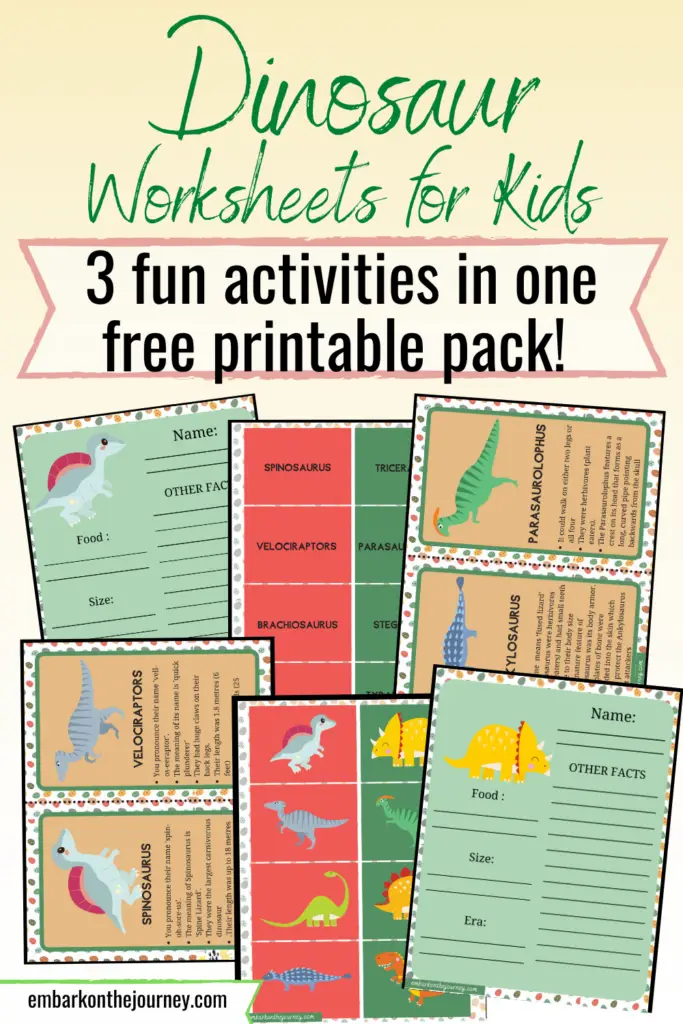 Don't miss these free printables for kids! If you've got a dino-lover in your midst, you'll want to share these printables with them.
Dinosaur Printables
When my son was younger, he and his best friend loved dinosaurs. They read about them, played with them, and talked about them all the time.
If that sounds familiar, you'll love these activities. This free dinosaur pack contains three fun activities for kids ages 6-10.
The first activity is dinosaur fun facts cards. You'll find eight cards to print out. There are two on each page. I suggest printing them on cardstock and laminating the cards for durability.
You can use these cards to teach about eight popular dinosaurs including tyrannosaurus rex, stegosaurus, brachiosaurus, and more.
Next, you'll find a dinosaur matching game. I suggest you print these pages on cardstock and laminate them, as well. There are a few different ways to use these cards.
First, you can print them on paper and spread them out face up on a table. Have your child match the dinosaur name to the dinosaur. Make it a self-correcting activity by placing small stickers on the back of the card. Make sure the stickers for each set match each other but are different from the rest.
You can also glue the dinosaur cards on colored cardstock or scrapbook paper before laminating and cutting the cards. Then, turn the cards face down and play a traditional memory match game. Turn over two cards. If they match, keep the cards and go again.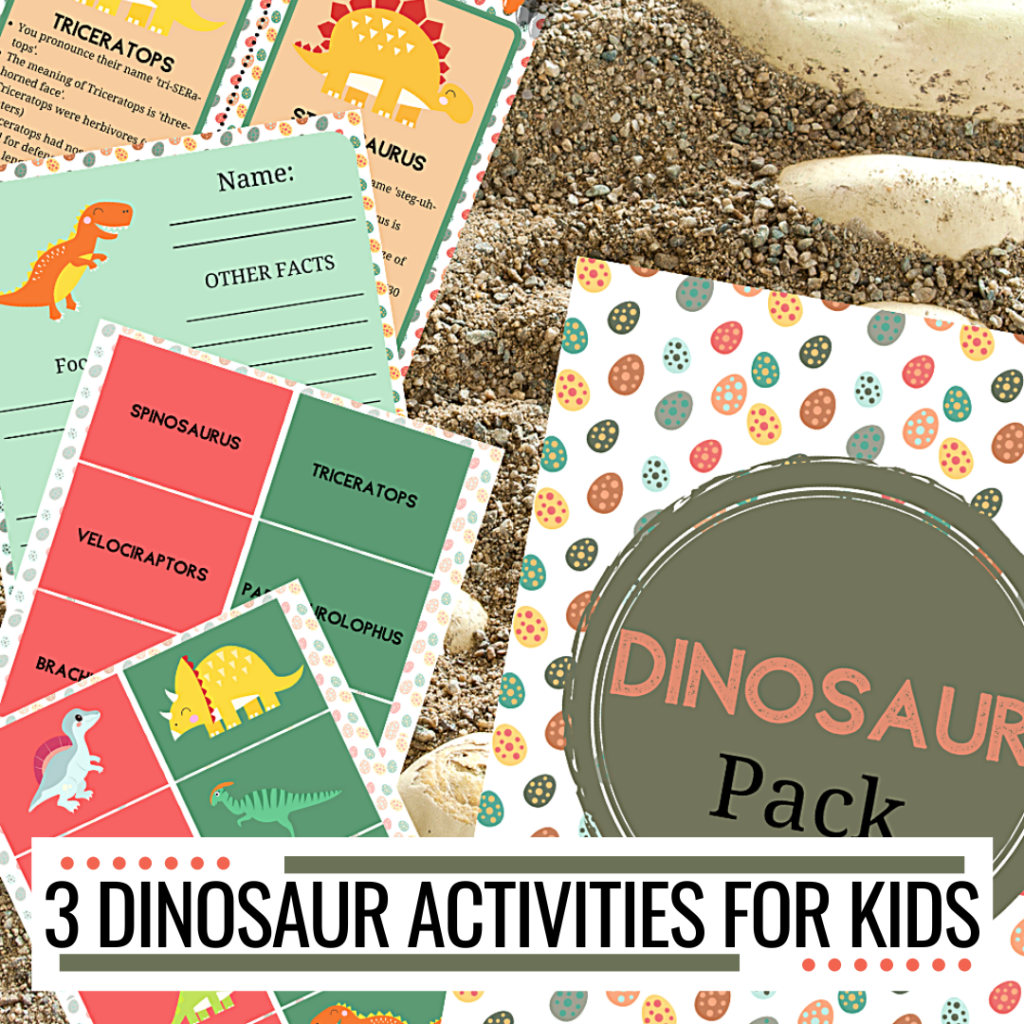 Finally, you'll find a set of dinosaur report pages. Children will identify the dinosaur in the top left corner. After writing its name, kids will record information about each dinosaur's food preferences, size, when they lived, and other interesting facts.
Kids can find some of the information on the fun facts cards. The rest, they can find online or in some nonfiction dinosaur books from the library.
BOOKS ABOUT DINOSAURS
Fill your book basket with a great collection of
books about dinosaurs
. Most of these books can be found at your local library or used bookstore. If you have a hard time finding them, you can order them through my Amazon affiliate links by clicking the images below.
How to Catch a Dinosaur
- Do YOU have what it takes to catch a prehistoric pal?
How Do Dinosaurs Say Happy Birthday?
- All little dinosaurs love to get presents, and this new board book will be an immediate favorite. From birthday hats to Ceratosaurus-sized cakes, America's young readers will laugh out loud as the celebration moves from "bad" birthday behavior to just the right amount of silliness and sharing.
What the Dinosaurs Did Last Night: A Very Messy Adventure
- You might have noticed weird things happening in your house. Unexplainable messes. Food all over the kitchen floor. Who could the culprits be? Dinosaurs!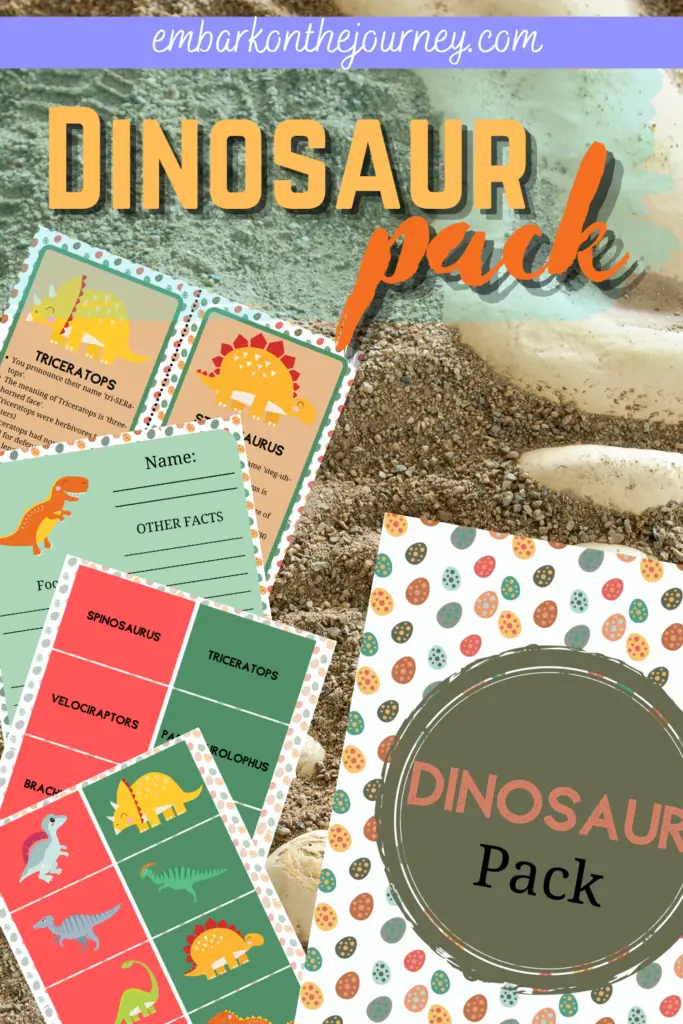 TEACHING RESOURCES
Story stones are so much fun for kids of all ages! Use these dinosaur story stones to retell or act out your child's favorite dinosaur stories or movies.
Natural, wooden toys inspire creativity and imaginative play. These wooden dinosaur figures are perfect for your pretend play area.
Download Your Printables
This dinosaur printable pack is only available to my readers. Click the button below, enter your information, and download your printables.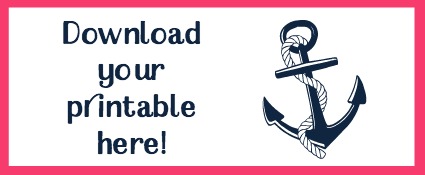 Related Posts