I love to read Christmas books to my kiddos! Every year we look forward to unpacking the Christmas books that we pack up for the rest of the year. Here's a peek at what's in our Christmas basket as well as a peek at what we will be adding to it this year.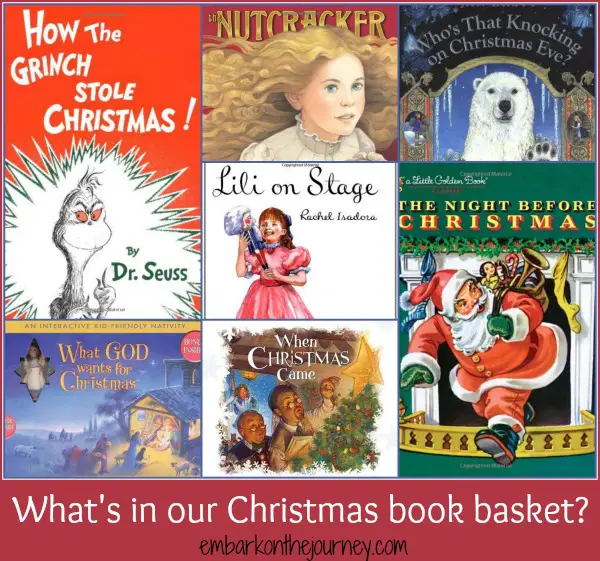 Our Christmas Book Basket
Polar Express (Chris Van Allsburg) – I watched this movie before I ever knew it was a book, but I bought it as soon as I read it for the first time. It's one of my very favorites! Hop aboard the Polar Express as it travels to the North Pole. Who will receive the first gift of the season? If you're reading this one or watching the movie with your kiddos this season, be sure to check out my free 100+ page Polar Express printable!
How the Grinch Stole Christmas (Dr. Seuss) – This one is a classic! "Every Who down in Who-ville liked Christmas a lot . . . but the Grinch, who lived just north ofWho-ville, did NOT!" Oh how we love little Cindy-Lou Who and the Grinch!
Lili on Stage (Rachel Isadora) – With a ballerina in our house, the Nutcracker is a Christmas tradition. Therefore, our Nutcracker books are stored with our Christmas books. We can relate to Lili's experiences as she prepares to perform the Nutcracker with her ballet company.
The Nutcracker (Susan Jeffers) – This story is a short and sweet version of The Nutcracker. I love the ballet pictures that are included.
The Nutcracker (Daniel Walden) – This is a "young reader's edition." It is meatier than the edition listed above. The illustrations are very nice in this book, as well.
The Night Before Christmas (Clement C. Moore) – This is such a timeless story. I love anything illustrated by Mary Engelbreit, and this story is no exception!
Who's That Knocking on Christmas Eve? (Jan Brett) – Jan Brett is one of my favorite authors. Someone is knocking on the door. Is it the trolls who come every year? Or, is it someone else?
When Christmas Came (Eileen Spinelli) – Who will come to the Christmas Eve service in the middle of a blizzard?
The Night Before Christmas (Clement C. Moore) – This Little Golden Book version takes me right back to my childhood.
What God Wants for Christmas (Amy Bradford) – This interactive Nativity set and book is one we look forward to each year. Each character in the nativity has their own page in the book. The page retells the story from the Bible. After reading the page, children take the character out of the gift box and add it to the nativity set.
Santa is Coming to Cincinnati (Steve Smallman) – I can't wait to add this book to our basket this year! Santa and his reindeer fly over local landmarks. I think it will be fun to see places we drive by in the book we are reading. There are many books in this series, and I want to eventually get books for all of the places we've lived.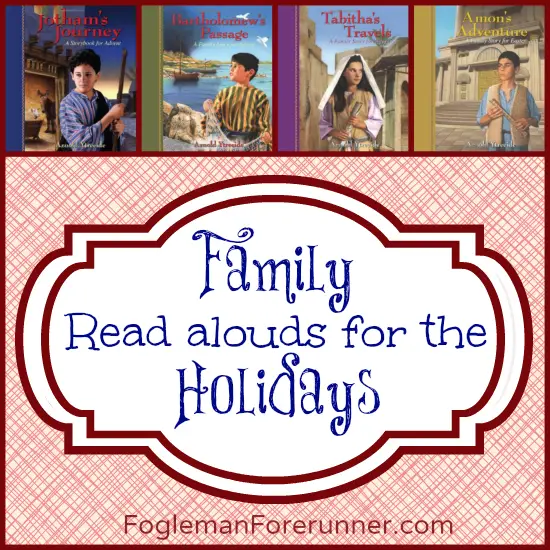 Now, let's link up! Last week's featured post is Family Read Alouds for the Holidays at Fogleman Forerunner. Come link up with us this week. We'd love for you to share your book-themed or children's literature related posts. We'd love to see what your reading!

[inlinkz_linkup id=477673 mode=1]