I don't know about your kids, but my boys were very inquisitive when they were younger. My middle one was the most inquisitive of the bunch. He wanted to know how things worked and what was inside them. If you have inquisitive kids who are curious about how the world around them works, they'll love this book list!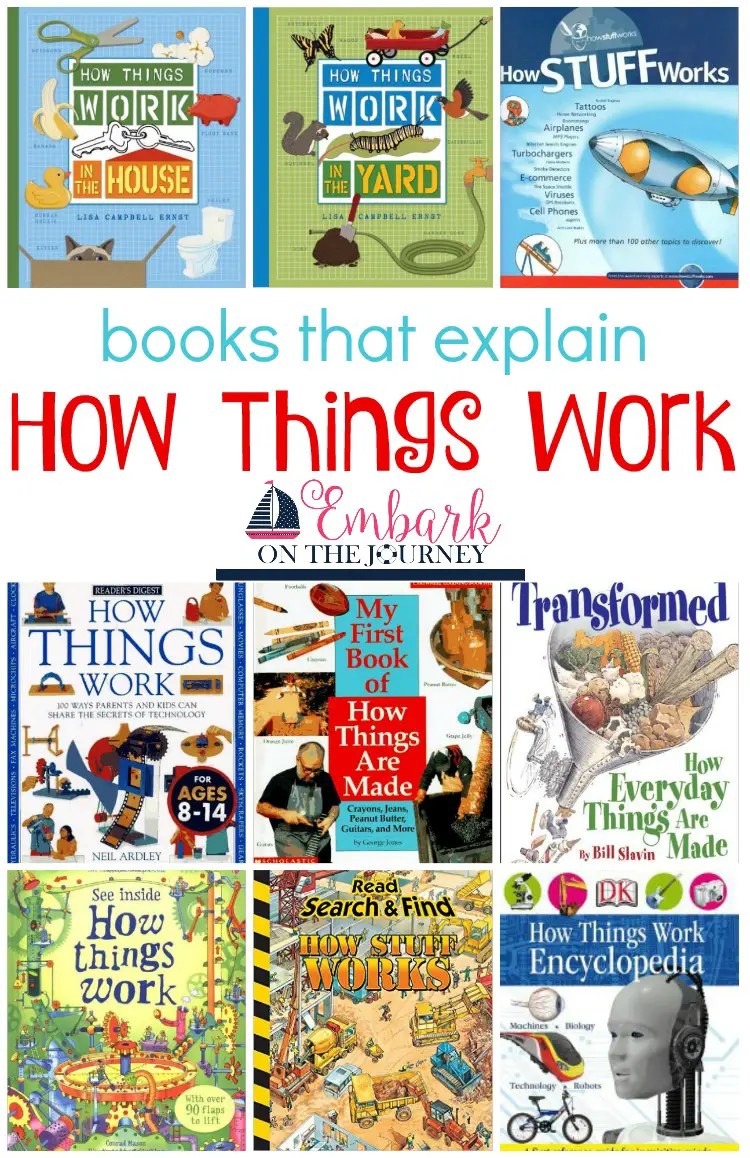 How Things Work
Read Search & Find: How Stuff Works | Would you like to drive a bulldozer at a construction site? Blast off on a space shuttle? Explore the ocean in a submarine? Go behind the scenes on a movie set? Wonderful panoramic illustrations show how people use the machines they need to do their jobs. So, just put on your hard hat and get ready to Read Search & Find® as you explore HOW STUFF WORKS!
How Stuff Works | In this fun and infinitely informative guide, Marshall Brain and staff of "stuff" experts at HowStuffWorks, Inc. unravel the mysteries of more than 135 intriguing topics. You'll be fascinated by the world around you!
How Things Work | Here is a fascinating guide to the world of machines and technology, packed with hundreds of hands-on experiments for the whole family. Activities are designed to use every-day materials that are inexpensive and easy to obtain. For ages 8-14.
How Things Work in the Yard | Award-winning, best-selling author and illustrator Lisa Campbell Ernst's newest book celebrates young children's inquisitiveness about the world around them—and, specifically, the things found in any yard.
How Things Work in the House | How Things Work Around the House is a fun introduction to non-fiction that celebrates young children's inquisitiveness about the world around them. How does a spoon work? Or a bathtub? Or a toilet?
My First Book of How Things Are Made | Traces the production steps in the creation of such familiar items as crayons, guitars, peanut butter, blue jeans, and books, in a highly visual and lively introduction to the process of manufacturing.
Transformed: How Everyday Things Are Made | CDs start out as sand. Blackboard chalk comes from tiny sea creatures. The objects all around us — every single product in the world — is made from elements found in nature. Discover how nature is transformed into more than 60 things we eat, drink, play with, wear or use every day. Technology changes constantly, but the stages raw materials go through to become finished objects remain much the same.
How Things Work Encyclopedia | Looking at the technology all around us-and then explaining how it works, the How Things Work Encyclopedia lifts the hood of a car engine, gets inside a TV set, and discovers the power of invisible microwaves.
How Things Work | This is an amazing flap book packed with inventions, machines, gadgets and devices, and facts and information about how they work. Over 90 flaps reveal the insides of car engines, toilets, escalators, submarines and microwaves and many, many other machines. It includes internet links to websites with animations, games and experiments.
The New Way Things Work | This completely updated and expanded edition describes twelve new machines and includes more than seventy new pages detailing the latest innovations. With an entirely new section that guides us through the complicated world of digital machinery, where masses of electronic information can be squeezed onto a single tiny microchip, this revised edition embraces all of the newest developments, from cars to watches.