One of the things I enjoyed teaching the most when my crew was younger was colors. From wearing the color of the day to eating foods that were all the same color, we always had so much fun. We were able to watch the various color song playlists and, read so many amazing books to keep the kids entertained!
I've listed 14 fun books to use when teaching colors. I've also created a fun "I See…Colors" printable you can use with your littles. Have fun!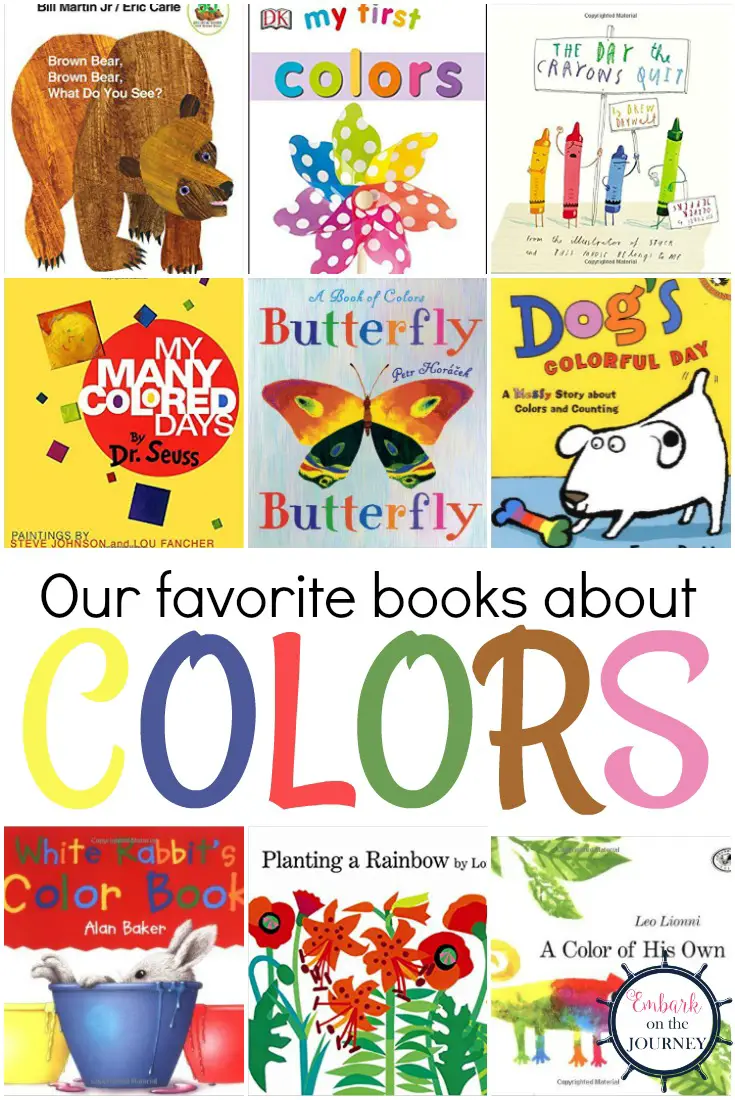 Picture Books about Colors
Dog's Colorful Day: A Messy Story About Colors and Counting by Emma Dodd | Dog starts off the day with one black spot on his ear. But it seems that wherever he goes, he runs, rolls, and trots right into colors. As he wanders around town, Dog collects spots made of red jam, blue paint, pink ice cream, and more. When he finally arrives back home, Dog has ten different colored spots. And then it's bath time for this colorful canine, who makes learning colors and numbers easy, messy, and fun!
White Rabbit's Color Book by Alan Baker | One inquisitive hop, and splash! goes White Rabbit into a bucket of yellow paint. Soon the little rabbit is jumping from bucket to bucket and learning all about colors and how they mix.
Mouse Paint by Ellen Stoll Walsh | One day three white mice discover three jars of paint–red, blue, and yellow.
My First Colors Board Book by DK Publishing | Ladybugs, cherries, roses, and strawberries are just some of the things that are red in this first concept book that introduces the wonderful world of colors.
My Many Colored Days by Dr. Seuss | Not only does it help teach colors, but it also starts to set a groundwork to give children a dialog for their feelings.
Butterfly Butterfly: A Book of Colors by Petr Horacek | Lucy sees a beautiful butterfly in the garden, along with a bright green beetle, a brilliant blue dragonfly, some red ladybugs, and many more flying and crawling things. But when will the radiant butterfly appear again?
Teeny, Tiny Mouse: A Book About Colors by Laura Leuck | Children learn their colors along with a mouse who names all the colored objects in his small house.
The Day the Crayons Quit by Drew Daywalt | Poor Duncan just wants to color. But when he opens his box of crayons, he finds only letters, all saying the same thing: His crayons have had enough! They quit! Beige Crayon is tired of playing second fiddle to Brown Crayon. Black wants to be used for more than just outlining. Blue needs a break from coloring all those bodies of water. And Orange and Yellow are no longer speaking—each believes he is the true color of the sun.
A Color of His Own by Leo Lionni | Elephants are gray. Pigs are pink. Only the chameleon has no color of his own. He is purple like the heather, yellow like a lemon, even black and orange striped like a tiger! Then one day a chameleon has an idea to remain one color forever by staying on the greenest leaf he can find.
Freight Train by Donald Crews | Even a child not lucky enough to have counted freight cars will feel he or she has watched a freight train passing after reading Freight Train.
Planting a Rainbow by Lois Ehlert | This book is a dazzling celebration of the colorful variety in a flower garden and the excitement of gardening. Mother and child plant bulbs in fall, order seeds from catalogs in winter, eagerly anticipate the first shoots of spring, select seedlings in summer, "and watch the rainbow grow," reveling in the opulence of color.
Brown Bear, Brown Bear, What Do You See? by Bill Martin, Jr. | A big happy frog, a plump purple cat, a handsome blue horse, and a soft yellow duck–all parade across the pages of this delightful book.
Hello, Red Fox by Eric Carle | It's Little Frog's birthday, and Mama Frog gets a big surprise when the guests show up for his party — all the animals are the wrong color! Little Frog tells her she's not looking long enough, and he's right.
Monsters Love Colors by Mike Austin | Did you know that monsters love to scribble, scribble, mix, dance, and wiggle! Why? Because monsters love to make new colors!