Dark chocolate. White chocolate. Milk chocolate. What's your pick? I love dark chocolate with milk chocolate a close second. I don't care for white chocolate, but it's Em's favorite.
As we head into Valentine's Day, now's a great time to fill your book basket with books that are all about chocolate. Yum!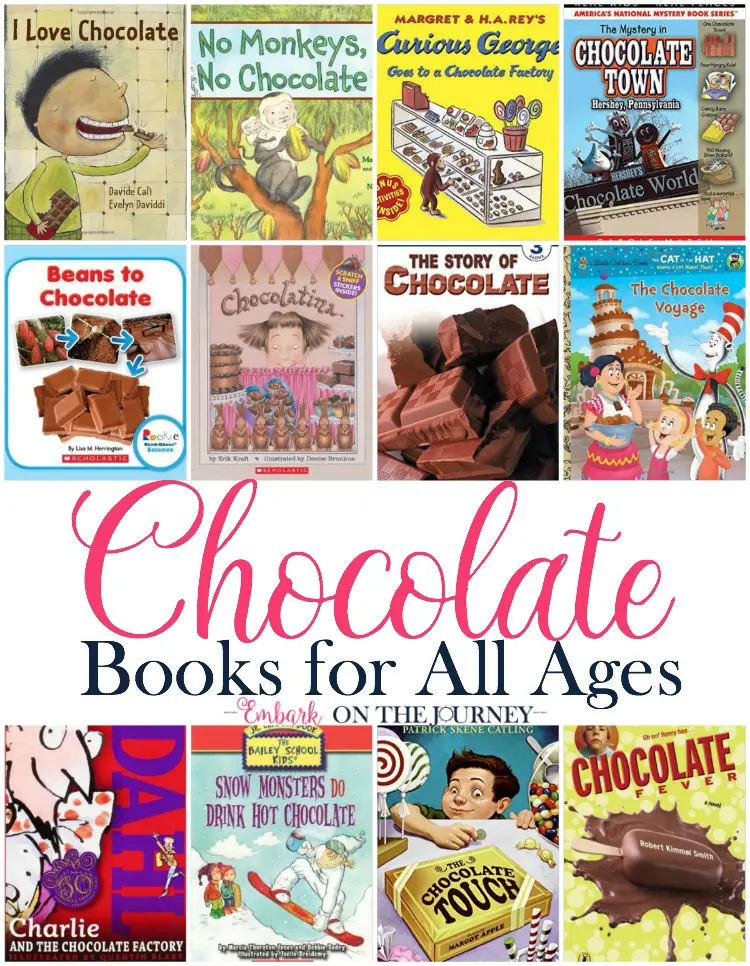 Books About Chocolate for All Ages
Snow Monsters DO Drink Hot Chocolate | Who knows what weird thing is going to happen to the Bailey School Kids next? It's snowing… and snowing… and snowing! Will the snow ever stop? Or does that wild snowboarder have something to do with it?
I Love Chocolate | I love chocolates because each one can be a surprise — you have to taste them all to find out what's inside!
No Monkeys, No Chocolate | Everyone loves chocolate, right? But how many people actually know where chocolate comes from? How it's made? Or that monkeys do their part to help this delicious sweet exist?
The Chocolate Voyage | When the Cat in the Hat eats Nick's last piece of chocolate, the gang visits the Forest of Coco-a-licious to learn to make their own. There they discover that chocolate is made from cocoa beans which grow on trees–and that the raw beans actually taste pretty awful! Undeterred, the gang help harvest, dry, and roast the beans, separate the cocoa butter and liquids, and cook the mixture with sugar to make the sweet confection we all know and love.
The Story of Chocolate | Stunning photographs and engaging, age-appropriate stories are guaranteed to capture a child's interest while developing reading skills and general knowledge.
The Chocolate Touch | In a laugh-out-loud hilarious twist on the legend of King Midas, a boy acquires a magical gift that turns everything his lips touch into chocolate. Can you ever have too much of your favorite food? John Midas is about to find out….
Chocolate: A Sweet History | Our unique, kid-friendly Smart About series continues with something for your sweet tooth!Smart About Chocolate is "chock-full" of fun facts about the history of chocolate, from the Mayans to Milton Hershey! Kids will learn how chocolate comes from beans of the rain forest's cacao trees and how candymakers in England and Switzerland first produced the chocolate we know and love today. Includes recipes and recommendations of classic books about chocolate.
Lilly's Chocolate Heart | Lilly loves her chocolate heart. Will she save it? Forever and ever? What do you think?
From Cocoa Bean to Chocolate | How does a cocoa bean turn into tasty chocolate? Follow each step in the food production cycle—from planting cocoa trees to eating a sweet treat—in this fascinating book!
Beans to Chocolate | Introduce your learners to science! Through simple text and clear photographs, young minds will learn how some of their favorite things are made.
Chocolatina | "You are what you eat," Mrs. Ferdman reminds her students during every health class. But all Tina likes to eat is chocolate. One day she wishes Mrs. Ferdman's favorite saying were true, and the very next morning she wakes up as a girl made of chocolate!
Chocolate Fever | Henry Green is a boy who loves chocolate. He likes it bitter, sweet, dark, light, and daily; for breakfast, lunch, dinner, and snacks; in cakes, candy bars, milk, and every other form you can possibly imagine. Henry probably loves chocolate more than any boy in the history of the world. One day-it starts off like any other day-Henry finds that strange things are happening to him. First he makes medical history with the only case of Chocolate Fever ever. Then he finds himself caught up in a wild and hilarious chase, climaxed by a very unusual hijacking!
The Mystery in Chocolate Town | Christina, Grant, Mimi and Papa fly the Mystery Girl to Hershey, Pennsylvania just in time for the 100th anniversary of the famous candy company. Their plans are to tour the chocolate-scented town (with the Hershey Kisses streetlights!) and eat chocolate, chocolate, chocolate. But when silver dollars go missing, the mystery family goes into action to save the day! Well, hopefully! Christina is excited about the research, Grant has a tummy ache (wonder why?) And, Mimi won't go near a scale! Join the fun-it's a real treat of a mystery!
Curious George Goes to a Chocolate Factory | When George and the man with the yellow hat stop to shop at a chocolate factory store, George becomes curious about how chocolates are made. Though he begins to follow the factory tour, George is soon off on his own to investigate.
Charlie and the Chocolate Factory | Willy Wonka's famous chocolate factory is opening at last! But only five lucky children will be allowed inside. And the winners are: Augustus Gloop, an enormously fat boy whose hobby is eating; Veruca Salt, a spoiled-rotten brat whose parents are wrapped around her little finger; Violet Beauregarde, a dim-witted gum-chewer with the fastest jaws around; Mike Teavee, a toy pistol-toting gangster-in-training who is obsessed with television; and Charlie Bucket, Our Hero, a boy who is honest and kind, brave and true, and good and ready for the wildest time of his life!
---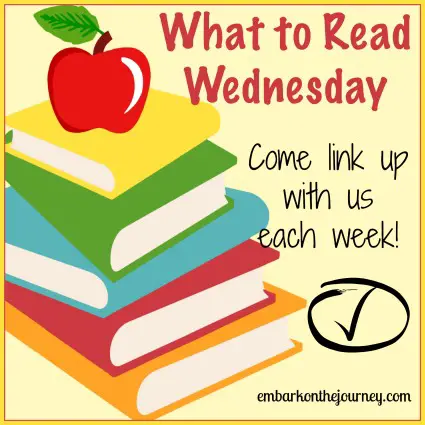 If you have a children's literature or other family-friendly post you'd like to share, please link up with us. Share what you've been reading with your kiddos. Do you have a fun book-based activity or printable? Share it with us. You may find yourself featured next week!
[inlinkz_linkup id=600175 mode=1]