What if you could find multiple options for affordable math instruction for older students in one convenient spot? You can at Homeschool Buyers Co-op!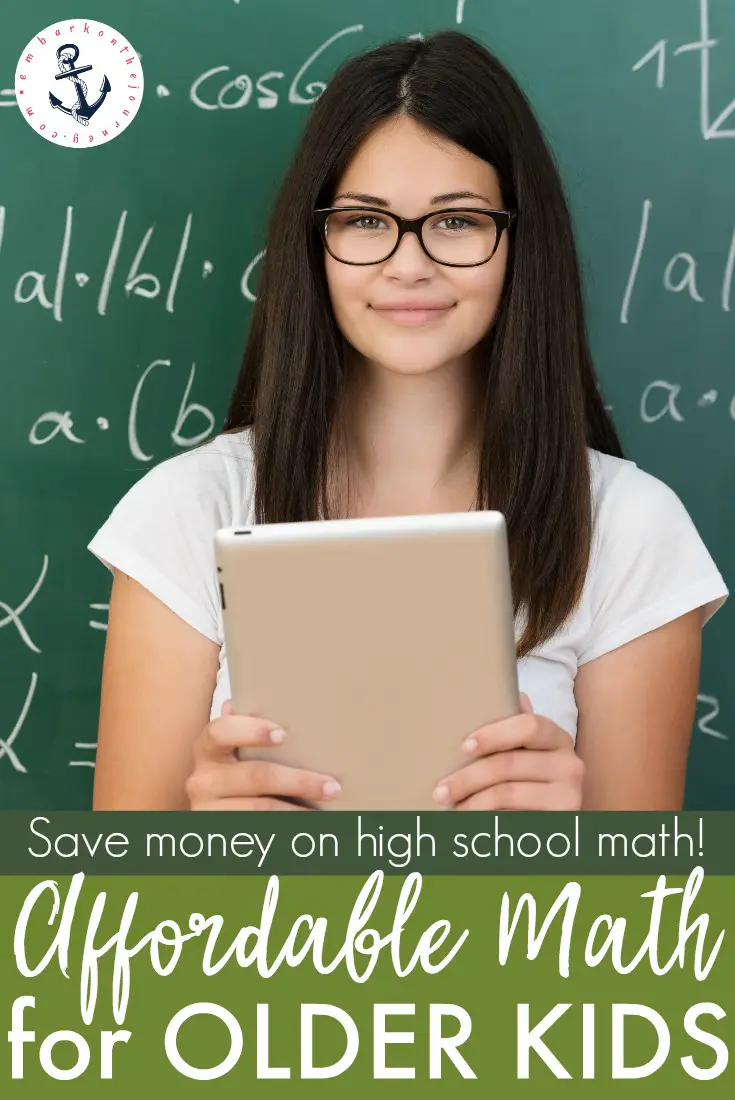 I was compensated for writing this review. All thoughts and opinions are my own.
Online Math Instruction for Older Students
Math is one of those subjects that homeschoolers tend to have a love-hate relationship with. Many of us go through several curriculum options before finding the right fit. Some want textbooks while others want online instruction.
As our kids get older, our search may become more and more desperate. We've got college entrance exams and transcripts on our minds. What if you could find multiple options for affordable math instruction for older students in one convenient spot?
Shopping for homeschool curriculum can be a daunting task. However, Homeschool Buyers Co-op is available to help homeschool families find quality educational materials at deeply discounted prices. You may also want to use a Target Gift Card if you are interested in doing more shopping.
Shopping for Math Curriculum
When I shop for math curriculum, I look for two things. First, I want a core curriculum to help me lay a strong math foundation for my kids.
I prefer to use a spiral method of math instruction. This means that concepts are revisited often so kids are constantly reviewing skills. For young learners, we start with Horizons math. In 4th grade, we switch to Saxon and use it through high school.
Saxon Homeschool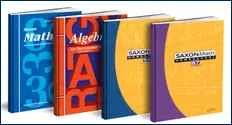 As I said above, Saxon Math is our curriculum of choice. As I type this post, my daughter is wrapping up Algebra I.
She struggled a bit at the beginning of the year. I offered several times to find another curriculum for her to use. I tried video instruction and tutorials. She was adamant about sticking with Saxon. She was determined to stick with it, overcome her obstacle, and prove to herself she could do it. And, she is!
Saxon Math Homeschool is based on the teaching principles of incremental development, continual practice and review, and cumulative assessment. The programs are organized by:
K–3 teaches basic concepts, plus geometry, patterns, and time
Math 5/4–8/7 transitions to textbooks, plus algebraic and geometric reasoning
High school texts prepare students for college, from Algebra 1 to Calculus
VideoText Interactive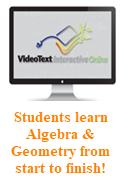 If you have a student who prefers learning online, they may prefer something like VideoText Interactive!
VideoText Interactive is designed to be used by students on a self-study basis, but parents are encouraged to sit down and watch the video lesson with their student to get a clear, general sense of what the lesson is and the concept behind it.
VideoText Interactive features these key benefits:
Online Video Lessons to teach Algebra and Geometry from start to finish!
Electronic access to Course Notes, WorkTexts, Solutions Manuals, Progress Tests, and Instructor's Guides
Option to print any material (although not absolutely necessary)
24/7 access, including the ability to access previous and future lessons
MathHelp.com

Another online math program to consider is MathHelp.com. MathHelp.com's online math homeschool curriculum provides all of the instruction required for the hard to teach higher level math courses. Each course features hundreds of online math lessons with your own personal math teacher. Every lesson is completely self-paced and takes approximately 45 minutes to complete depending on the student. All lessons include:
Multiple video example problems from experienced math teachers averaging 2 minutes in length
Interactive practice problems with hints and step-by-step audio and animated explanations
A higher level challenge problem with audio explanations
Multiple-choice self-tests which can be taken over and over with different problems to prove mastery
Printable extra problem worksheets for homework or extra practice
Review notes
Plato Math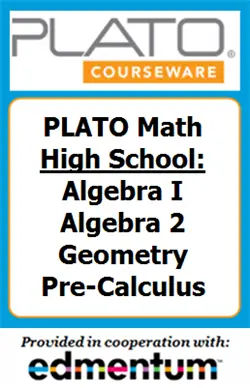 With one low price, you have access to four high school courses with Plato Math.
Plato Math offers online instruction for grades 8-12. They cover Algebra 1, Algebra 2, Geometry, and Pre-Calculus. Each comprehensive award-winning unit delivers up-to-date, spiraling instruction that builds upon previously introduced information and correlates to specific standards and objectives.
A built-in, sophisticated test bank links questions to specific objectives to help ensure mastery of the standards. Students apply their new knowledge and concepts learned to theme-based scenarios in hands-on learning applications.
Thinkwell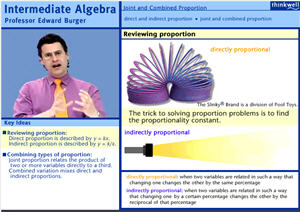 Put aside your boring textbooks and learn online from some of the best teachers in the country using Thinkwell's acclaimed online multimedia instruction! Instead of reading a textbook, students watch a series of dynamic 10-minute video lectures and then complete interactive online exercises that reinforce concepts and demonstrate mastery of the topics.
Each Thinkwell title features a comprehensive curriculum comparable to a traditional printed text, including:
Thinkwell's award-winning online video lectures. Students can watch them from any computer, at anytime.
Registration into the Thinkwell home schooling website where students have access to exercises, illustrated notes, animations, and more.
Worked out solutions to exercises with instant feedback.
Tracking of homework and chapter test results.
If you've got younger students, Homeschool Buyers Co-op has math curriculum options for them, as well. Do you need supplemental games or videos to help your student grasp a specific concept? Homeschool Buyers Co-op has you covered there, as well. With their SmartPoints and discounted prices, it doesn't make sense to shop anywhere else!
Related Posts