Recently, my four-year-old nephew came for a visit. He stayed for five days. While I was really looking forward to his visit, I was also a little concerned. First, it's been a long time since I've had littles in the house. So, we don't have many toys left.
Second, we had a really busy schedule that week. We had doctor visits, physical therapy, and dance classes already on the calendar for the only week that worked for my sister and me to meet up to get her kiddos.
I knew I needed some things on hand to keep Isaiah busy while he tagged along to all of our appointments. So, I decided to make some busy bags. They're cheap. They're portable. And, they'd all be brand new to him so he wouldn't be bored with them.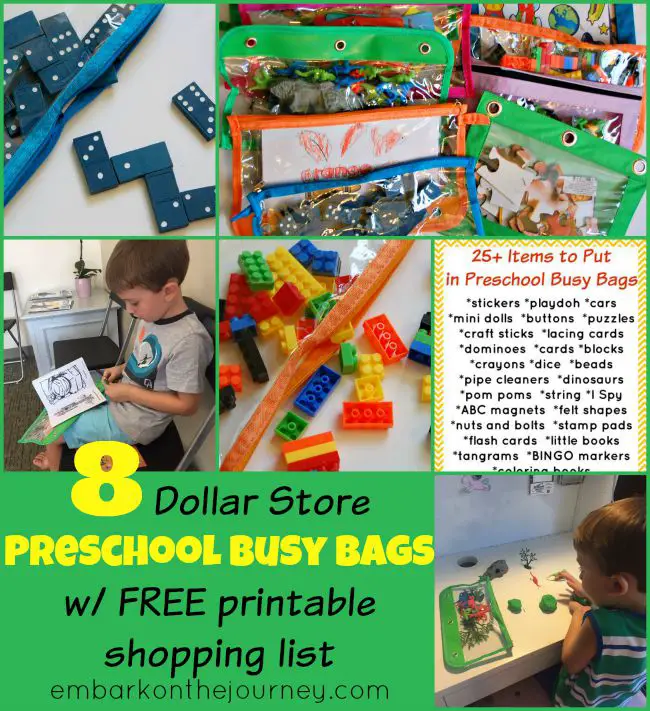 8 Dollar Store Busy Bags for Preschool
First, I scoured the Dollar Spot at Target for some fun $1 items to put in the busy bags. I grabbed a couple bags of blocks, some plastic dinosaurs, and a Teenage Mutant Ninja Turtle grab-n-go pack. Sorry. I didn't take pics before assembling the bags so you'll have to scroll down to see the supplies in the bags.
From there, I sifted through my own school supplies to gather up as many empty pencil pouches as I could find. I also came across a bag of dominos that I thought would make a fun busy bag.
[bctt tweet="With a few items I had on hand and a quick trip to the Dollar Store, I was able to put together 8 preschool busy bags for cheap!!"]
Lastly, I made a trip to the Dollar Store. I grabbed a few more pencil pouches, a puzzle, and some stickers. Then, I headed home to assemble the bags.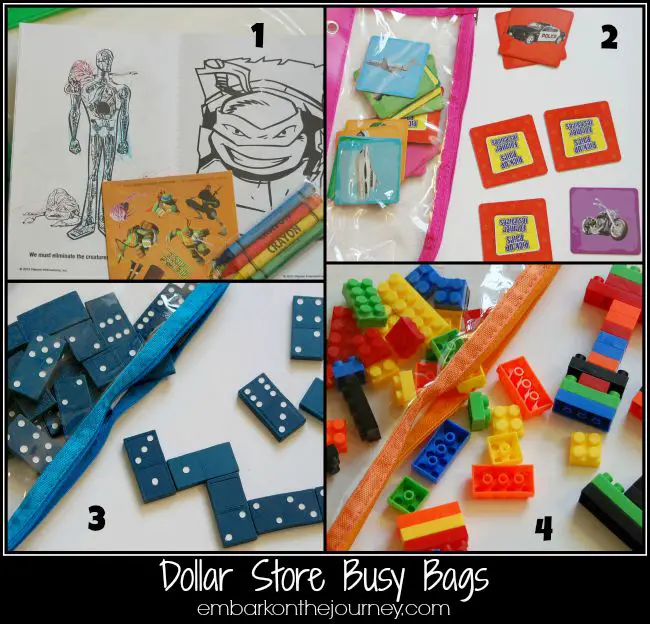 1 pencil pouch from my stash and 1 grab-n-go pack from Target (total cost $1) : I love the grab-n-go packs! Each pack includes a mini-coloring book, a sheet of stickers, and four crayons.
1 pencil pouch from the Dollar Store and one Memory Match game from Target's Dollar Spot (total cost $2): I just put all of the memory match game pieces in the pouch, and it was ready to go.
1 pencil pouch from the Dollar Store and dominoes I already had (total cost $1): We just played "snake" counting the dots and matching them. You can use dominoes to play all kinds of fun math games.
1 pencil pouch from the Dollar store and blocks from Target's Dollar Spot (total cost $2): If you have LEGOS at home, grab a handful or two and put them in a pencil pouch. I have some, but I wanted to be able to send these home with Isaiah so I bought some blocks.

1 pencil pouch and color pages/crayons from home (total cost $0!): I printed off the coloring pages from the Teaching Preschool Colors printable I made back in July. I scrounged up one of each color crayon from our big tub of crayons, and we were good to go!
1 pencil pouch from home and round stacking blocks from Target's Dollar Spot (total cost $1): I have no idea what these blocks are called. But, they are round and have little pegs that allow them to snap together. They're great for building and working on patterns.
1 pencil pouch from the Dollar Tree and 1 bag of dinosaurs from Target's Dollar Spot (total cost $2): This was one of Isaiah's favorite bags. One afternoon, when I needed to get a little online work done, I got this bag out with a can of playdough, and he had a blast.
1 pencil pouch from home and 1 24-piece puzzle from the Dollar Tree (total cost $1): This was my favorite busy bag, because it was the most difficult for him. Isaiah is a bright boy! He already knows his colors and can read some. But, he didn't know how to put together a puzzle. He had to think about inside/outside pieces. He had to think about whether he had a "knob" or a "hole" on his puzzle piece. He had to use his observation skills to find the matching pieces. I loved helping him work through this puzzle! I put all the pieces in the bag along with the cover picture from the box. And, we were all set.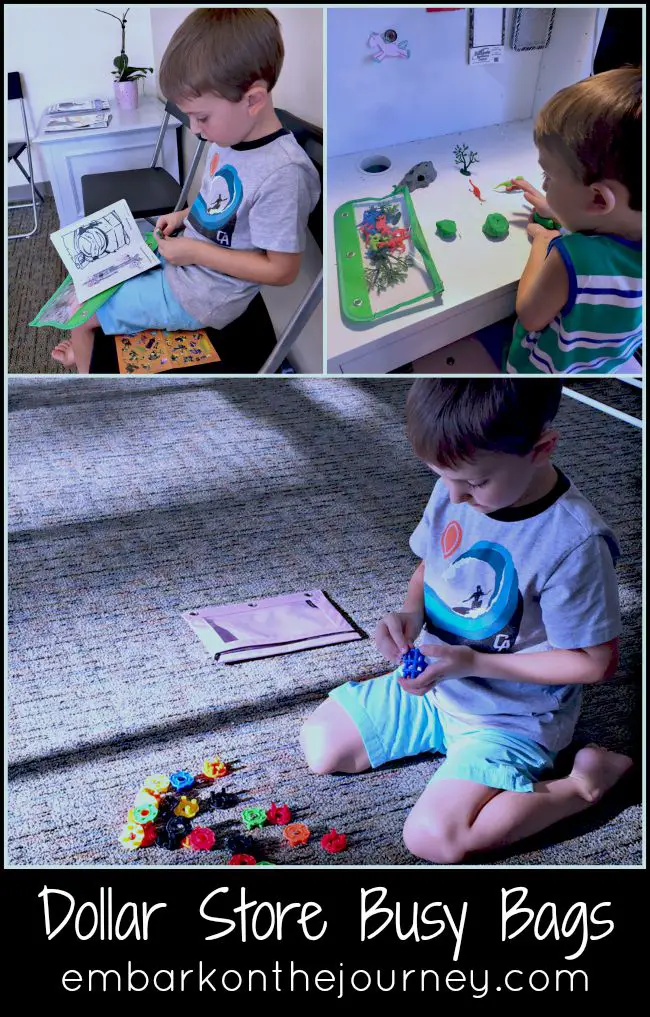 Here's a fun list of items that you can put in your preschool busy bags. Print out this list and take it to the store with you so you don't forget anything. Just click on the image below to download and print. Have fun!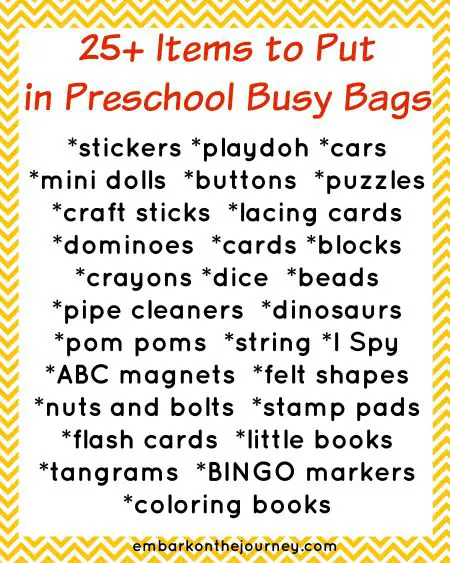 Linking up with: A Little Birdie Told Me, What to Read Wednesday