One of Emma's favorite times in our homeschool day, is our read-aloud time. I try to read a couple of chapters to her every day. If I forget, she reminds me. Often, I try to tie our read-alouds to our current topic of study. I pick from our history or science topics.
Other times, I try to choose seasonal or holiday books when I can. We've read quite a few over the years, and I want to share with you a list of our favorites. I have read each of the books listed below, and I personally recommend them.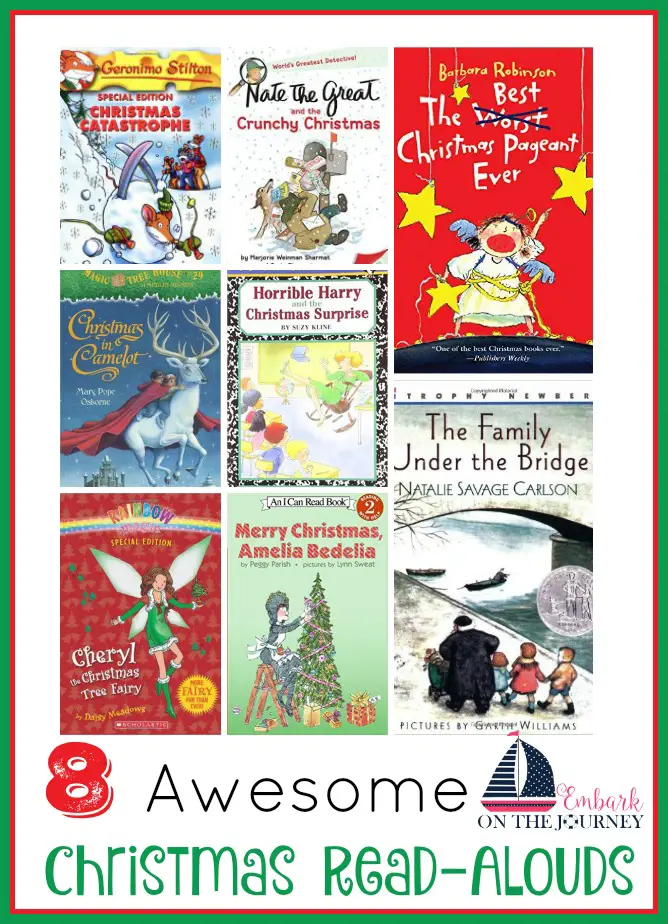 Christmas Read-Alouds for the Whole Family
The Best Christmas Pageant Ever – This book is a classic! It's one I read every year for several years. I read it to my public school students, and read it to my own kiddos when we started homeschooling. There are a few "bad" words in the book, but it's easy to modify as you read it aloud. And, it's totally worth the effort. We also watched the movie after reading the book.
The Family Under the Bridge – This is a sweet book about a hobo named Armand and a family who lived under a bridge. This book really gets kids in the holiday spirit, and it drives home the real meaning of family. I discovered it years ago when I read it to my third grade class, and promptly added it to my holiday read-aloud schedule at home.
Horrible Harry and the Christmas Surprise – Isaac, now 17, always loved the Horrible Harry books. We read the whole series together. This one is no exception. Read along as Harry tries to bring Christmas spirit to Class 2B.
Nate the Great and the Crunch Christmas – Can Nate the Great solve the mystery concerning Fang's missing holiday mail?
Christmas in Camelot
– The Magic Treehouse series has always been a family favorite. In this one, Jack and Annie travel to Camelot and encounter King Arthur.
Christmas Catastrophe – I snuck this one in on the list even though I did not read it aloud to my kids. However, Emma devoured this series, and loved every single book! Therefore, I had to include it on this list.
Cheryl the Christmas Tree Fairy – This was one of the very first series Emma read on her own. She would check out 5 or 6 at a time every time we visited the library. I can't count how many of these Daddy and I read to her at bedtime as she begged for just one more chapter. Can Rachel and Kirsty, with the help of Cheryl the Christmas Fairy, save Christmas from Jack Frost?
Merry Christmas, Amelia Bedelia – Everybody loves Amelia Bedelia! With Amelia Bedelia in charge of getting the house ready for Christmas, There are bound to be some giggles!