This year, I'm using Mystery of History Volume 1 with Emma. I used it quite a few years ago with my older boys, but she was very young on that pass through. She really likes Ancient Egypt and Ancient Greece so she is having  a blast with this course. 
For the past six week, we've been studying Ancient Egypt. It has been a lot of fun. I have to admit that I didn't enjoy history at all when I was in school. It was all memorizing dates and dry facts. Going through it with me kids with a more hands-on approach makes is so much more enjoyable. And, I'm learning as much as they are. 
Here's a little peek at some of the books we used throughout our study of Ancient Egypt and some that younger and older readers might enjoy as well.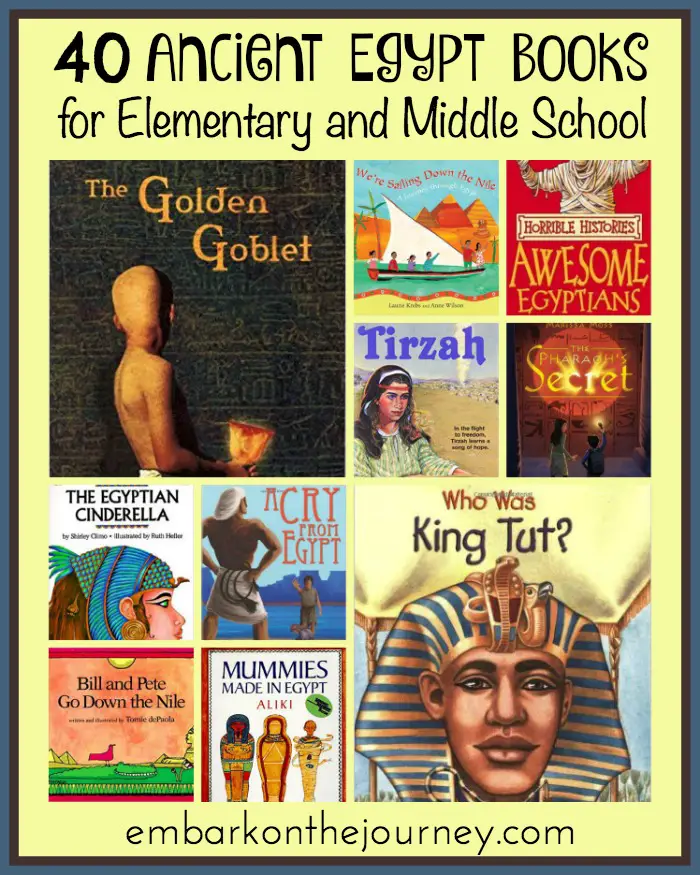 Ancient Egypt Books for Readers of All Ages
Young Readers/Listeners:
We're Sailing Down the Nile
 – There is so much in store on this incredible journey enormous statues and temples, the legendary Sphinx, tombs and mummies, and of course the Great Pyramids. With seven exciting destinations, a god or goddess on each page, and informative notes at the end, you will be an Egypt expert in no time!
Bill and Pete Go Down the Nile
 – It's a new school year, and Bill and Pete are back in a new adventure. Their teacher, Ms. Ibis, is taking all the little crocodiles (and their toothbrushes) on a class trip to the Royal Museum. But who's that trying to steal the Sacred Eye of Isis? Can it be the Bad Guy? Can Bill and Pete save the day once more?
Mummies Made in Egypt
 – Aliki describes and illustrates the techniques and the reasons for the use of mummification in ancient Egypt.
The Egyptian Cinderella
 – Poor Rhodopis! She has nothing – no mother or father, and no friends. She is a slave, from the far-off country of Greece. Only the beautiful rose-red slippers her master gives her can make Rhodopis smile. So when a falcon swoops down and snatches one of the slippers away, Rhodipis is heartbroken. For how is she to know that the slipper will land in the lap of the great Pharoah himself? And who would ever guess that the Pharoah has promised to find the slipper's owner and make her queen of all Egypt?
Tut's Mummy
 – Beginning with the death of Tutankhamen, the book moves forward to archaeologist Howard Carter's discovery of the tomb. Information about ancient Egyptian life is interspersed in a clear, smooth fashion throughout. A good way to get readers into non-fiction.
You Wouldn't Want to Be a Pyramid Builder
 – You (the reader) are an Egyptian peasant who farms for your wealthy landlord. During the wet season you are ordered to help build the pharaoh's tomb. As a pyramid builder you will get an insider's look at what it took to build these massive monuments, such as excavating stone blocks, hauling stones to the site and setting them, masonry work, painting, and sculpting. After reading this book there will be no doubt in your mind that this is definitely a hazardous job you'd rather not have.
If I Were a Kid in Ancient Egypt
 – Ancient Egypt is one of the most evocative cultures for young readers. This book shows them what their lives would have been like there. There was no school, since most people couldnt read or write, and no need to worry about fashion, because children didnt wear clothes! Rich or poor, their houses would have been made of mud bricks. If I Were a Kid in Ancient Egypt takes readers through daily life in a vibrant culture that pioneered paper, linen, irrigation, medicine, and much more, and shows how these inventions came about and how they affected the cultures younger citizens.
Tutankhamen's Gift
 – With astonishing artwork created from cut paper and inks on papyrus, this simply written account of one of Egypt's most fabled kings follows Tutankhamen from his frail childhood through his brief but magnificent reign.
Seeker of Knowledge: The Man Who Deciphered Egyptian Hieroglyphs
 – In 1802, Jean-Francois Champollion was eleven years old. That year, he vowed to be the first person to read Egypts ancient hieroglyphs. Champollions dream was to sail up the Nile in Egypt and uncover the secrets of the past, and he dedicated the next twenty years to the challenge.
Temple Cat
 – A temple cat in ancient Egypt grows tired of being worshiped and cared for in a reverent fashion and escapes to find genuine affection with a fisherman and his children.
The 5,000 Year Old Puzzle: Solving a Mystery of Ancient Egypt
 – It is 1924, two years after the discovery of King Tut's tomb. Readers are invited to join a young boy, Will Hunt, as he and his family become part of an archaeological team led by world-famous Egyptologist Dr. George Reisner. Based on actual records of Reisner's history-making dig, Giza 7000X, this strikingly original picture book uses journal entries, funny postcards, and quirky cartoons to pull readers into an ancient unsolved mystery. Luminous paintings of the pyramids, informative sidebars and inventive collages, including authentic documents and archival photographs, help provide information and clues. When a secret tomb is uncovered, readers, along with Will, put together clues to discover: Whose tomb is this? Why was it hidden? And how can a mummy be missing from a sealed tomb?
Mummies in the Morning
 – Jack and Annie are ready for their next fantasy adventure in the bestselling middle-grade seriesthe Magic Tree House! Jack and Annie don't need another mummy. But that's what they get when the Magic Tree House whisks them back to ancient Egypt. There they meet a long-dead queen who needs their help. Will Jack and Annie be able to solve the puzzle, or will they end up as mummies themselves?
Mummies and Pyramids
 – When Jack and Annie got back from their adventure in Magic Tree House #3: Mummies in the Morning, they had lots of questions. Why did people make mummies? What was the mysterious writing on mummy cases? How did most ancient Egyptians spend their days? How were the pyramids built? Find out the answers to these questions and more as Jack and Annie track the facts.
You Wouldn't Want to Be an Egyptian Mummy
 – As an ancient Egyptian, your body is being prepared for the afterlife. But it's fairly disgusting business, and you can't be sure that you will always be treated with respect.
You Wouldn't Want to Be Cleopatra
 – Get ready…you're a princess born into the Egyptian royal family. But it's not easy living in the palace. From family betrayals to Roman generals you will discover it's not easy being Cleopatra!
You Wouldn't Want to Be Cursed By King Tut
 – Valley of the Kings, Egypt, 1922: Archaeologist Howard Carter and his employer Lord Carnarvon discover the tomb of the boy pharaoh Tutankhamen. But when Lord Carnarvon dies suddenly, there are rumors that the tomb is cursed! Is it true, or is there a logical explanation for everything?
The Well of Truth: A Folktale from Egypt
 – When Goat, Rooster, and Donkey decide to try their hand at farming, all goes well until Donkey's appetite gets the best of him. In this tale from Egypt, Donkey learns the price of being greedy and discovers that the truth will always come out, even if it comes from the bottom of a well. This charming story demonstrates the importance of sharing and the consequences of lying to friends.
The Pharaohs of Ancient Egypt
 – For more than 3,000 years, Egypt was a great civilization that thrived along the banks of the Nile River. But when its cities crumbled to dust, Egypts culture and the secrets of its hieroglyphic writings were also lost. The Pharaohs of Ancient Egypt explains how archaeologists have pieced together their discoveries to slowly reveal the history of Egypts people, its pharaohs, and its golden days.
Who Built the Pyramids? – "Why were pyramids pyramid shaped?" "How were they built?" "Who were the ancient Egyptians?" "Why did they write on walls?" These are just a few of the questions likely to be asked about ancient Egypt by an inquisitive child. Designed to stimulate further questioning and discovery, this title is one of a history series for children of six and upwards. Packed with pictures, concise text and reader activities, the book brings ancient Egypt to life. It also looks at how we know about life along the Nile over 5,000 years ago.
Egypt ABCs: A Book About the People and Places of Egypt
 – An alphabetical exploration of the people, geography, animals, plants, history, and culture of Egypt.
Gift of the Nile
 – In ancient Egypt, Mutemwia the slave girl befriends Pharaoh and becomes his trusted counsel. But she is unhappy because she is not free. Will Pharaoh grant this gift to his friend?
Who Was King Tut? – Ever since Howard Carter uncovered King Tutankhamuns tomb in 1922, the young pharaoh has become a symbol of the wealth and mystery of ancient Egypt. Now, a two-and-a-half-year-long museum exhibit of Tuts treasures is touring major cities in the U.S., drawing record crowds. This Who Was . . . ? is complete with 100 black-andwhite illustrations and explains the life and times of this ancient Egyptian ruler, covering the story of the tombs discovery, as well as myths and so-called mummy curses.
Egyptian Activity Book
 – Filled with mummies, gods and goddesses, kings and queens, and other fascinating subjects, this little book will challenge you with 33 illustrated puzzles. You'll have fun navigating mazes, completing crossword puzzles, finding the differences between two similar pictures, connecting dots, and more.
Mummies, Pyramids, and Pharaohs: A Book About Ancient Egypt
 – Provides an overview of life in ancient Egypt, describing the people, daily activities, beliefs and customs, and what has been learned from artifacts left behind.
Pyramids! 50 Hands-On Activities to Experience Ancient Egypt
 – Today's kids actively experience the wonders of ancient Egypt. Games, food, clothing and creative activities involve children in the exploration of life in a ancient society.
Middle Readers/Listeners:
Tirzah
 – Tirzah's people, the Israelites, have been in slavery to the Egyptians for many years. Tirzah and her lame brother, Oren, help gather straw to make bricks. She observes the suffering of her people and the injustices that are done to them by the Egyptian police. Moses begs Pharaoh to let them go, but Pharaoh makes them work harder. One night, when the plague of death strikes down Pharaoh's own son, he allows the Israelites to flee on foot, only to pursue them with horses and chariots. He believes he will have them trapped between the mountains and the sea, but God miraculously delivers them. The Israelites celebrate with a song of hope and victory. Tirzah befriends a young Egyptian girl who has fled with them, even though others treat her badly. In spite of hardship and disappointment, Tirzah and her family keep trusting Yahweh to carry them through.
Golden Goblet
 – Ranofer wants only one thing in the world: to be a master goldsmith like his beloved father was. But how can he when he is all but imprisoned by his evil half brother, Gebu? Ranofer knows the only way he can escape Gebu's abuse is by changing his destiny. But can a poor boy with no skills survive on the cutthroat streets of ancient Thebes? Then Ranofer finds a priceless golden goblet in Gebu's room and he knows his luck?and his destiny?are about to change.
Mara, Daughter of the Nile
 – Mara is a proud and beautiful slave girl who yearns for freedom. In order to gain it, she finds herself playing the dangerous role of double spy for two arch enemies – each of whom supports a contender for the throne of Egypt.
Adara
 – Adara has always longed to do the things that well-brought-up girls of her time are not supposed to do. She wants to learn to read and write — like men. And she wants the freedom to travel — like men — outside the boundaries of her sheltered life.One day she awakens to a blast of trumpets as the Israelites and Arameans battle just outside the safety of her village walls. Curious, Adara sneaks out to see the battle. Little does she know that this will be her last day of freedom for a very long time. Sold into slavery, Adara becomes a servant to General Namaan and his family and begins a remarkable journey of self-discovery, healing, and redemption — a journey that, in the end, faces her with the hardest decision of her life . . .
A Cry from Egypt
 – Girls, get back! Ezra shouted.
His face was pale, but his eyes kindled with indignation as he stood in front of the girls protectively. Ezra dropped the pitchers in the sand and his hand flashed to a dagger, concealed under his tunic. Jarah s eyes grew wide. He could be killed for carrying a dagger! Jarah was a slave in Egypt. It was a dangerous place to be.Her work was exhausting and her family was torn between the gods of the Egyptians and the God of Abraham, Isaac, and Jacob. And her brother… would his Ada be given in marriage to an Egyptian in the palace? Would they ever be free?
Pyramid
 – Through concise text and richly detailed black and white illustrations we come to know the philosophy of life and death in ancient Egypt.
The Cat of Bubastes
 – Chebron, the young son of an Egyptian high priest, and Amuba, a young slave in the boy's household, are close friends; but their lives are greatly altered when Chebron accidentally kills a cat, an animal held sacred by the ancient Egyptians. Forced to flee for their safety, the boys and their companions begin a long and dangerous journey. A thrilling adventure story, this is also a tale packed with historical facts. Among other fascinating details, young readers learn about the Egyptian religion and geography, how the Nile was used for irrigation, and how the Egyptians made war and were prepared for burial.
Horrible Histories: The Awesome Egyptians
 – They're not called the Awesome Egyptians for nothing! The foul pharaohs and their suffering slaves got up to all sorts of terrible tricks. If you like your history horrible, the Awesome Egyptians and their moaning mummies have it all wrapped up! Aaaarrrrgh!
National Geographic Kids Everything Ancient Egypt
 – The ancient Egyptians thought big and built bigger, leaving behind monuments and messages that have endured for five millennia despite tomb robbers and the ravages of time. Pyramids and mummies tell us about their deaths, but new technologies are peeling the wraps off their mysterious lives.
The Everything Kids' Mummies, Pharaohs, and Pyramids Puzzle and Activity Book
 – Is there is such a thing as a mummys curse? How were the ancient pyramids built? What did the pharaohs do all day? All of these questions?and more?will be answered in this fun activity book. Kids will feel like real-life archaeologists when they solve puzzles and try activities about: famous pharaohs like King Tut and Ramses; gods like Osiris and Anubis; what the Egyptians believed about the afterlife; tools and laborers used to build the pyramids; tomb treasures like pottery, paintings, and hieroglyphics; Egypt- and mummy-related Halloween costume ideas; and more! With this book by their sides, kids will find themselves transported to a world of powerful gods, mysterious ceremonies, and glorious treasures.
Shadow Hawk
 – When his position at court is usurped by his half brother, a young Egyptian nobleman seeks to regain his standing through military victories against the enemy.
The Story of the Amulet
 – At the beginning of this book the children's father, a journalist, has gone overseas to cover the war in Manchuria. Their mother has gone to Madeira to recuperate from an illness, taking with her their younger brother, the Lamb. The children are living with an old Nurse who has set up a boardinghouse in central London. Her only remaining boarder is a scholarly Egyptologist who has filled his bedsit with ancient artifacts. During the course of the book, the children get to know the "poor learned gentleman" and befriend him and call him Jimmy.
Cook's house is in Fitzrovia, the district of London near the British Museum, which Nesbit accurately conveys as having bookstalls and shops filled with unusual merchandise. In one of these shops the children find the Psammead. It had been captured by a trapper, who failed to recognise it as a magical being.
Cleopatra Rules! The Amazing Life of of the Original Teen Queen
 – Cleopatra was a far more capable and powerful ruler than people have thought. Most of what weve known about Cleopatraand what crept into art, film, and literaturecame from her enemies, the Romans. But, ascending to the throne at 17, Cleopatra proved herself a brilliant negotiator who forged alliances that kept her in power and in control of her kingdom. This book about Egypts last and most famous pharaoh features an inviting text, many sidebars, and excellent color illustrations: maps, photos of ancient artifacts, and artworks from many historical periods.
The Pharaoh's Secret
 – When Talibah and her younger brother, Adom, accompany their father, an academic, to his homeland of modern Egypt on his research assignment, they become involved in a mystery surrounding an ancient, lost pharaoha rare queen ruler. Someone has tried to wipe her from the record, to make it appear as if she never existed! She needs Talibah to help her and her high priest, Senenmut, reclaim their rightful place in history. Exotic locales, mysterious strangers, and a sinister archaeologist round out an adventure that is full of riddles, old tales, and, most surprisingly of all, a link to Talibahs and Adoms mother, who died mysteriously.
The Red Pyramid
 – Since their mother's death, Carter and Sadie have become near strangers. While Sadie has lived with her grandparents in London, her brother has traveled the world with their father, the brilliant Egyptologist, Dr. Julius Kane. One night, Dr. Kane brings the siblings together for a "research experiment" at the British Museum, where he hopes to set things right for his family. Instead, he unleashes the Egyptian god Set, who banishes him to oblivion and forces the children to flee for their lives.
---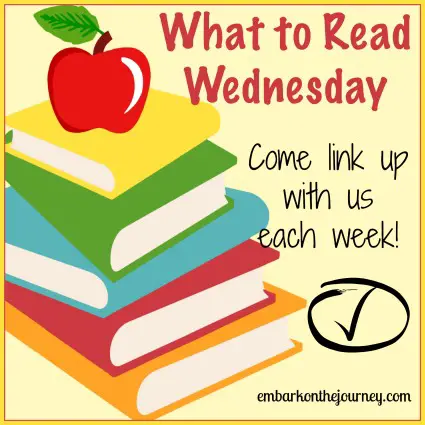 Now, lets get on to this weeks What to Read Wednesday link-up! Last weeks most clicked post was Leave Your Worries Behind…Fall Into a Book. This week, Im featuring the following yummy posts that were linked-up last week:
If you have a childrens literature or other family-friendly post youd like to share, please link up with us. Share what youve been reading with your kiddos. Do you have a fun book-based activity or printable? Share it with us. You may find yourself featured next week!
[inlinkz_linkup id=578970 mode=1]