Young readers will delight in these picture books about rainbows. They are all perfect for your spring and summer book baskets.
Whether you're looking for a fun fiction book about rainbows featuring your child's favorite character or you're looking for a nonfiction book to use, this list if packed with a great selection of rainbow books for preschoolers!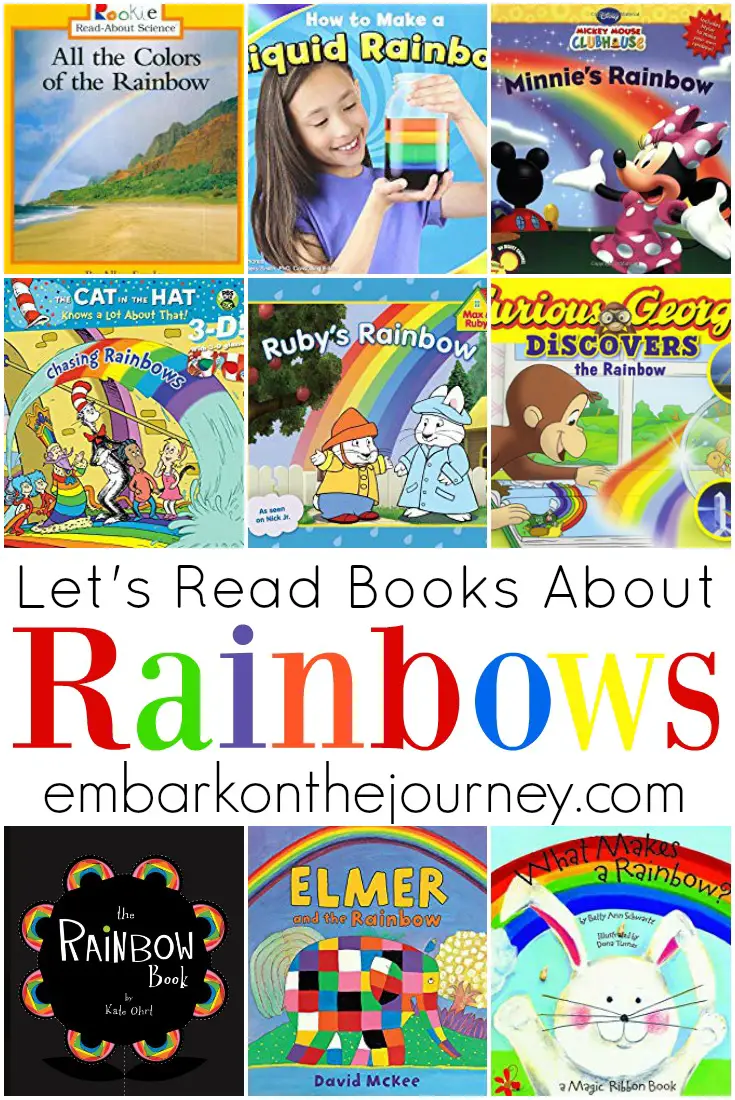 Children's Book About Rainbows
Curious George Discovers the Rainbow – When a light rain casts a stunning rainbow in the sky, George is introduced to all the beautiful colors of the spectrum! Come along as he chases the rainbow for his pot of gold and learns all about how rainbows occur and even how to create his own.
Light Makes a Rainbow – Learn the science behind how light makes a rainbow of different colors in this colorful reader! A rainbow happens when light goes through water drops from the rain.
The Rainbow and You – Rainbow expert Roy G. Biv will guide you back in time to learn the importance of rainbows in ancient cultures. You'll go inside a raindrop to discover how light bends to create the rainbow's dazzling colors. Finally, you'll return home and learn how to make your own rainbow!
Nature's Light Show: Rainbows – One of the best things about a rainy day is the possibility of a rainbow. Readers learn how rainbows form both through prisms and in the sky. 
The Rainbow Book – Emotions are as bright and unique as rainbows. The Rainbow Book explores the relationship between colors and sentiments they might inspire. Does yellow suggest happiness? Is blue peaceful? 
The Leprechaun Who Lost His Rainbow – When a leprechaun appears and asks Colleen's help in saving the St. Patrick's Day Parade, she offers items of different colors to rebuild his lost rainbow.
Rainbows Never End and Other Fun Facts – This earth-shattering book is filled with fun facts about snow, sunlight, rainbows, and more!
All the Colors of the Rainbow – Explains how rainbows are formed by the colors in sunlight shining through water.
Ruby's Rainbow – Max and Ruby need something to do during a rainy day. Ruby decides to paint a rainbow for Grandma. But Max wants to play in the backyard! When Ruby has trouble remembering the colors of the rainbow, Max's red boots, orange hat, and yellow raincoat give her all the right clues.
Minnie's Rainbow – Kids love rainbows! In this colorful tale, Minnie Mouse simply explains how these beautiful apparitions are formed. Soon, she and her Clubhouse pals begin to see a world of rainbows around them.
 How to Make a Liquid Rainbow – Did you know you can make a rainbow in a jar? Do you want to find out how? Just follow the simple steps inside this book.
What Makes a Rainbow? – What Makes a Rainbow?' is a fun and colorful way to teach your young one about colors!
Chasing Rainbows – Sally and Nick want to paint rainbows, but they don't know what colors to use, or what order to put the colors. And where do rainbows come from, anyway? The Cat in the Hat is not quite sure himself, but he knows someone who will know—King Kaleidoscope, ruler of Colorgalore!
Eating the Rainbow – Children will have fun learning the names and colors of nutritious fruits and vegetables shown on each page of this board book.
Elmer and the Rainbow – Elmer is sad when he discovers that the rainbow has lost its colors. He wants to help, but what will happen if he gives the rainbow his own colors? Will he lose them forever?
Weaving the Rainbow – How do you make a rainbow? If you are a weaver you can make a rainbow with wool. If you are a sheep you can BE a rainbow.  Here's how.
Planting a Rainbow – This educational and enjoyable book helps children understand how to plant bulbs, seeds, and seedlings, and nurture their growth.
Rainbow Crow – This is a story of how the Rainbow Crow lost his sweet voice and brilliant colors by bringing the gift of fire to the other woodland animals.
The Rainbow Fish – Rainbow Fish finds friendship and happiness when he learns to share.
Over the Rainbow – In this unique offering of a book and CD recorded by Judy Collins, take a magical journey over the rainbow…
A Rainbow of My Own – A small boy imagines what it would be like to have his own rainbow to play with.
More Rainbow Activities for Kids
• Preschool Science: Fizzing Rainbow
• 31 Rainbow Activities for Kids
Related Posts