My sweet girl is obsessed with animals. She absolutely adores cats, but she's allergic to many of them. Therefore, she has to be content to read about them and love on the few that don't make her face swell up and her eyes itch. Her best friend has a cat so when she goes on play dates she does at least get to go relatively near to a cat, provided her allergies don't become too intense. The cat is lovely even though the cat needed to be dewormed (Wurmkur Katze) a couple of weeks ago!
If you have a cat-lover in your midst, they'll love this list of books about cats.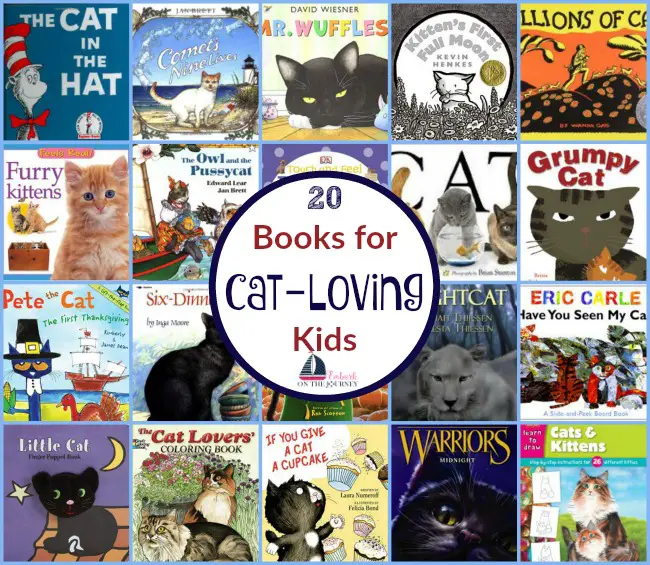 Books for Cat-Loving Kids
Six-Dinner Sid – Sid the cat plays the pet of six different owners on Aristotle Street so that he can get six dinners every night.
Comet's Nine Lives – It all begins when Comet walks away from the lighthouse close to his birthplace on Nantucket Island. He visits a garden, a bookstore, a boat, and a party, and at each place he gets into trouble and loses one of his lives. Comet starts to worry. He longs for a home, a place where he'll be safe. Will he find one before he uses up all nine lives?
The Owl and the Pussycat – Owl sets out to woo Pussycat in a boat laden with fruit and with a guitar at his side, ready for serenading. Pussycat sits looking elegant and demure, waiting to be courted. But as they sail off across the sea, another love story unfolds in the clear water beneath the boat.
Mr. Wuffles! – In a near wordless masterpiece that could only have been devised by David Wiesner, a cat named Mr. Wuffles doesn't care about toy mice or toy goldfish. He's much more interested in playing with a little spaceship full of actual aliens—but the ship wasn't designed for this kind of rough treatment. Between motion sickness and damaged equipment, the aliens are in deep trouble.
Kittten's First Full Moon – It is Kitten's first full moon, and when she sees it she thinks it is a bowl of milk in the sky. And she wants it. Does she get it? Well, no . . . and yes. What a night!
Millions of Cats – Once upon a time there was an old man and an old woman who were very lonely. They decided to get a cat, but when the old man went out searching, he found not one cat, but millions and billions and trillions of cats! Unable to decide which one would be the best pet, he brought them all home. How the old couple came to have just one cat to call their own is a classic tale that has been loved for generations.
Furry Kittens – Children stroke kitten's soft fur, feel its rough tongue, and touch its smooth, plastic feeding bowl. 
Cat – In Matthew Van Fleet's captivating multiconcept book, watch twenty-two breeds of frolicking felines demonstrate synonyms, action words, opposites, and more. Cleverly designed pull tabs and flaps plus seven pettable textures and a push-button squeaker offer interactive treats that will have toddlers purring along from start to surprising finish. Meow…meow…meow…WOW!
Touch and Feel: Kitten – With a sparkling new look, these bestselling DK classics are sure to become classics for a whole new generation of young readers. Babies and toddlers will be drawn to the captivating, tactile pages, and will want to touch, feel, and explore every one.
Grumpy Cat – Poor Cat! The other kitties never ask him to play. He just seems so… grumpy. Then, one night, in a terrible rainstorm, everything changes: Cat hears a plaintive "meow" and finds a drenched little kitten taking shelter between his paws. And no matter what Grumpy Cat does, she's determined to stick by him.
The Cat in the Hat – Join the Cat in the Hat as he makes learning to read a joy! It's a rainy day and Dick and Sally can't find anything to do . . . until the Cat in the Hat unexpectedly appears and turns their dreary afternoon into a fun-filled extravaganza!
Warriors: The New Prophecy #1: Midnight -Darkness, air, water, and sky will come together…
The wild cats of the forest have lived in peace and harmony for many moons — but a doom that will change everything is coming. Strange messages from their warrior ancestors speak of terrifying new prophecies, danger, and a mysterious destiny.
All the signs point to young warrior Brambleclaw as the cat with the fate of the forest in his paws. But why would the son of wicked cat Tigerstar be chosen to be a hero? And who are the other cats mentioned in the prophecy? All Brambleclaw knows for sure is that the strength and courage of the greatest warriors will be needed now, as the quest to save the Clans begins.
…and shake the forest to its roots.
Nightcat (Kitty Castle Book 1)– In this first book of the Kitty Castle adventure series, the princes and princesses learn the secret of the night cats. With the help of their own night cat, the children must stop the dragons from ruining the kingdom.
Little Cat Finger Puppet Book – In this adorable new addition to the bestselling finger puppet series, watch Little Cat get spooked by a friend's silly disguise, then curl up at home with her Halloween treats. Featuring a plush finger puppet permanently attached to the book and peek-a-boo holes in every page, Little Cat gives parents and children a fun, interactive way to play and read together.
Cat Lovers' Coloring Book – The world's top cats are represented in thirty lovely, lifelike illustrations. From the willowy Burmese and the magnificent Maine Coon to the proud British Cream and many other exalted felines, every pretty kitty in this collection is poised to win Best in Show. Just add your own unique colors with crayons, pencils, inks, or paints!
Have You Seen My Cat? – In this charming board book adaptation of Eric Carle's popular story, Have You Seen My Cat?, little boy worries about his missing cat and travels to different places in search of his pet. The sturdy pages of this board book slide out to reveal the numerous feline counterparts–including lions, leopards, and tigers–the boy encounters along the way. It isn't until the last page that he finds his missing pet—and receives a wonderful surprise!
If You Give a Cat a Cupcake – If you give a cat a cupcake, he'll ask for some sprinkles to go with it. When you give him the sprinkles, he might spill some on the floor. Cleaning up will make him hot, so you'll give him a bathing suit . . . and that's just the beginning!
Cats & Kittens: Step-by-Step Instructions for 26 Different Kitties – 'Drawing is the cat's meow! With the step-by-step, easy-to-follow instructions and full-color illustrations, any cat-lover can learn to draw 26 different lifelike kitties of all shapes and sizes. As kids follow along with the clear illustrations, they'll learn to develop their drawings from basic shapes to finished masterpieces. And fun facts about the featured breeds add extra entertainment value.
Splat the Cat and the Pumpkin-Picking Plan – Splat goes to a pumpkin patch with Seymour, and he is determined to find the biggest pumpkin ever. But when he finally does, Splat finds out the real challenge isn't the pumpkin picking—it's how to get the pumpkin home!
Pete the Cat: The First Thanksgiving – Starring in the school Thanksgiving play would make even the coolest cat nervous. But when Pete the Cat gets onstage, he makes learning the story of the first Thanksgiving fun. With thirteen flaps that open to reveal hidden surprises, this book is sure to be a holiday favorite for every Pete the Cat fan.
---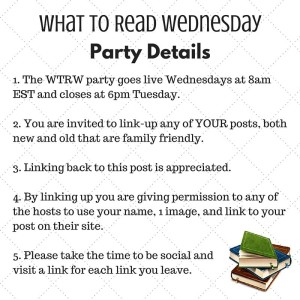 Now, let's get on to this week's What to Read Wednesday link-up! This week, I'm featuring the following recipe posts that were linked-up last week:
If you have a family friendly post you'd like to share, please link up with us. Share what you've been reading with your kiddos. Do you have a fun book-based activity, printable, recipe, marriage tips, homeschool encouragement post? Share it with us. You may find yourself featured next week!
[inlinkz_linkup id=572763 mode=1]