I can't believe it's already time to dig out our Thanksgiving books! Have you started making your Thanksgiving read-aloud list? Have you filled your Thanksgiving book basket?
If not, you'll want to scroll through this list of Thanksgiving-themed books for kids. If so, see if you can find a few new ones to add to your list.
If you're looking for some Thanksgiving living books that show your kids what life was like in the New World, check out this list.
If you're looking for Thanksgiving books that feature your child's favorite characters, look at the list below.
Which ones will you add to your reading list?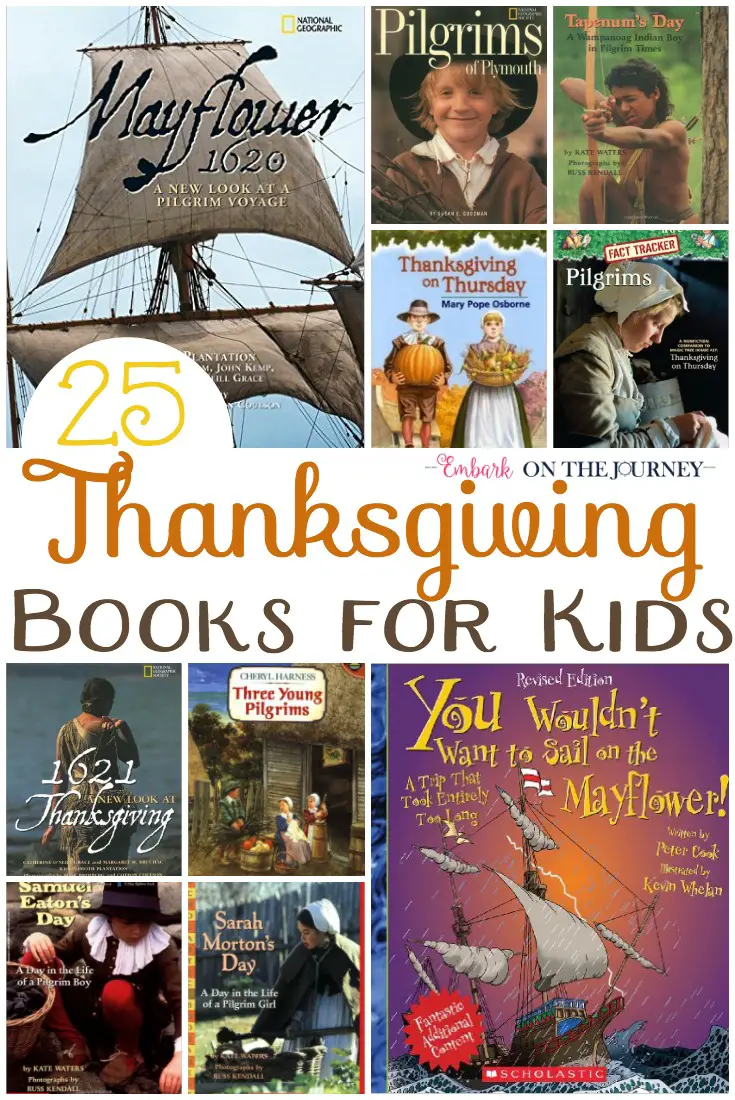 Thanksgiving Books for Kids
Pinkalicious: Thanksgiving Helper | It's Thanksgiving Day, and Pinkalicious and Peter decide to be Thanksgiving helpers!
Sarah Morton's Day | At sunup when the cockerel crows, young Sarah Morton's day begins. Come and join her as she goes about her work and play in an early American settlement in the year 1627.
There's a fire to build, breakfast to cook, chickens to feed, goats to milk, and letters and scripture to learn. Between the chores, there is her best friend, Elizabeth, with whom she shares her hopes and dreams. But Sarah is worried about her new stepfather. Will she ever earn his love and learn to call him father?
Squanto's Journey | In 1620 an English ship called the Mayflower landed on the shores inhabited by the Pokanoket, and it was Squanto who welcomed the newcomers and taught them how to survive. When a good harvest was gathered, the people feasted together–a tradition that continues almost four hundred years later.
Pilgrims | Filled with up-to-date information, photos, illustrations, and fun tidbits from Jack and Annie, the Magic Tree House Fact Trackers are the perfect way for kids to find out more about the topics they discovered in their favorite Magic Tree House adventures.
The Boy Who Fell of the Mayflower | By his great good fortune, John survived falling overboard on the crossing of the Atlantic Ocean, and he earned his keep ashore by helping to scout a safe harbor and landing site for his bedraggled and ill shipmates. Would his luck continue to hold amid the dangers and adversity of the Pilgrims' lives in New England?
The True Story of Pocahontas | Filled with suspense, romance, and historical details, here's a very young biography of the Powhatan Indian princess who played a vital role in early Colonial and Native American relations.
You Wouldn't Want to Sail on the Mayflower! | It is 1620, and you and your parents are about to emigrate from England and sail to the New World to avoid being persecuted for your religious beliefs. It will be a long and hazardous voyage, and not everyone will survivebut you and your fellow Pilgrims will have a special place in the history of the United States.
1621: A New Look at Thanksgiving | Countering the prevailing, traditional story of the first Thanksgiving, with its black-hatted, silver-buckled Pilgrims; blanket-clad, be-feathered Indians; cranberry sauce; pumpkin pie; and turkey, this lushly illustrated photo-essay presents a more measured, balanced, and historically accurate version of the three-day harvest celebration in 1621.
Mayflower 1620 | Plimoth Plantation and the National Geographic Society come together to tell the true story behind the legendary voyage of the Mayflower.
Three Young Pilgrims | When Bartholemew, Remember, and Mary Allerton and their parents first step down from the Mayflower after sixty days at sea, they never dream that life in the New World will be so hard. Many in their Plymouth colony won't make it through the winter, and the colony's first harvest is possible only with the help of two friends, Samoset and Squanto.
If You Were at the First Thanksgiving | Questions and answers about the first Thanksgiving and what it was like to live in America in the 1620's.
…If You Sailed on the Mayflower in 1620 | Get ready to go back in time to 1620 to discover what it was like to sail the Mayflower!
Amelia Bedelia Talks Turkey | When Amelia Bedelia helps out with the school Thanksgiving play, she causes quite a scene. Let's all give thanks for another funny new Amelia Bedelia story!
Tapenum's Day |Chosen to become a special warrior prince in 1627, Tapenum prepares himself for the great honor by hunting, fishing, and sharing a day with friends and family, in a story that is complemented by photographs of Plymouth Plantation.
Samuel Eaton's Day | Samuel Eaton is a young boy living in an early American settlement in the year 1627, and today is the day he will help with his first rye harvest! If he can prove to his father he's up to the task, he will be able to help with all of the harvest. But harvesting rye is even more difficult than he expected. Was he foolish to think he could do a man's work?
Thanksgiving on Thursday | It's a time for giving thanks . . . when the Magic Tree House whisks Jack and Annie back to 1621 on the first Thanksgiving Day. The Pilgrims ask them to help get things ready. But whether it's cooking or clamming, Jack and Annie don't know how to do anything the Pilgrim way. Will they ruin the holiday forever? Or will the feast go on?
Pilgrims of Plymouth | What was it like to be a pilgrim child in 17th-century Massachusetts? This charming picture book takes young readers back in time to see. For one thing, pilgrim children didn't go to school. Instead, they helped their parents with chores and played games such as marbles. There were no convenient grocery stores. Pilgrims had to hunt and gather food, then cook their meals on an open fire or in an outdoor oven.
What is Thanksgiving? | This sweet story lists all of the things that Thanksgiving might be about, before concluding that it is really about giving thanks to God who gives us all these things.
Pete the Cat: The First Thanksgiving | Starring in the school Thanksgiving play would make even the coolest cat nervous. But when Pete the Cat gets onstage, he makes learning the story of the first Thanksgiving fun.
The Berenstain Bears Thanksgiving Blessings | Ride along with the Bear family on Thanksgiving Day as Brother and Sister learn about all the things they- and YOU-can be thankful for…including faith, family, and the huge feast waiting for them at the end of their journey to Gramp's and Gran's.
I Know an Old Lady Who Swallowed a Pie | I know an old lady who swallowed a pie, a Thanksgiving pie, which was really too dry. And with that the feast begins! After the pie the old lady swallows a whole squash, all of the salad, and the entire turkey!
The Thanksgiving Story | Follow a family as they travel to the New World aboard the Mayflower. When they arrive, they aren't prepared for the new challenges. With the help of the Native Americans, they may just survive their first year in the new land.
Just a Special Thanksgiving | From the school play to a surprise dinner for all of Critterville, celebrate along with Little Critter and his family as they give thanks this holiday.
The Berenstain Bears Give Thanks | The Berenstain cubs act out the first Thanksgiving complete with costumes, props, and a full Thanksgiving feast. But will Sister Bear's pet turkey play the part of dinner?
The Story of the Pilgrims |From the dangerous voyage across the Atlantic to the first harsh winter to the delicious Thanksgiving feast, all the excitement and wonder of the Pilgrims' first year in America is captured in this vivid retelling that is perfect for the youngest historians.

Related Posts