Teaching parts of speech is a must for a good grammar foundation. Nouns are a great starting point for teaching parts of speech. They're the easiest to teach as they're naming words. Ask kids to walk around the house and name the things they see. They're naming nouns.
Digging deeper into nouns is easy, too, with the help of some well-written picture books. Grammar books are great, but if you prefer a no-textbook approach or you want an interesting twist for your upcoming lesson keep reading.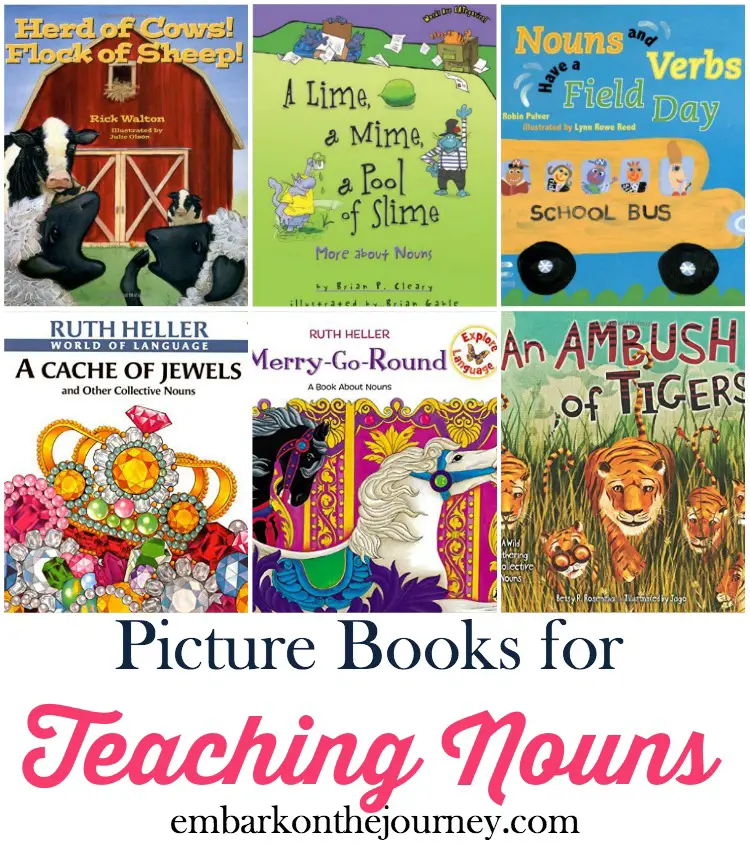 Teaching Nouns with Picture Books
Our all-time favorite grammar picture books are written by Ruth Heller and Brian P. Cleary. The series by Brian Cleary is written for younger learners so they're a great place to start. Ruth Heller's books are a little more advanced and can easily be used with upper elementary and middle school learners.
Written for grades 2-4, A Mink, a Fink, a Skating Rink: What Is a Noun? is a great introduction to nouns. With witty rhymes and cartoonish illustrations, kids will be able to see exactly what a noun is. Digging a little deeper, A Lime, a Mime, a Pool of Slime:More About Nouns covers more specific nouns like abstract and proper nouns while
Ruth Heller's books are a little heftier in content making them perfect for grades 4-7. Merry-Go-Round: A Book About Nouns is beautifully illustrated and jam-packed with content. This book covers everything from basic nouns to abstract nouns and singular nouns to possessive nouns. She even includes common spelling rules. A Cache of Jewels goes a step further by covering collective nouns (bunch of grapes, parcel of penguins, etc.) This book is a great way to introduce collective nouns to young kids or to refresh the memories of older ones. Actually, you might learn something new as well.
Other books that are great for teaching nouns include:

Nouns Mini-Pack
Inside this nouns mini-pack, you will find an anchor chart and four worksheets. To download your free printable pack, you must sign up to receive my emails. Enter your contact information below. You should receive your download link within the hour. If, after an hour, you have not received your link, please contact me and we'll figure it out together.
Please note that your link will expire in 3 days, and it can only be downloaded twice. Be sure to download and save it once it arrives in your inbox. Also note, these files will not open on a tablet or smart phone. You will need to open them from a PC or laptop. Enjoy!
[wp_eStore_free_download_squeeze_form id=81 button_text="Download Now"]
What is your favorite resource for teaching nouns to your kiddos?