One thing I struggle with in my homeschool is teaching writing. I am not great at creative writing, but it is something Emma is really good at. So, this year, I am actually using a formal writing curriculum that will cover all different writing styles.
However, you don't need a curriculum to teach writing if you get creative. I believe the easiest style of writing to teach is narrative writing. Narrative writing is storytelling from a personal perspective. Kids can choose an event from real life to relate to their audience.
There are many picture books that you can use to demonstrate narrative writing – stories in which the main character is telling a story from their perspective. This is a great place to start, because children can relate and are eager to tell a story of their own.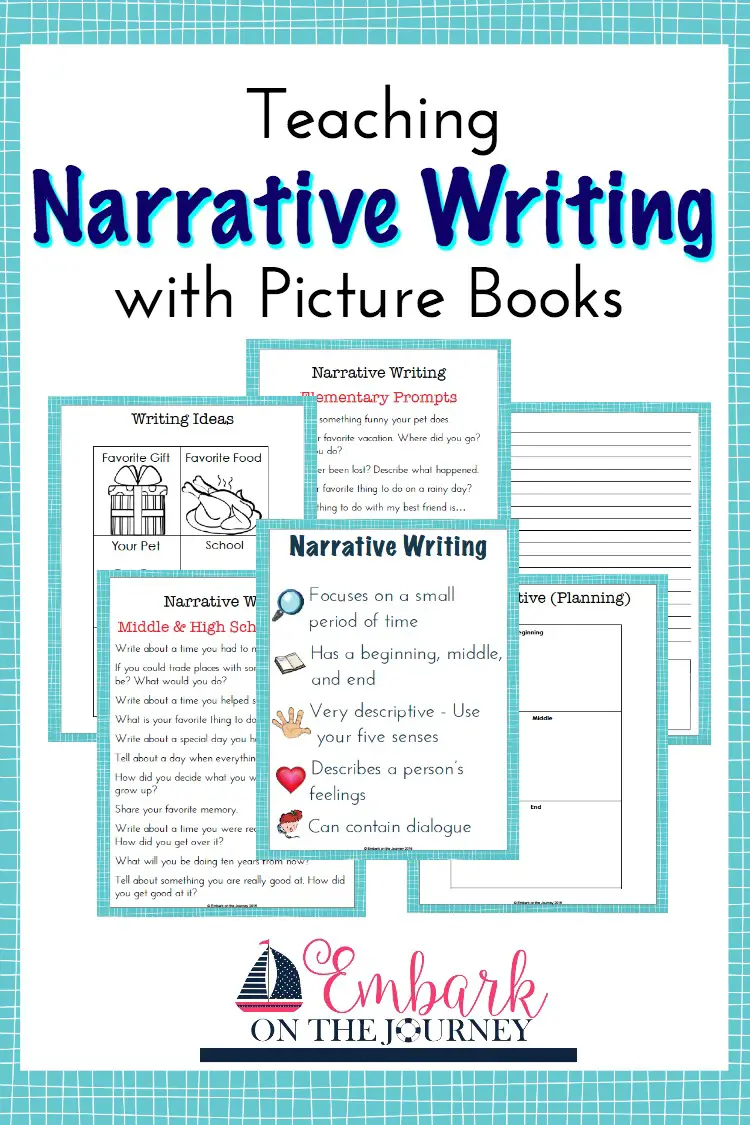 Teaching Narrative Writing
Choose a book from the list below to read to or with your children. If you read aloud, be sure to share the pictures so that the children can "see" the story, as well. Read it again if you'd like. Then…
Talk about the hook that grabs the audience's attention.
Discuss the fact that a good story has a beginning, a middle, and an end. There's an obvious order and flow to the story – no skipping around.
The story sticks to the point.
A good narrative focuses on a small amount of time.
A good narrative has a clear understanding of the main character and the setting of the story.
Events flow from one to the next with transition words.
A well-written narrative is full of detail so the reader can create a 'picture' in their mind – but it doesn't ramble.
Some fun books that you can use to teach narrative writing include The Relatives Came
, Owl Moon, When I Was Young in the Mountains
, and Alexander and the Terrible, Horrible, No Good, Very Bad Day. You can find more suggestions below.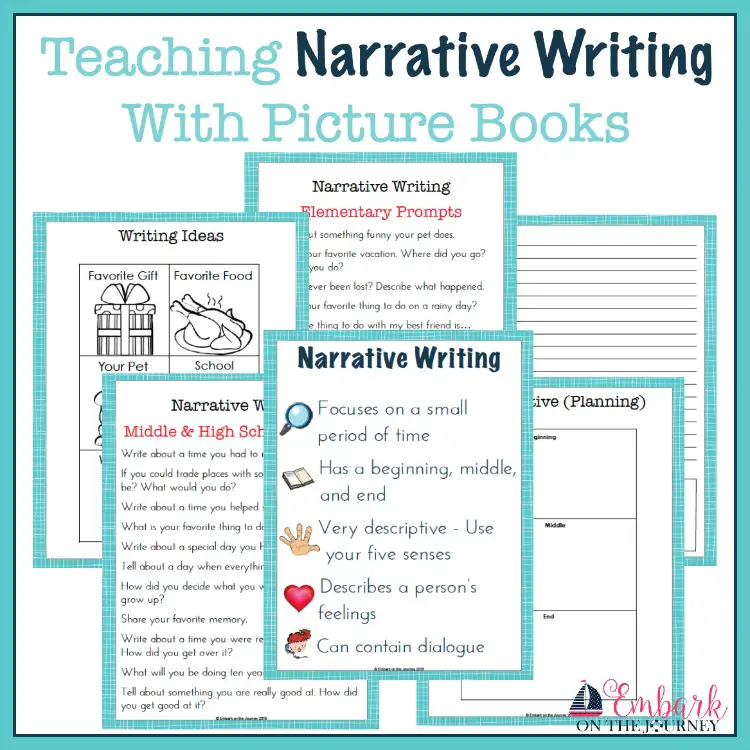 Narrative Writing Printables
In this narrative writing printable pack, you'll find an anchor chart, three pages of writing prompts (one for pre-readers, one for elementary students, and one for middle/high school students), and two styles of writing pages.
To download your free printable pack, you must sign up to receive my emails. Enter your contact information below. You should receive your download link within the hour. If, after an hour, you have not received your link, please contact me and we'll figure it out together.
Please note that your link will expire in 3 days, and it can only be downloaded twice. Be sure to download and save it once it arrives in your inbox. Also note, these files will not open on a tablet or smart phone. You will need to open them from a PC or laptop. Enjoy!
[wp_eStore_free_download_squeeze_form id=78 button_text="Download Now"]