There's nothing better than yummy fresh fruit to snack on after a long day of homeschooling. The problem is that fresh fruit is pretty pricey during the long winter months. Grapes and strawberries are staples in our house, but the price is sky high right now. We keep grapes on hand for lunches, but we're getting kind of bored with just grapes and bananas.
Imagine how fun it would be to have fresh, organic fruit delivered right to your front door. I was able to experience that recently. A few weeks ago, I received a huge box of fresh, organic fruit from GrubMarket. It was delivered to my front door via FedEx! I received a regular-sized California Fruit Bounty box.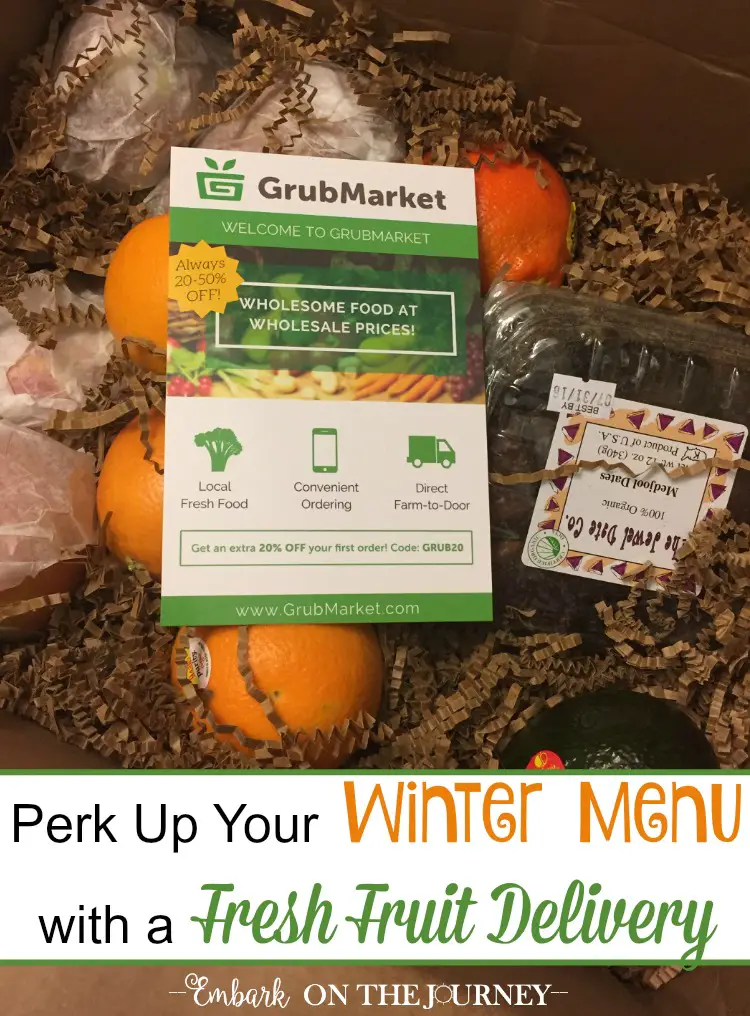 Fresh Fruit Delivery
My fruit was beautifully packaged in a large box filled with shredded paper to cushion the fruit. I was excited to see all the fresh fruit as I unwrapped each bundle. Most of the fruit I was familiar with like the apples, pineapple, and avocado. Emma's favorite fruit – pears – were in there, too. There was a pomegranate in the box which was cool, because I've never had one of those. My hubby was excited about the dates, and he's been enjoying them with his fancy cheese every night before bed.
There were also a few new-to-me fruits in the box. I pulled out what I thought was a grapefruit. Instead, the sticker read 'pummelo.' Well, I had to Google it to see what it was and how I was supposed to eat it. It turns out that a pummelo is like a grapefruit, but it's not bitter. I ate the entire thing in one sitting without sprinkling sugar on top like I do my grapefruit. I'll definitely be on the hunt for more of those in the future!
The other was a tangelo. I'm a pretty basic kind of girl so I haven't bought a tangelo before at the store. I found it be not as juicy as an orange and not as sweet as a mandarin orange. We enjoyed it, though.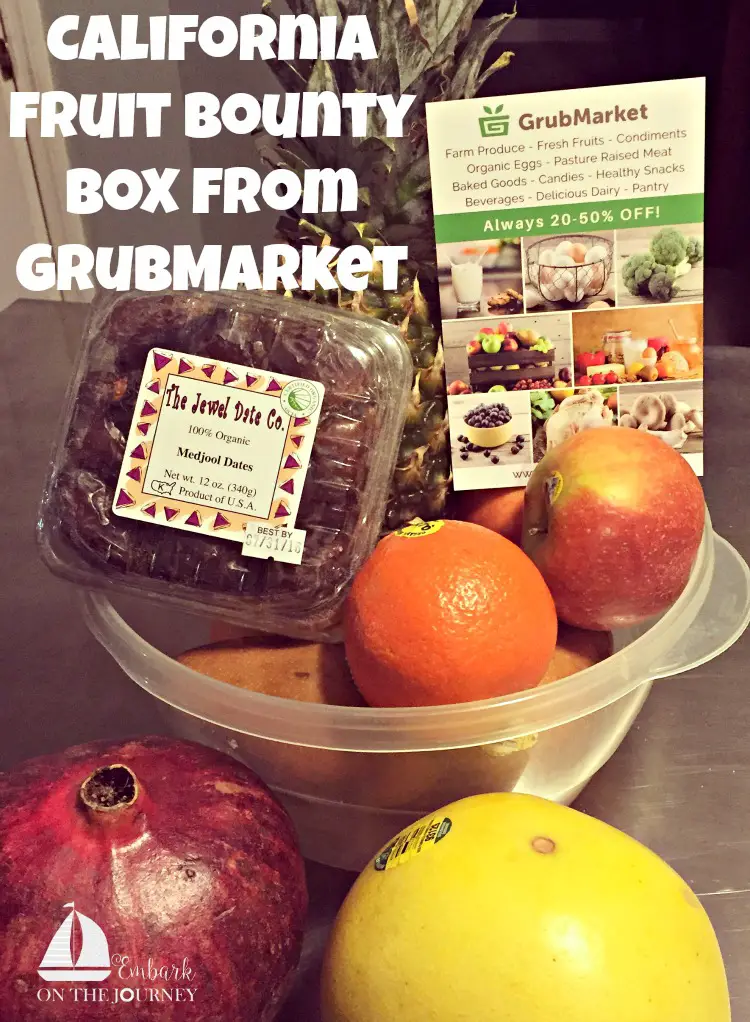 About Grub Market
GrubMarket is all about providing accessibility, by delivering the following key benefits to their stakeholders:
Unbeatable prices: While many food delivery services and premium grocers cater to high-income earners, GrubMarket is committed to making fresh and delicious food

accessible

to all people by keeping their prices consistently lower than all comparable grocers.

Convenience: Through their reliable operations, GrubMarket is committed to providing people in food deserts (ie. areas without farmers' markets and fresh grocery stores) with

access

to high-quality, freshly-harvested items that they would typically find at a farmers' market or Whole Foods store. Additionally, they offer free delivery across the U.S. for all orders above $59.

Food Discovery: GrubMarket provides a platform for their partnering small farms and vendors to sell their items directly to customers. Many of these food producers have challenges getting shelf space at grocery stores, and/or may not want to pay the upfront costs of hosting farmers' market tables. GrubMarket gives these food producers

access

to tens of thousands of customers through a robust online marketplace, regardless of the food producers' production scale.
In addition to California Fruit Bounty boxes, GrubMarket also offer a Healthy Snacks GrubBox, an Organic Fruit & Snacks GrubBox, and a College Care GrubBox which will be perfect for my guy next year. They also have a large selection of organic fruits and veggies, vegan options, gluten-free products, and so much more at up to 50% off grocery store prices.
GrubMarket is offering my readers an additional 20% with the code GRUB20. You can also get free shipping on orders over $59! That's a great deal!
Enter to win a Fruit Bounty box!
"Disclosure (in accordance with the FTC's 16 CFR, Part 255: "Guides Concerning the Use of Endorsements and Testimonials in Advertising"): Many thanks to Propeller Consulting, LLC for providing this prize for the giveaway. Choice of winners and opinions are 100% my own and NOT influenced by monetary compensation. I did receive a sample of the product in exchange for this review and post.
Only one entrant per mailing address, per giveaway. If you have won a prize from our sponsor Propeller / FlyBy Promotions in the last 30 days, you are not eligible to win. Or if you have won the same prize on another blog, you are not eligible to win it again. Winner is subject to eligibility verification."