Veteran's Day is next week. This is a great time to not only honor our veterans – those who have served in the military, but it's also a wonderful time to learn more about our nation's history.
In addition to reading about Veteran's Day, we can also read about our flag and the Pledge of Allegiance. You will find lots of inspiration to your patriotism with these patriotic picture books!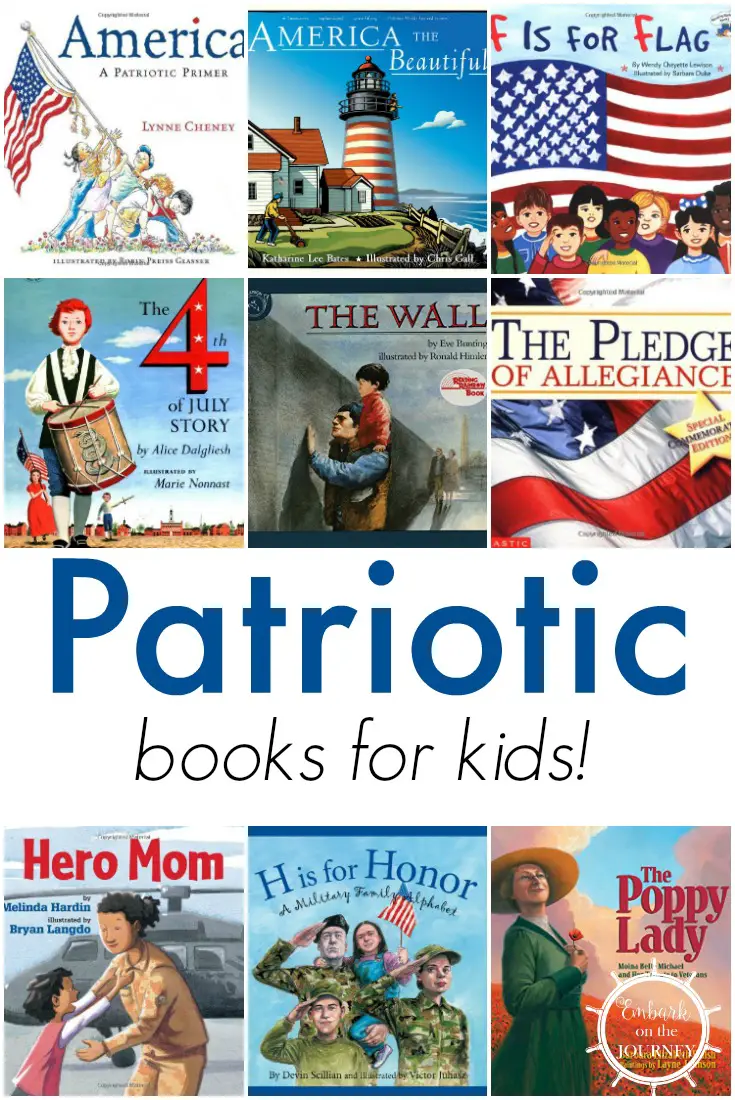 Patriotic Picture Books
H is for Honor by Devin Scillian | Children will discover why drill sergeants have to be so tough, what it means to be patriotic and why we need Special Forces such as the Navy SEALS, the Green Berets and the Army Rangers. H is for Honor also explains why the annual Army/Navy football game is more than just a game, how much letters from home mean to soldiers, how often military families have to move and what life on base is like.
America's White Table by Margot Theis Raven | The White Table is set in many mess halls as a symbol for and remembrance to service members fallen, missing, or held captive in the line of duty. Solitary and solemn, it is the table where no one will ever sit.
The Wall by Eve Bunting | A young boy and his father visit the Vietnam Veterans Memorial.
Hero Dad and Hero Mom by Melinda Hardin | A boy compares his father, a U.S. soldier, to a superhero. These superheroes are moms. Military moms. Hero moms.
America: A Patriotic Primer by Lynne Cheney | A succinct history of the United States, an ABC of the principles on which this country was founded, and a book for children and families to pore over, discuss, and cherish.
America the Beautiful by Katharine Lee Bates | From his unique perspective as the great, great grandnephew of "America the Beautiful" writer, Katharine Lee Bates, Chris Gall transforms this beloved patriotic song into monumental works of art–from purple mountain majesties to gleaming alabaster cities.
The Pledge of Allegiance by Scholastic, Inc. | The text of the Pledge of Allegiance is illustrated with stunning photographs of American landscapes, monuments, and flags. The meaning of the pledge, its history, and information about the flag are included.
Corduroy's Fourth of July by Don Freeman | Follow Corduroy and his friends as the celebrate the Fourth of July.
F is for Flag by Wendy Cheyette Lewison | F Is for Flag shows in simple terms how one flag can mean many things: a symbol of unity, a sign of welcome, and a reminder that-in good times and in bad-everyone in our country is part of one great big family.
L is for Liberty by Wendy Cheyette Lewison | L Is for Liberty uses simple language and bold illustrations to celebrate the statue, her history, and the freedom she stands for.
The Poppy Lady: Moina Belle Michael and Her Tribute to Veterans by Barbara Walsh | When American soldiers entered World War I, Moina Belle Michael, a schoolteacher from Georgia, knew she had to act. Some of the soldiers were her students and friends. Almost single-handedly, Moina worked to establish the red poppy as the symbol to honor and remember soldiers. And she devoted the rest of her life to making sure the symbol would last forever.
Granddad Bud: A Veteran's Day Story by Sharon Ferry | When a young boy's great-grandfather comes to his school to talk about Veterans Day, the boy is unsure what to expect. Why exactly do we celebrate Veterans Day – and will his classmates be interested in what Granddad Bud has to say?
The Fourth of July Story by Alice Dagliesh | Make history come alive in this accessible story of America's birthday.
Hats off for the Fourth of July by Harriet Ziefert | This is one small town parade readers shouldn't miss! It starts with music and drums. What will come next? Cowboys on horseback? The baseball team? The fire engine? Or Miss Eelgrass with the green hair? And when the parade's over and the streets start to clear, another spectacle is waiting up in the sky.
Have you read any of these patriotic picture books? Which books would you add to the list?
Related Posts