Add these books about leaves to your fall book basket. Both fiction and nonfiction leaf books will help your kids get ready for your upcoming fall studies!
Have the leaves started changing in your part of the country? I'm seeing just a few trees here and there with yellow and orange leaves, and I can't wait until they all begin to change. I'm so thankful to be back in an area that has all four seasons.
And, we have a tree-lined backyard. Emma's favorite part of the season is when the leaves begin to turn and fall off the tree. She loves to rake the leaves into a giant pile that she can jump in.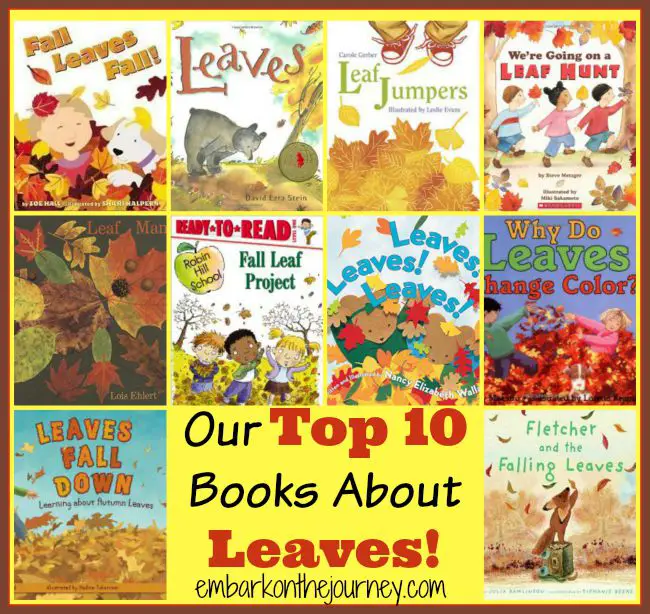 As the leaves begin to change, it's a great time to learn about them in science or nature study. Learn about chlorophyll and why leaves change colors. Collect leaves and learn what trees they come from. Do some leave rubbings and decorate your walls this fall!
Kids' Books About Leaves
amazon blurb
Fall Leaves Fall
– When fall comes, two brothers enjoy catching the falling leaves, stomping on them, kicking them, jumping in piles of them, and using them to make pictures. Includes a description of how leaves change through the year.
We're Going on a Leaf Hunt
– There are lots of beautiful fall leaves to find! Three friends have a big adventure hiking over a mountain and through a forest to collect leaves of all kinds and colors. What will they do with all their leaves at the end of the story? Jump and play in them, of course!
Fall Leaf Project
– The first-graders of Robin Hill School love to look at all the different fall leaves. When they hear that in some states the leaves don't change color, they come up with a plan to share fall with other first-graders.
Leaves Fall Down
– Autumn is time for the leaves to change colors. Get out your rake and help gather the fallen leaves. Find out why leaves change color. And take a running leap into that huge pile of leaves!
Leaf Jumpers
 – Graceful, poetic text celebrates the beauty of autumn leaves, while the simple text at the end explains why leaves change color. Readers learn how to identify all sorts of leaves from red maple to sycamore by their color, shape, and other characteristics. A great choice for science units and autumn displays.
Leaf Man
 – Fall has come, the wind is gusting, and Leaf Man is on the move. Is he drifting east, over the marsh and ducks and geese? Or is he heading west, above the orchards, prairie meadows, and spotted cows? No one's quite sure, but this much is certain: A Leaf Man's got to go where the wind blows.
Fletcher and the Falling Leaves
– It's autumn, and Fletcher's favorite tree is slowly changing colors and losing its leaves. Fletcher is very worried. He tells the tree he'll help. But when the very last leaf falls to the ground, Fletcher feels as though he's let down his friend . . .until the first day of winter, when Fletcher sees that his tree has turned into a shining, glittering surprise.
Why Do Leaves Change Color?
 – This informative concept book includes detailed pictures of leaves in different sizes, shapes, and colors and a list of activities that kids can do with leaves.
Leaves! Leaves! Leaves!
– Join Mama and Buddy Bear's stroll through the seasons as they examine the development of leaves on their favorite trees. In early spring, Buddy wonders when the leaves will emerge from their buds and blossom into the wonderful shapes he and Mama like to collect in the summer months. Mama, a treasure trove of tree facts, shares Buddy's love of leaves and encourages him to use his eyes and hands to explore how a tree produces, maintains, and then sheds its foliage.
Leaves
– It's a young bear's first autumn, and the falling leaves surprise him. He tries to put them back on the trees, but it doesn't work. Eventually, he gets sleepy, and burrows into the fallen leaves for a long nap. When he wakes up, it's spring and there are suddenly brand-new leaves all around, welcoming him.
There Was an Old Lady Who Swallowed Some Leaves! – That wild old lady is back swallowing fall-themed items. What can you make from leaves, clothes, a pumpkin, and rope? That's right, a scarecrow!
Red Leaf, Yellow Leaf – Lois Ehlert uses watercolor collage and pieces of actual seeds, fabric, wire, and roots in this innovative and rich introduction to the life of a tree. A special glossary explains how roots absorb nutrients, what photosynthesis is, how sap circulates, and other facts about trees.
Related Posts