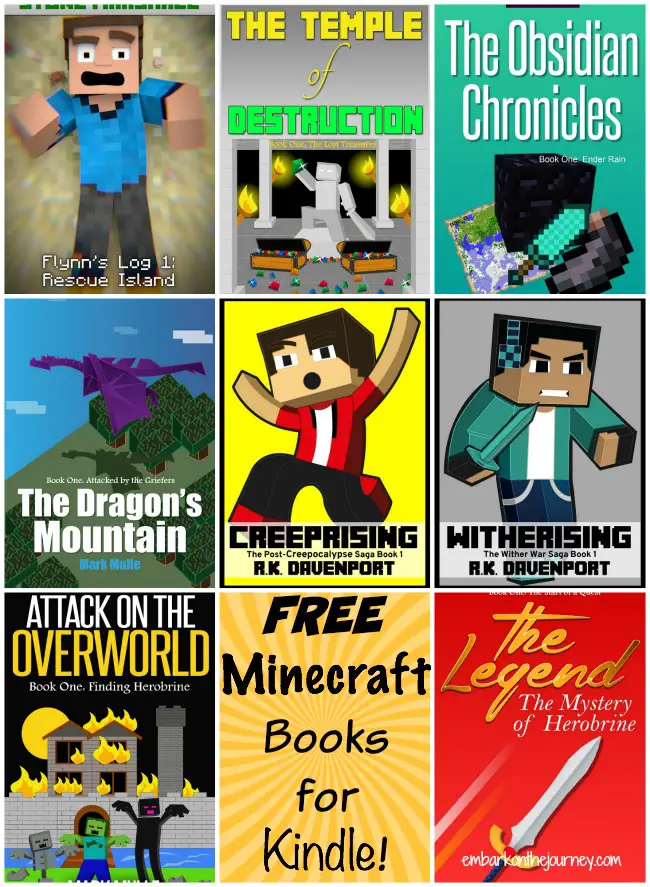 Please remember, Amazon prices can change quickly. The books below were free at the time this post went live, but may only be so for a limited time. Please double check the price before purchasing any of the books below.
Free Minecraft Books for Kindle
The Dragon's Mountain: Attacked by the Griefers
Mike, is living a peaceful life on his newly built farm, after defeating the evil Herobrine and saving the world of Minecraft from falling under his dark reign.

But Mike's peaceful existence is shaken up by two of his friends that up until that moment, he thought he had lost. Jerry, Mike's best friend and his former enemy, turned ally, Micah, bring Mike news of a far away mountain that holds an unimaginable treasure.

It doesn't take long until Mike is convinced to embark on an adventure alongside his two buddies.

What awaits our three young Minecraft questers in their new journey? Find out in "The Dragon's Mountain, Book One: Attacked by the Griefers.
The world is in trouble and needs a Minecraft hero.

Flynn, a hacker, enters a familiar but changing video game world where something goes terribly wrong.

Flynn gets stuck inside the game! His memory is lost and the dangers he faces are real. The game world evolves introducing new dangers and creatures that Flynn has never seen before. An intelligent creature comes to his aid, but can Flynn trust this digital being?
The Legend: Book 1: The Mystery of Herobrine
Mike – a Minecraft noob, and his friend Jerry, have taken the first steps into their first Minecraft adventure together. While things start off pretty calmly with Jerry slowly teaching Mike his first lessons in survival, mining and crafting, our two players manage to get themselves into a series of misfortune – mining too deep, escaping monster-ridden mines and stumbling into a mysterious and hostile clan. Follow our two protagonists on their journey and find out what they will discover.
The Temple of Destruction: Book One – The Lost Treasures
Notch has finally achieved his lifelong dream of tracking down the legend of Herobrine. His journey leads him to the temple that had been given to Herobrine in his honor. Notch is thrilled to discover treasure but his actions lead to unleashing the terrible force of Herobrine out onto the Overworld. Will Notch be able to figure out the mystery of Herobrine and put him to rest?
The Temple of Destruction, Book 3: Notch Versus Herobrine
Piecing together the last of the clues, Notch and his two friends must venture back into the terrifying temple to discover how to put Herobrine to rest for good. Will Notch be able to figure out the final piece of the puzzle? Or will it be too late for him to lock Herobrine away?
Felix and his sister Liz live in the poor district, and they're forced to work as slaves for the wicked King Maximus. Eventually something happens, and these two siblings start a revolution.
The Quest: The Untold Story of Steve, Book One: The Tale of a Hero
Steve is a player who can find an adventure to be had every day. However a new adventure has found its way to him. Day-to-day life in Minecraft is beginning to become speckled with strange occurrences. Half-built homes, leafless trees, overpowered mobs and unknown entities only scratch the surface of the bizarre events Steve will encounter. Along the way, he guided by cryptic notes left by an anonymous player. Impossible, he thinks. Steve only plays in single player. Is this all the work of a hacker or something else? Journey with Steve to uncover the truth behind these mysteries, and discover what it truly means to be a hero.
The Obsidian Chronicles, Book One: Ender Rain
Cave-ins, explosive detonations, massive spiders, and the undead—these are all common problems for Vincent and his team of miners and crafters. Join them as they strategically battle new threats, enchant their gear with new power, and explore caves flowing with lava and teeming with darkness incarnate.
Attack on the Overworld, Book One: Finding Herobrine
Ben is determined to find Herobrine – one of the biggest mythical figures of the Minecraft universe. When Ben logs into Minecraft one morning, he is shocked to find another player already there. Slowly, Ben grows to accept the strange situation he is in, and the mysterious new player – and her even stranger past. What Ben and the other player don't realize is that there is a dark force watching over their every move, and when they discover their world is being destroyed by an unknown source, Ben seeks out his last hope. He needs to find Herobrine.
Witherising (The Wither War Saga Book 1)
Steve thought his adventuring days were over. He was forced into an early retirement after a tragic event (a hack that cost millions of players their data), but a new threat brings him out of the shadows. The stakes are higher than ever. King Wither must be stopped, no matter the cost.